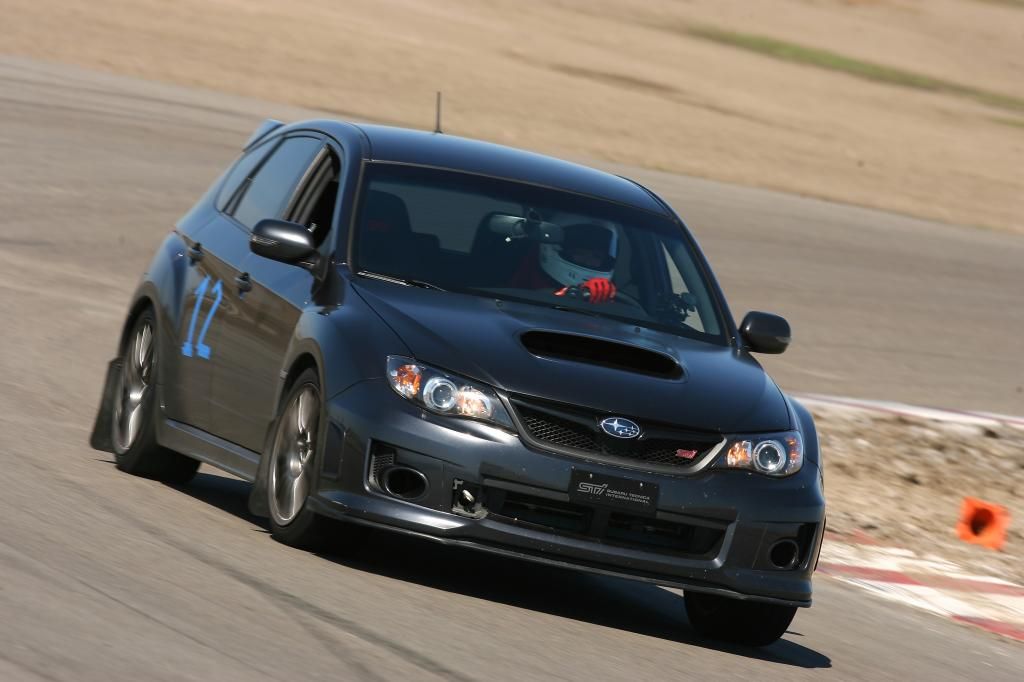 Hello IWSTI!
After waiting 8+ weeks (from 11/15/10 to 1/18/11), I picked up my '11 Dark Gray Metallic STI 5-door from Renick Subaru.
options ordered:
- wheel locks
- seat back cargo net
- rear cargo net
- cargo tray
- Homelink and auto-dimming mirror
Goal
: A reliable all-around car capable of daily driving in all weather and holding up to multiple HPDE per year.
Build List
(
planned
)
Engine
:
- Cobb Accessport
- AEM CAI
- Tomei Expreme EL headers
- Invidia catted divorced downpipe
- Harman Motive/AQ cat back
- Pro-tuned at Cobb Tuning SoCal (332hp/362 lb-ft @ 18 psi, 326 hp/329 lb-ft @ 15 psi) (
here
)
- Killer B oil pickup and windage tray
- Grimmspeed 3-port EBCS
- Cusco oil catch can (rebreather mode)
- DW65C fuel pump
- TGV deletes
- Perrin turbo inlet
- ID1000 fuel injectors
- GD style fuel pressure regulator
- engine oil cooler [awaiting install]
Chassis/Drivetrain
:
- WL steering rack bushings
- KB pitch stop mount
- KB front and rear shifter pivot mounts
- WL rear diff inserts
- WL rear subframe inserts
- TWM Short Shifter
- TiC crossmember bushings
- TiC shifter linkage bushings
- Cusco crossmember brace
- Cusco lower arm brace
- PST carbon fiber driveshaft
- Cusco steering rack stiffener brace
- 2015 STI steering rack
- powersteering cooler [awaiting install]
Suspension
:
- WL 24mm front/22mm rear adjustable sway bars w/ Kartboy endlinks
- various bushings
- JRZ RS Pro coilovers (
here
). 200 psi nitrogen
- 450 lb-in Eibach springs (~8 kg-mm) all-around
- Vorschlag front camber plates
- modified stock rear top hats
- Cusco rear lower lateral arms
- alignment (by Platte Forme a.g.) specs: Camber: -2.0 F/ -1.6 R; Toe: 0 all around
Removed/uninstalled
:
- prototype Swift Spec R Sport springs (Front: 6.0 kg/mm (335 lb/in), Rear: 7.2 kg/mm (402 lb/in))
Wheels and Tires
:
- OE BBS - Hankook Ventus R-S3 - track - soon to be snow tires (?)
- Gram Lights 57Xtreme, MF (matte graphite) - 18x9.5 +40, Sumitomo HTR ZIII - 265/35-18 (
here
) - future track set
- Enkei RC-T4 - all-season touring/daily
- Volk RE30 - 18x9 +40 - summer daily
Brakes
:
- DBA 5000 2-piece front rotors
- CL RC6E pads (front), RC6 (rear)
- StopTech Street Performance Pads (street)
- StopTech Stainless steel braided lines
- Motul RBF600 brake fluid
- DIY brake cooling ducts with Quantum Motorsports backing plates
Done:
- OE brake pads
- CL RC5+ pads
Interior
:
- windows tinted (50% front, 20% rear)
- WC Lathewerks co-polymer teardrop shifter
- ProSport Premium boost gauge
- Weathertech floor liners
- fixed back bucket seat (Sparco Evo II US) (
here
)
- CGLock for passenger
- Defi Advance ZD - oil pressure and temp, water temp (
here
)
-
AFR meter
Exterior
:
- Rally Armor Urethane mudflaps w/ red lettering (uninstalled)
- VentureShield PPF
- JNA V-limited replica front lip
- Blue Bat rear overlays (cutout style)
- foglamp delete (for brake ducts)
The Wish List:
- select Cusco chassis bracing
- aero bits (including but not limited to):
- Voltex Type H2 or Varis wing
- front splitter
- Varis rear diffuser/undertray
- bucket seat for passenger
- harness bar and harness
- competition brake kit
Lap Times
- Horse Thief Mile CW: 1:10.4 (April 2011)
- Streets of Willow CCW: 1:34.9 (August 2011)
- Buttonwillow 13CW: 2:13.2 (March 2013)