Newly updated, 03/03/10:
- I've again updated the spreadsheets to account for new or changed pricing, and to account for new kits that are now offered.
- Unfortunately, I think Full-Race was painted in an expensive light when they first came on the Subaru scene because of their presumed "high" pricing. However, the cattle on the forums didn't delve deeper into their pricing and realize that it included so much more than the regular, mediocre run of the mill kits on the market.
- Now, Full-Race has dropped their pricing. :tup: On top of that, as people will see below, for what you get (twinscroll, FR's manifold and UP, twin Tial 38mm MV-S WG's), for the bit extra that FR costs over the cheap kits (P&L, Perrin, Crawford) and the more well known kits (APS, UR, AMS) it's foolish IMO not to save a bit more and get the quality.
-
I separated the 40R kits from the 35R kits. You can draw your own conclusions, but the UR singlescroll 40R "kit" is the biggest joke I've seen. I'm not sure if they made a mistake, but I'll give them the benefit of the doubt and say that they've mistakenly screwed up either the price, or what's offered at the price. Their twinscroll offering is expensive as well, and not near the quality (IMO) that Full-Race is.

- One last note: I didn't bother updating the small turbo kit pricing. It wasn't worth the time or effort. The conclusion of that spreadsheet still stands - starting from scratch, the price difference between a stock location turbo and a rotated setup is negligible. The various turbos are all priced in the same region (Blouch's new stuff, FP's stuff, ATP stuff...) so adjust accordingly.
Disclaimers:
1) What is below is MSRP website pricing. Everything is assuming you purchase it brand new from a vendor without getting a deal.

2) My bottom line for each turbo kit is an estimation. That isn't the final number. Discounts and sales will lower the cost, but the cost of tuning, miscellaneous costs, and unlisted hardware/tuning/hourly fees etc are not exact so that could and will raise the price.
- Sales, specials, shipping, tax etc is not factored in.
- Labour costs are an estimate, but some people would do it themselves, and others would rather have a shop do it. Add that cost in if it applies to you.

3) Each person will choose different parts manufacturers for things like intakes, intercoolers, BOV's, so I've taken a rough estimate of each part cost favoring towards the higher end products (eBay buyers will save a lot more than the prices I listed).

4) For the big turbo builds, top end motor work 'should' be done as well, but it's not a necessity. If applicable, add in the cost of cams, new valves, springs, retainers, head work, all block hardware etc, and labour to the cost (roughly $5,000-8,000 w/ install)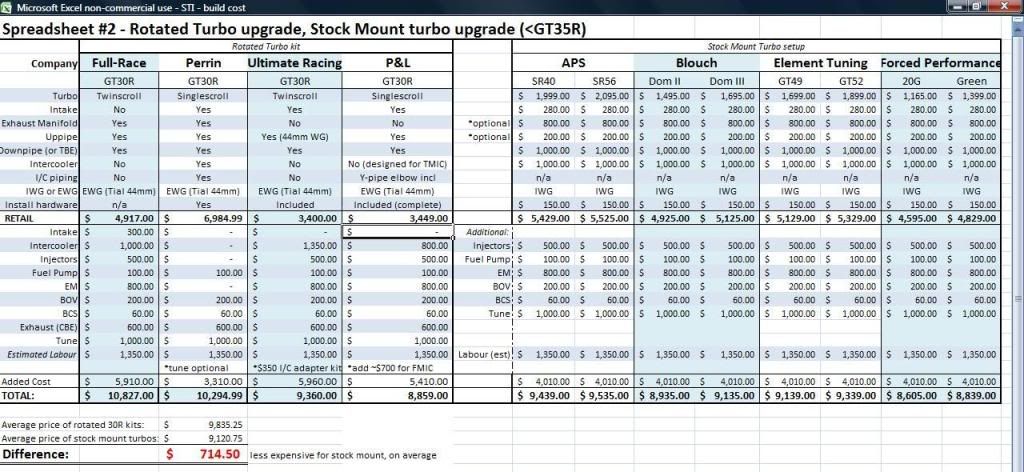 Things of note:
1) Stock mount turbos come in, on average, only around $715 cheaper than rotated mount kits, BUT add in the cost of an EWG setup, and the price difference in negligible. Therefore, the price difference between rotated mount turbos and stock mount turbos after adding everything is moot. It's a matter of preference and how much you want to gain from the setup.
- The reason most people believe staying stock mount is cheaper is because most people usually buy a TBE, intake and EM first. So, they look at having to buy a rotated DP and intake again and that adds to the cost.

2) I added in an
estimated labour cost of 15 hours @ $90. That's an estimate so it could be a lot more or a lot less depending on how complicated the build is and if there are any problems.
I am not affiliated with any company. I made these spreadsheets on my own time while I was planning my build a couple of years ago, and have periodically updated them.
Hope this helps you guys spend your money wisely