So I've decided to make a build thread as I think I am really invested in my STi! At first I made a "Rebuild" thread (
here
) as a journal to keep all my progress as I ventured into tackling an engine removal and rebuild and I also wanted it to be some sort of guide for anyone going through what I was going through.
When I first bought the car I was somewhat new to the STi ownership game, making a few mistakes which included buying my STi from a used car dealer not affiliated with Subaru at all, not checking the oil (excitement got the better of me...) and of course, not taking it to a tuner to get it tuned right away... All things I've learned the hard way. What did it cost me? A F*cking spun bearing 3.5 months later... I hated myself, but I had a choice to make to either sell the car at a big loss, spend $8k - $10k on a builder (which I did not have) or tackle to rebuild on my own by buying a shortblock from a professional builder and having the heads redone at a specialist.
As you will see, I have chosen to rebuild her myself. Yes, I've heard all the talk that I should've given the car to a shop for rebuild, I've heard it and it's too late to change anything and I just simply don't care at this point! I've gone too deep already!
So, to begin the build thread:
First day from the dealer: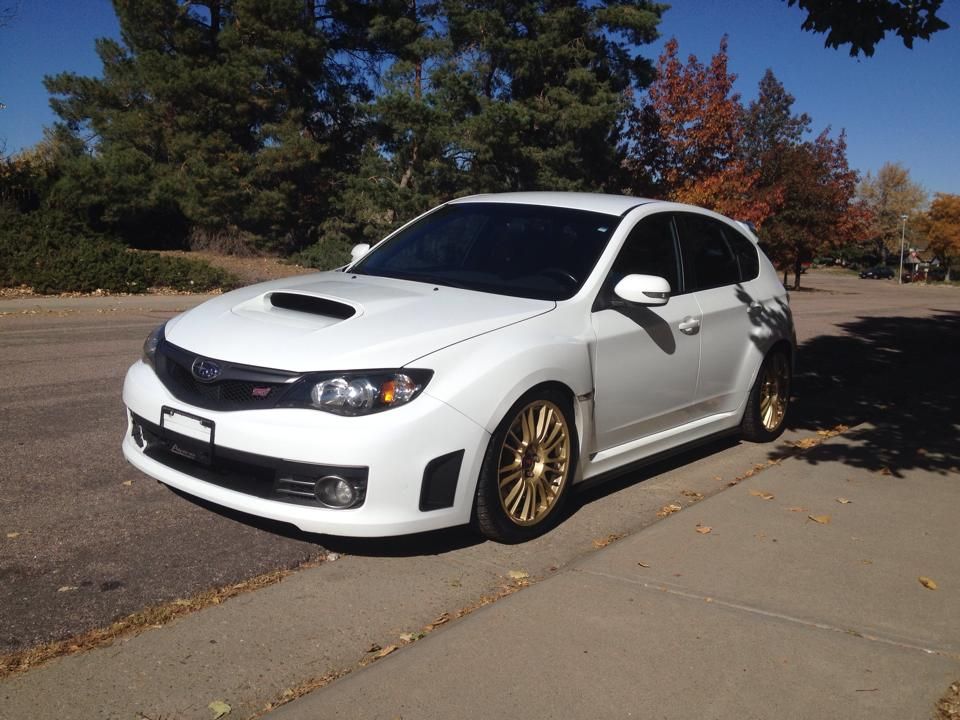 And here she is 3.5 months from September 2014...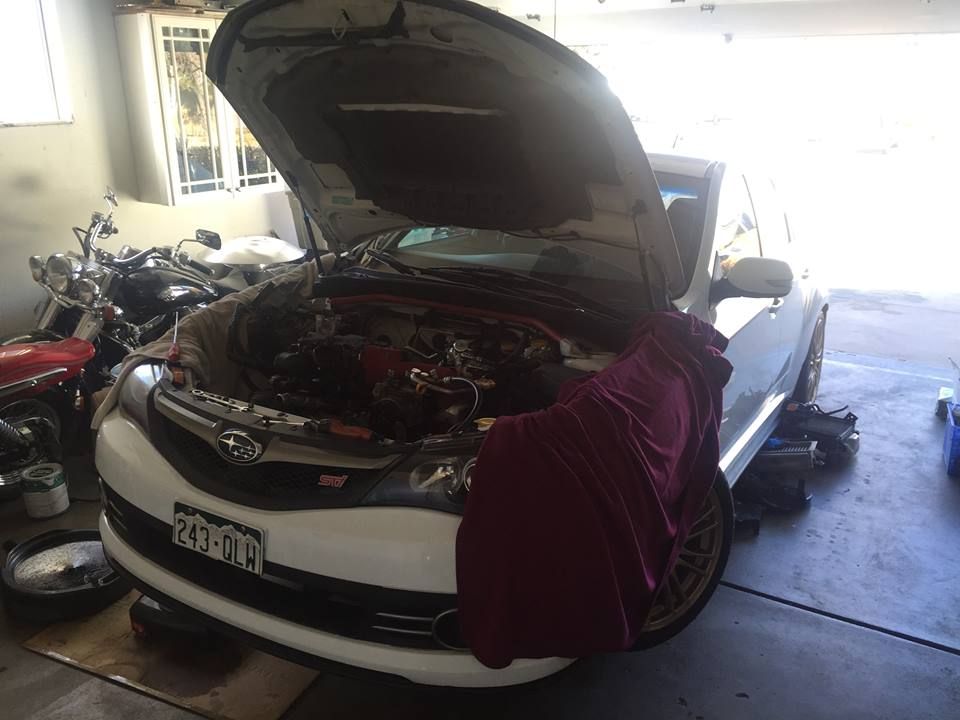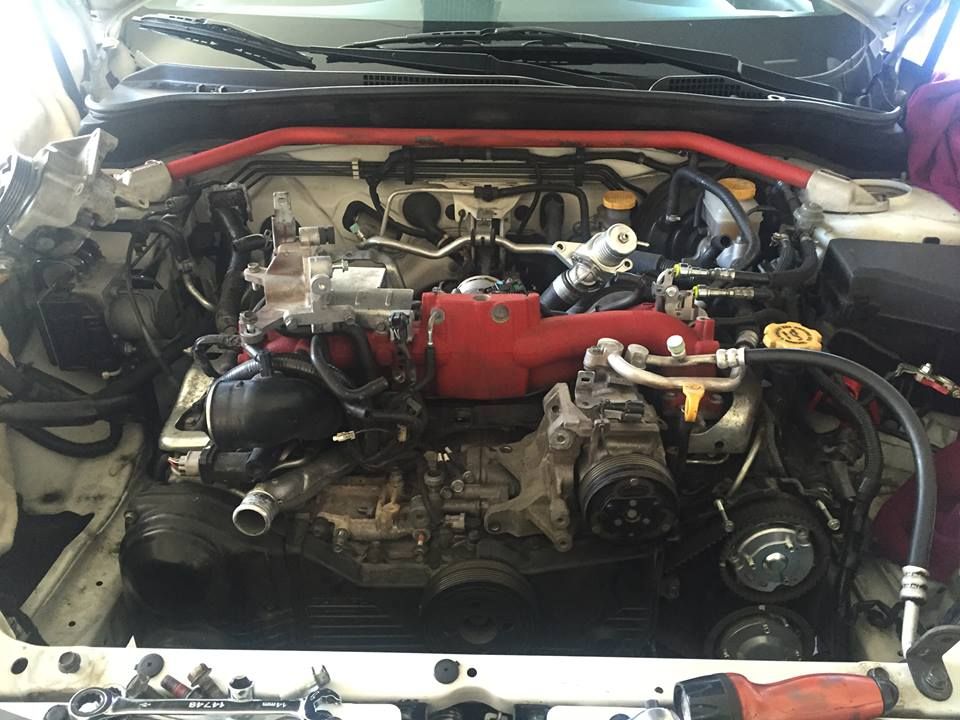 Hours into the night, the engine is off the cradle! What a damned battle it was to get this thing out... Putting it back in proved to be very, very easy.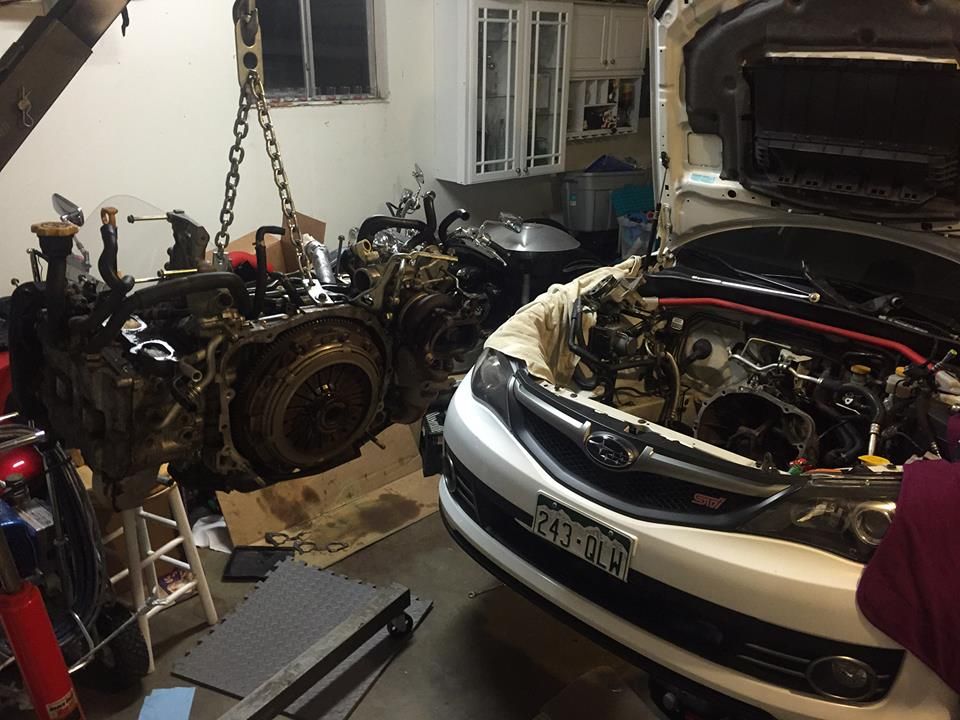 Mods list:


Installed


On The Way


Thinking about it / Future mods

Electronic stuff:
COBB AP V3
Grimmspeed 3-Port EBCS
Defi 52mm Boost Gauge (Have it, not installed)


Defi 52mm Oil Pressure Gauge





Engine:


Built Industries Stage 2 block
- Stock Crank
- King XPG Main and Rod Bearings
- Manley H-Tuff Rods
- Manley Platinum Series Pistons (99.75mm)
- OEM 11mm Oil Pump

Stock Heads / Refreshed by Heads by Drew (Very Reputable Heads Specialist in CO)
- Stock Cams
- Stock Intake Valves
- Stock Exhaust Valves
- 3 Angle Valve Job
- GSC Power Division 75lbs Springs and Ti Retainers
IAG AOS Street Series
Killer B Oil Pick-up
Head work / Port and Polish
GSC Beehive Springs
GSC Stage 2 Cams
GSC Exhaust & Intake Valves



Power Stuff:


Dom 20G-XTR (2.4 inlet, 8cm)
Tsudo Catless Down Pipe
IAG Billet TGV Deletes
3mm Phenolic Spacers
Perrin Inlet
ID1000cc Injectors
DW65c Fuel Pump

Mishimoto Performance Radiator
Agency Power CBE
Cobb Catless Downpipe
Process West TMIC

IAG V2 Fuel Rails




Drivetrain:


Grimmspeed MCB


ACT HDSS Clutch Kit
Torque Solutions Pitch Stop Mount
Group-N Motor Mounts


Kartboy Rear Diff Positive Inserts




Cobb Short Shifter


Perrin Motor Mounts
Perrin Transmission Mount

Suspension:
BC Racing BR Coilovers
BC Racing Front & Rear Camber Plates
Agency Power Rear Trailing Arms
20mm Wheel Spacers


GTSpec Subframe Brace




GTSpec Fender Braces




RCE T2

Coilovers


Whiteline Front & Rear Sway Bars
Kartboy Endlinks