So a little a little backround first. I got into the Subaru family in 07' when I sold my 03' RSX and purchased an 04' STi. Loved every minute of that car. Didn't have to much done to it. TurboXS turbo back catless exhaust, K&N Typhoon Intake, Exedy stage 1 clutch and flywheel, Perrin strut tower brace, and an open source tune with your launch control and hitting 20psi. 2010 came around and I hit a standing puddle of water which contained a collapsed sewer drain and it grabbed my FR tire and just spun me around and my rear wheels went up and over an 8" median and I slid sideways for about 30 yards. Both rear rims were bent at a 45* angle among other things. All together it was $10k in repairs. After numerous alignments and more parts going into it every few weeks the body shop said she was good to go. The next 2 years I had nothing but alignment issues every 6 months. I got it paid off in July 2012 held on to it for a couple more months when I decided to go for the 13' WRX. The dealer wanted to give me $5k, CarMax $6k, and I sold it on Craigslist in 5 days for $11k with 115k miles and multiple issues other than the accident. The kid knew everything that was wrong with it and took it off my hands. Went in the following day 9/24 and put that all down on the WRX and then the 15 week wait time started.
During the wait I purchased a small grocery list of items. Didn't go too overboard though.
-Cobb Knob which I had the dealer toss on before I even left the lot
-Kartboy Short Throw with front and rear bushings (Haven't installed yet)
-Smoked tail light overlays
-Front and rear badge overlays
-Fog light overlays
-Set of used (1 season) winter rims and tires
-Thule Aero Blade roof rack and snowboard attachment
-VLED 5k LED fog light bulbs
-Rain Deflectors
-Weather Tech Floormats
-Gorilla Offroad Company Mudflaps
-Interior and license plate LED bulbs
-Hella horn's w/ Bracket and Wiring Harness
Also got some blaze orange plasti dips cause I was going to do my extra set of 04 BBS rims from my STi in that color for the winter but I came across my current winter rim set up and I thought those looked better in the black that they already were. I think they are too bold to go orange.
Going to black plasti dip the side bumper brake vents and the side wrx chrome badge real soon too.
Deliver day!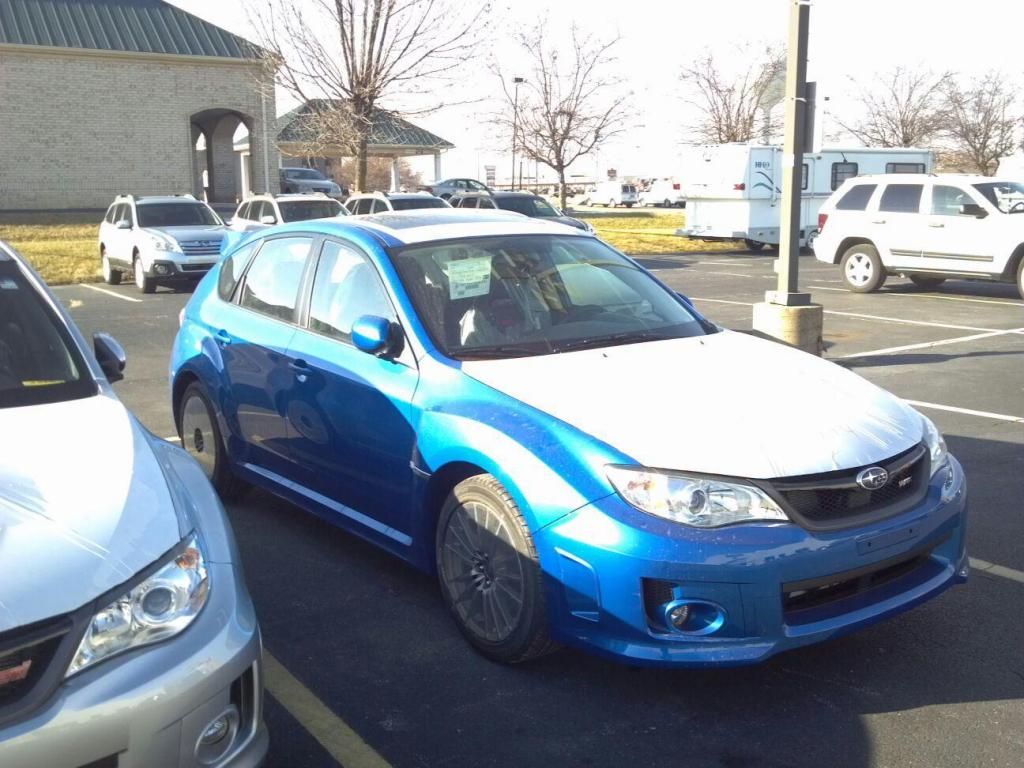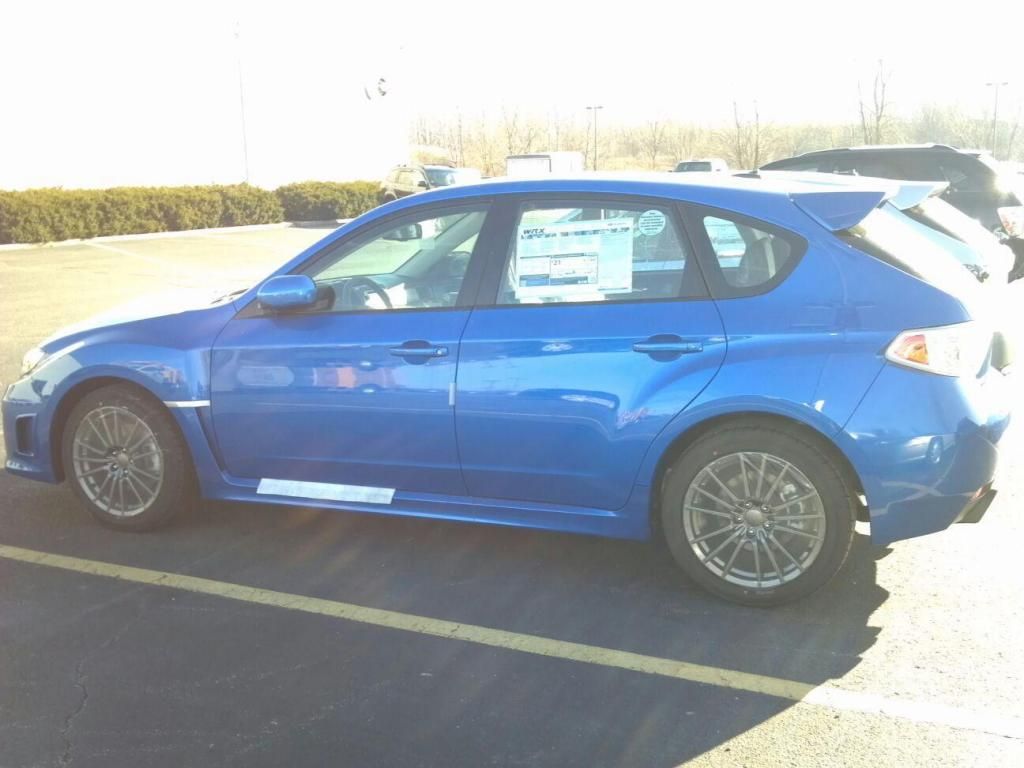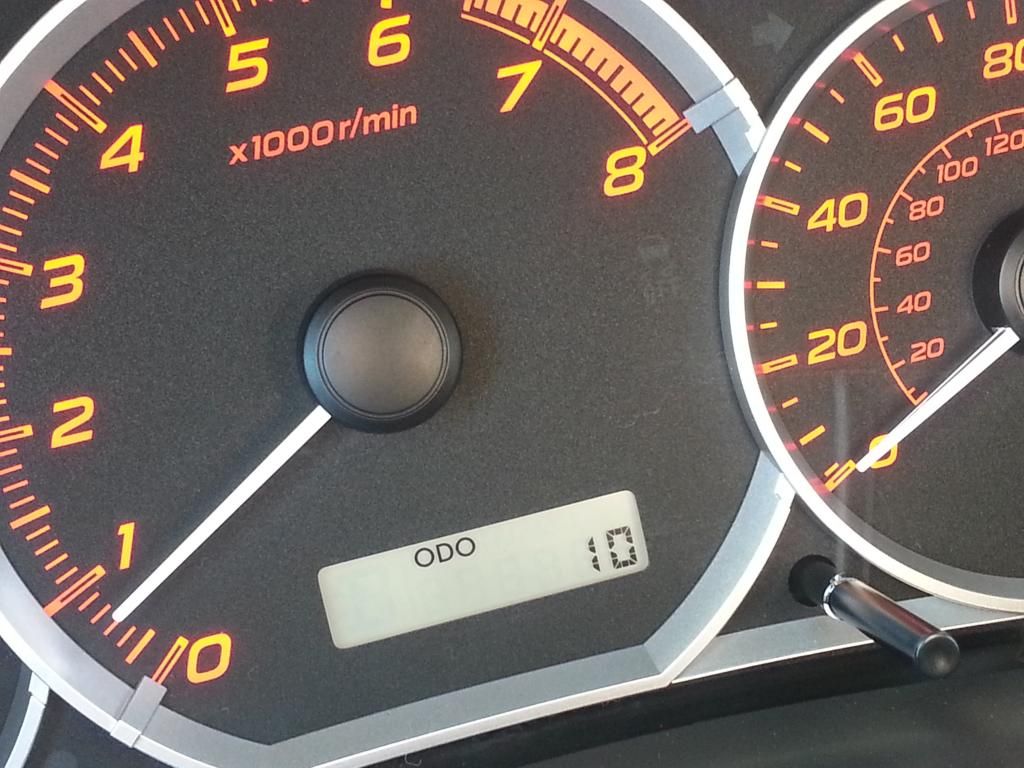 Window tint and Rain Deflectors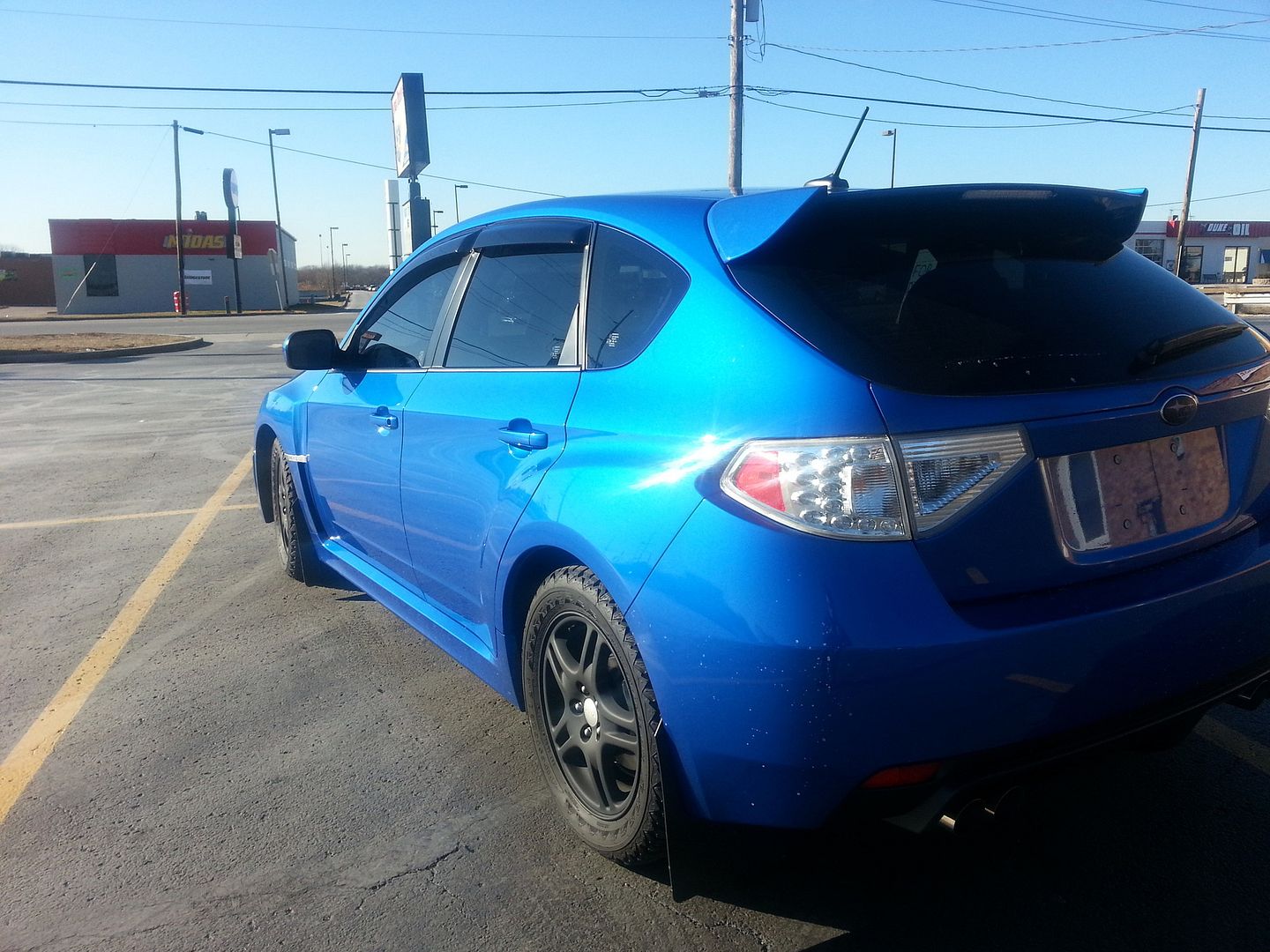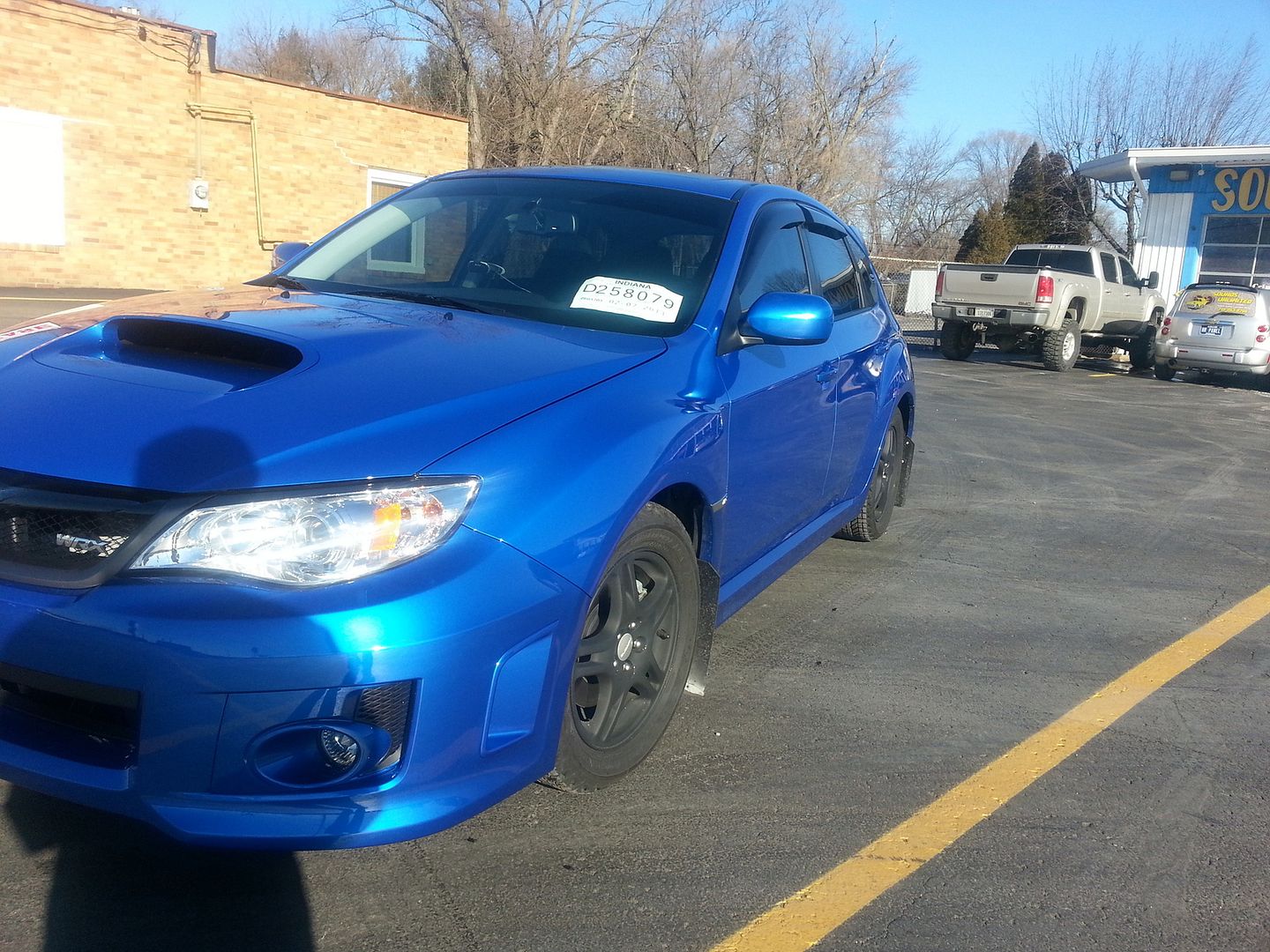 Winter tires/rims, Debadge, and Blue overlay emblems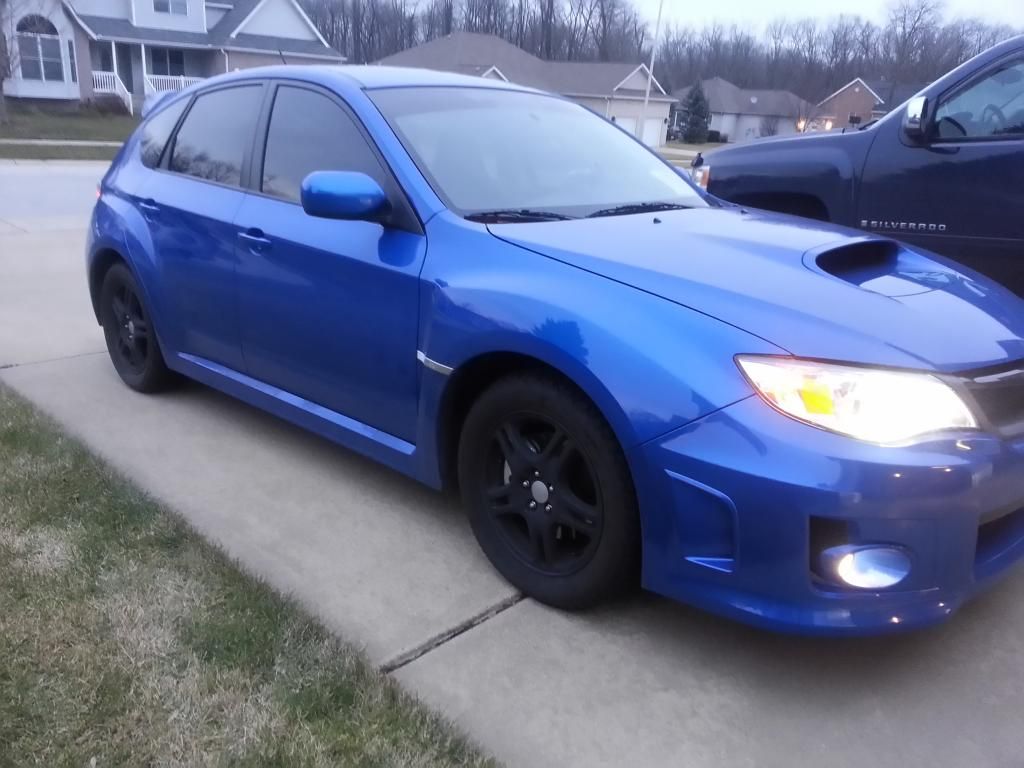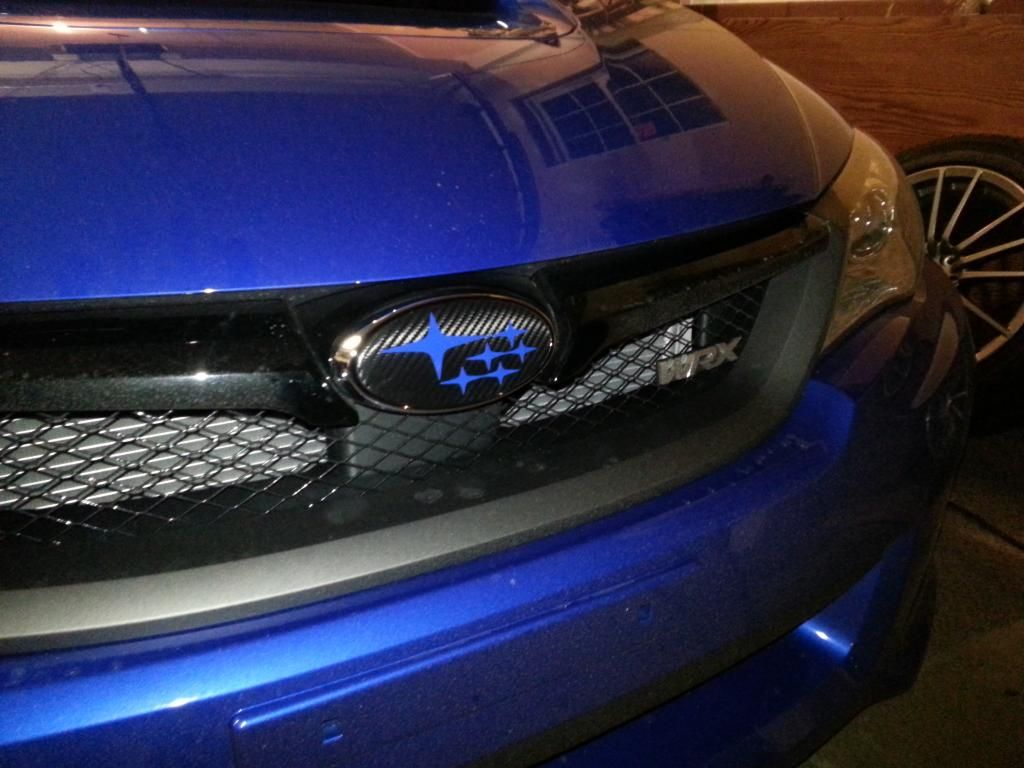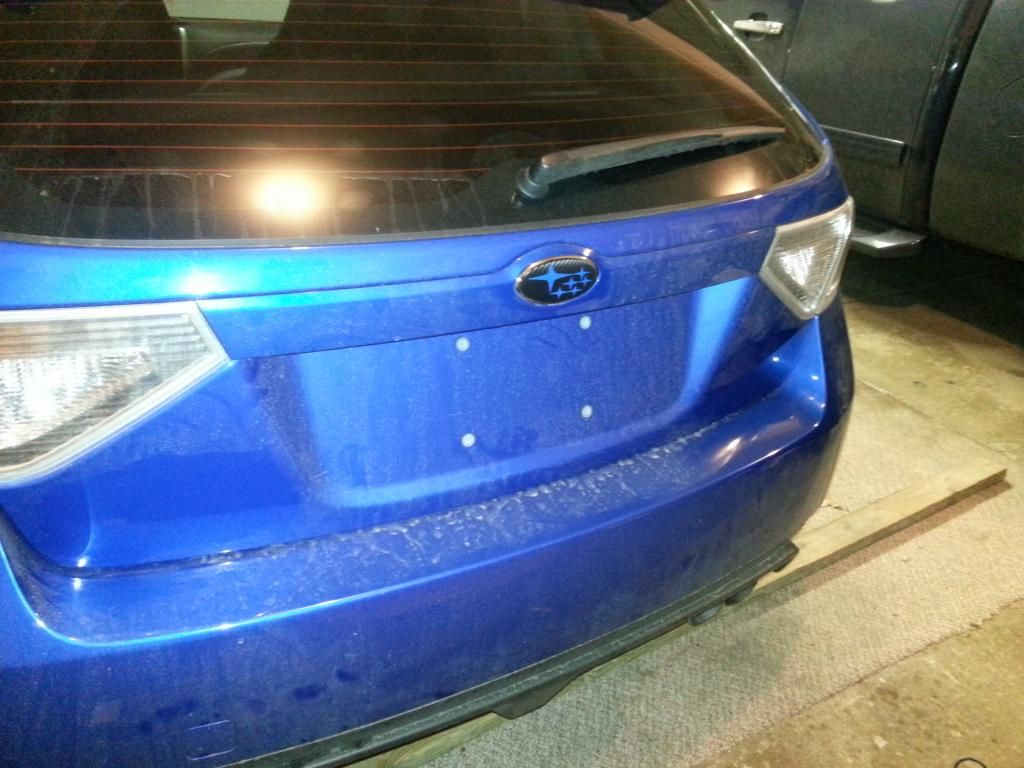 5k Fog LED's and Thule Roof rack w/snowboard attachment
Difference in fogs