Name's Damien, I'm from Juneau, Alaska. Born and raised. I now reside in Sacramento, California and love it. Hit me up if any of you are ever in the area.
I bought this 06 Aspen White STi with 32,800 miles on it
September 17th, 2010
and started my build on it after only a few short months of owning it....we estimate it conservatively at 460-470whp @ 27psi on a built block with alcohol. High boost map is @ 35psi and is roughly 550awhp, this car is
DRIVEN DAILY!!
Any questions feel free to PM me!
buuuuuut below is how she sits as of now... 6/27/15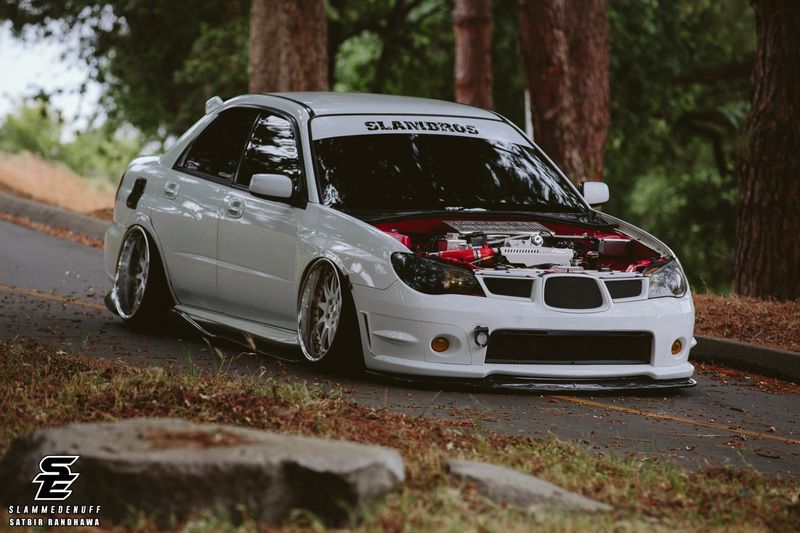 Table of Contents:
9/17/2010 -
Pics of the car how I bought it
12/26/2010 -
JDM taillight mod and smoked out tails
1/15/2011 -
JDM S204 front lip installed and updated engine pics
1/29/2011 -
Rays 57F Motorsport Time Attack wheels installed w/ Pics
(Thanks
VSGTS14
:tup
2/06/2011 -
New Turbo-Element Tuning GT52
2/27/2011 -
New turbo vs. Stock turbo comparison pics
3/8/2011 -
Went wingless! Updated pics
3/15/2011 -
Specs for my build
4/6/2011 -
Headers & uppipe arrive!
4/11/2011 -
Started to slowly pull my motor...
4/16/2011 -
Motor is out!!
(Took me awhile to actually ship motor down)
6/11/2011 -
Motor is back along with the shot parts
8/25/2011 -
Updated engine bay pics and wing back on
8/26/2011 -
More pics & Hella Supertones installed
8/31/2011 -
Lowered her a bit more!
9/3/2011 -
GoPro Hero Motorsports arrived-Test pics
9/7/2011 -
GoPro Video of Mild boost pull
9/8/2011 -
JDM yellow foglight overlays installed
9/14/2011 -
Favorite pics to date of my car
9/24/2011 -
Walkaround & Exhaust Sound video clip
9/26/2011 -
Carbon S204 lip installed & STI center cap decals
10/2/2011 -
Few pics on a nice sunny day
10/13/2011 -
Teaser pics of my new Bride seats
10/17/2011 -
New Perrin Pulley cover & License plate delete pics
10/23/2011 -
New Wheels installed-18"x9.5" +44 DPT in Matte Bronze
11/5/2011 -
Freshly detailed pics
(Thanks Wingnut Auto!
)
11/20/2011 -
Wrong fitted & Lower
11/25/2011 -
Black Friday pics
12/20/2011 -
Bride Gradiant fabric arrived for back seats & door cards
1/3/2012 - Carbon VOLTEX rear diffuser ordered! (4-5 week wait)
1/9/2012 - Carbon ChargeSpeed Bottomline Skirts arrived!
1/14/2012 - ChargeSpeed skirts installed!
3/21/2012 -
Voltex Diffuser arrived & Installed!
4/14/2012 - TurboXS cat-back adapter installed
7/15/2012 - JDMfanatic Vinyls ad ran, and got hooked up with head/tail light overlays
7/18/2012 - Added 17mm spacers, and went lower
7/22/2012 - Added camber bolts to rear
7/25/2012 - Modified rear struts to accommodate for more negative camber!
9/10/2012 - Work Emotion XD9 ordered!!
9/28/2012 -
Work Emotion XD9 fitted and installed!!
9/29/2012 - Contacted for full feature on Stance Society!
10/7/12-4/7/13 Rebuild and sleeved block
11/15/13 - AirLift & AccuAir setup installed
1/17/14 - Avant-Garde wheels ordered (Thanks Yuya @ AG Wheels)
3/27/14 - Avant-Garde F220 wheels arrived & fitted
6/20/14 -
StanceNation Feature
7/16/14 - Velocity Trunk dropped off for White to Carbon fade
8/10/14 - WekFest San Jose!
1/7/15-3/26/15 - Full wire tuck and shaved bay project
Performance:
L.A. Sleeved EJ257 block
3" HKS Hi-Power exhaust
ASPEC Blast pipes
Fast AutoWorks TMIC (TurboXS specs)
TurboXS 4"
widemouth catless downpipe
Element Tuning GT52 turbo (Tuned to 35psi)
0.20 over bore
Forged WiseCo 100mm pistons
Scat forged H-Beam rods
Black nitride valves
11mm STi oil pump
ARP head studs
ARP main studs
3-angle valve job
CNC block resufracing
balanced / blueprinted
all new gaskets & seals
Phenolic inake manifold spacers
ACL main bearings
ACL rod bearings
Walbro fuel pump (255lph)
Modded
STi
factory injectors (850cc)
AEM Adjustable Fuel Pressure Regulator
Perrin
Parallel Fuel Rails
Perrin
Shorty Intake
Perrin
Inlet pipe
Perrin
Radiator Shroud
Perrin
Alternator/Pulley cover
Perrin
crank pulley (White)
Perrin
radiator stays
Mishimoto Oil Cooler kit with sandwich plate
Koyo SpecR Radiator
Slim fan shroud with slim fans (Anodized Red)
Greddy Type-RS BOV
Greddy Oil Catch Can
ChaseBays braided power steering line kit with reservoir
ChaseBays coolant reservoir
ChaseBays braided clutch line
ACT
Heavy Duty 6-puck clutch and pressure plate
SMC 2 Stage water/methanol injection setup (80% alky/20% water mix)
Group N
motor mounts
Group N
tranny mount
TurboXS Catback adapter (fits 4" TurboXS downpipe to my HKS exhaust)
TurboXS UTEC tuning software
Remote MAP control button (10 map options)
UTi
Jeff Software
to convert to speed density tuning
Speed-Density Conversion tunes (1/16/11)
Tuned by
Me! (

More info check out RuSubaru.com
)
**
Tuned to 35psi on Speed Density
**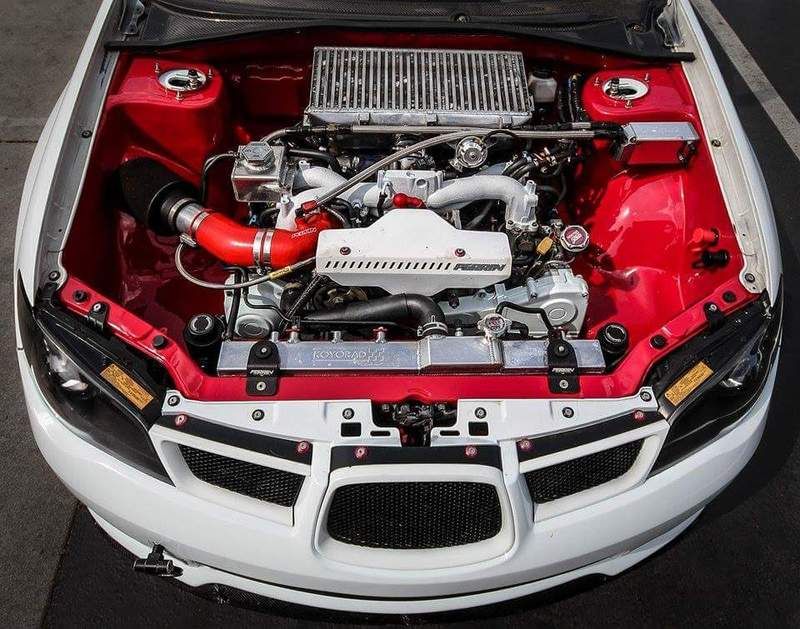 New Motor build specs (April 2013) :
*
L.A. Sleeved EJ257 Block

0.20 over bore

Forged WiseCo 100mm pistons

ACL main bearings

ACL rod bearings

Scat forged H-Beam rods

Black Nitride valves

11mm STI oil pump

ARP head studs

ARP main studs

3-angle valve job

CNC block resufracing

balanced / blueprinted

all new gaskets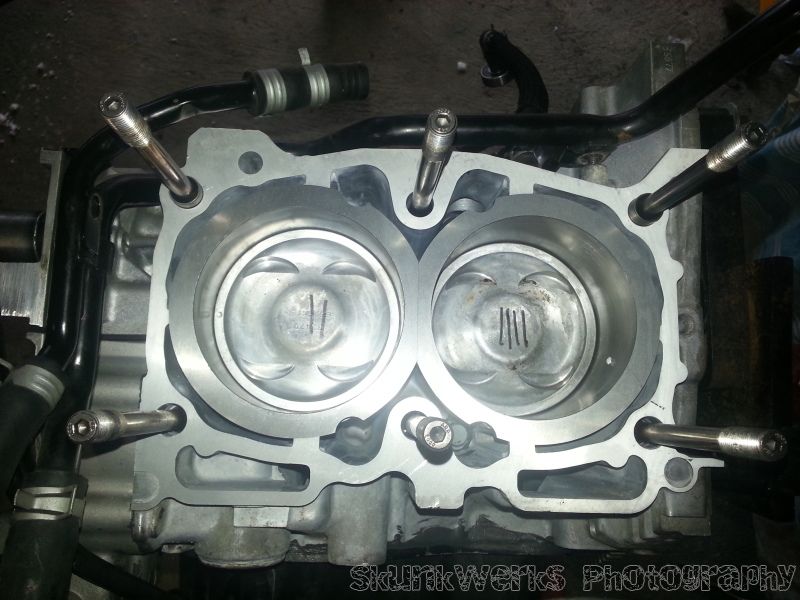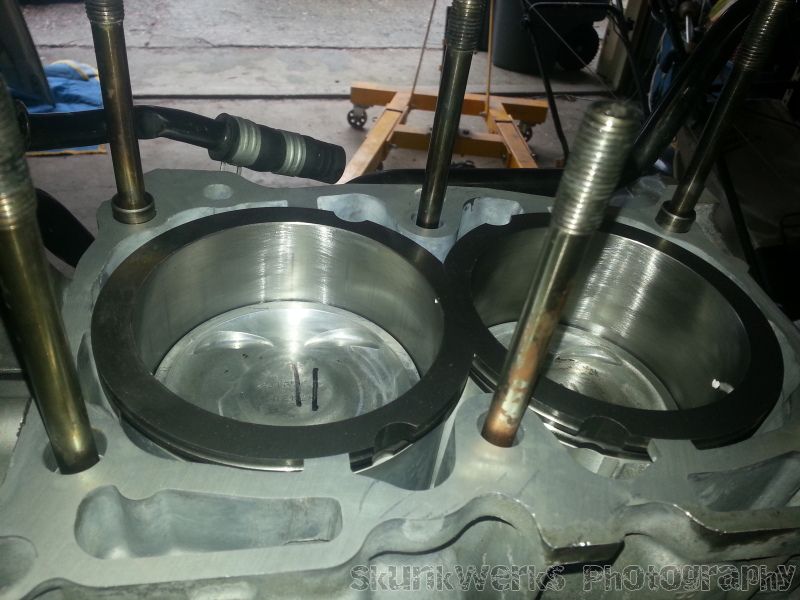 Suspension/Wheels:
AirLift Performance w/ camber plates F&R
AccuAir Management
2 Viair 444c compressors
5 gallon AccuAir air tank
PTC fittings for 3/8" lines
AccuAir VU4 valve manifold
-Front & Rear Camber bolts
-Rolled, pulled, and grinded rear fenders
-Rolled & pulled front fenders
Avant-Garde F220 18"x10.5 et XXX
Lucido White w/ Cherry Blossom hardware
High Disk in front with 3.5" polished lips
Low Disk in rear with 4.5" polished lips
Federal 595SS 225/35r18 tires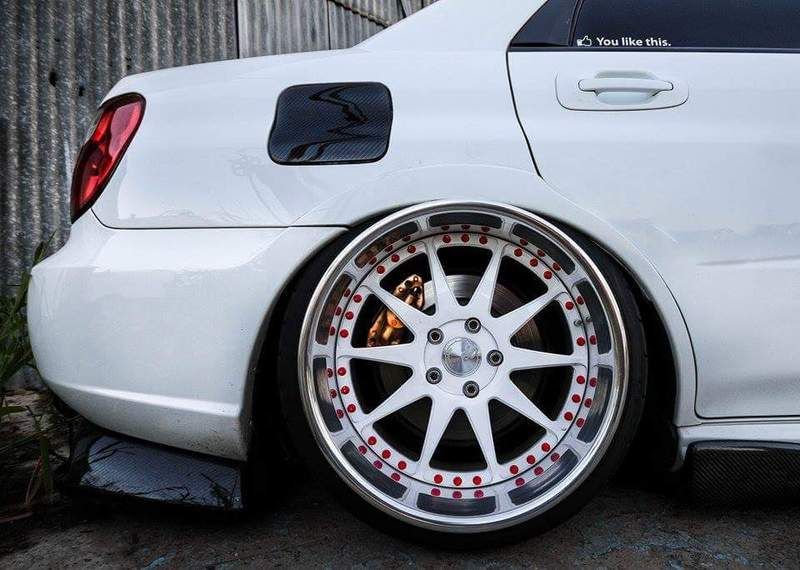 Brakes:
ChaseBays Brake Booster delete kit
Wilwood Master Cylinder & reservoir (.88")
ChaseBays ABS delete kit
All new stainless lines & adjustable proportioning valve mounted in my cigarette lighter.
OEM Brembo brake calipers (Soon to be painted Cherry Blossom Red)
EBC Red Stuff pads
Exterior:
07 JDM S204 limited carbon fiber front lip (BaysonR)
02-07 Velocity carbon trunk
04-07 STi ChargeSpeed Bottomline Skirts carbon
02-07 STi VOLTEX carbon fiber diffuser
06-07 JDM rain visors
06-07 OEM STi rear roof vane spoiler
3m Carbon wrap on roof vane
Carbon Exhaust shroud
Hella Supertone horn kit
GrilleCraft MX upper grille kit
GrilleCraft MX lower grille kit
TEIN hood dampers
PasswordJDM quick release bumper kit (Red)
NRG fender washer kit (Red&Black)(2)
Front HKS tow hook (Black)
Rear Benen tow Hook (Black)
2005 OEM taillights
JDM taillight mod
JDM yellow foglight overlays
10K low beam DDM HID bulb replacements
3K foglight DDM HID kit
3k HID equivalent city light replacements bulbs
35% tint on windshield
5% tint on all side windows & front 6" strip
20% on rear window
Interior/Stereo:
GodSpeed 6pt Bolt-In Rollcage (Cherry Blossom Red)
Personal Pole Position wheel w/ White Stitch
NRG v2.0 Carbon Quick release hub
NRG short hub
Sparco 4-pt harnesses
ALL black "STi" floor mats
Bride
Digo front seats
Bride
seat sliders
Bride
gradient upholstered door cards
PLANTED
seat brackets
ATI 3 gauge clock pod
Defi
Advance BF Boost gauge (28psi)
Defi
Advance BF Exhaust Temperature gauge (2000*)
Defi
Advance BF Water Temperature Gauge
Defi
Advance BF Control Unit (custom mounted under foglight button)
AEM UEGO wideband & gauge
AEM TRUboost controller & gauge
Universal STi A-Pillar 2 gauge pod
SMC alcohol injection control unit mounted in ashtray compartment
Pioneer P4000 touch-screen dvd player (w/ E-brake bypass)
Rockford BD1000 Amplifier in custom enclosure
Rockford 12" P3 subwoofer in custom enclosure
Hertz 6.5" Energy Separates w/ crossover and tweeter (Front)
Hertz 4" Dieci coaxial speakers