These are my own conclusions. No water was harmed in the making of this movie. Do not eat. Dispose of properly. Any resemblance to persons or places real or imagined is purely coincidence. Enter at your own risk. Beware of dog.
So I figured since all the info on my AWIC build is scattered through out my journal I'd make a seperate thread specifically on this project for those interested in how I did it along with the thought process and research that went into it before hand.
First some background. The idea came as a result of periodically seeing random threads asking about it on here and that other site we don't speak of and just a general curiosity about why they aren't common in our world. I started picking up on the fact that there is alot of misinformation and misunderstanding about these setups and set about researching the true benefits and drawbacks. Basically the general opinion is that they're only good on a drag car with ice water running through it or on a mid engine car for packaging reasons.
The biggest misconception of an AWIC is that you have to run ice water in order for it to work. This is used as a reason that, for a daily driven street car, they won't work. That view point is based on the fact that drag cars do use ice but it usually is only good for one or two passes and then has to be replaced and there is no heat exchanger used. Repeated pulls will cause the water to heat up and the intercooler to become ineffective with higher and higher IC outlet temps. Without a heat exchanger the water has no way of shedding the absorbed heat. A properly sized heat exchanger is absolutely critical to make it work properly on a DD. Many of the DIY attempts I found had either an undersized or more commonly no heat exchanger. Typically a motorcycle radiator or oil cooler core was used if one was in the loop. I call this pre-meditated failure.
The next issue is location of the reservoir if there even is one. Nearly all of the ones I found have located the reservoir under the hood subject to alot of heat. The idea that you would subject your primary cooling medium to the hottest temps anywhere in the car baffles me. Pre-meditated failure.
Next on the list is the argument of an extra layer of thermal transfer. I have no counter argument for this one since it's basic physics. In an air to air the heat transfers from the charge air through the intercooler fins to the ambient air-a three step process. In an air to water the heat goes from the charge air through the intercooler fins to the water, from the water through the heat exchanger fins, to the ambient air-a five step process. Every step has it's inefficiencies that add up. However with a properly sized core, a properly sized exchanger and a reasonable reservoir located outside the engine bay the effects can be minimized.
I'm going to touch on reservoirs again. While not required I believe they are a benefit on a street car. There are several reason for this. It allows a place to keep the majority of the water out of the engine bay in a much cooler location and results in less heat having to be removed by the exchanger. The other valid reason to have one is the added total thermal mass of the system. A larger thermal mass means smaller temperature variances which equates to much more consistent IC outlet temps. The down side of a larger thermal mass is the longer it takes to heat up the longer it takes to cool down. The fix for this is again a properly sized heat exchanger. Seeing a trend yet?
Pumps. If there's any place to be a tight wad this isn't it. A high quality purpose made pump with extra flow capacity is a must. The norm is to use plastic bilge pumps that have an open flow rate of 5-10gpm or so. While that may be sufficient the part they don't tell you is that in this application they cannot be run continuously. They have to be boost activated and only come on under positive manifold pressure. What this means is that while your cruising the core and the water in it are heatsoaking to a pretty high temperature. As soon as you step on it the water starts flowing but the temps are still very high. The temps won't come down as fast as one might think either due to the core being hot as well. The water has to cool the core and the charge air at the same time. If the core is at a cool temp with a constant flow system the only heat that has to be removed is from the charge air. I liken it to using a fire extinguisher after the fire is already out. A step in the right direction is the Bosch pumps that are OEM on the Ford Lightning, Cobra and the GT. These are good pumps that are readily available, relatively inexpensive and move about 12gpm free flow. They will stand up to constant operation as long as they are down stream of the exchanger not subjected to high fluid temps. They have to be mounted at the low point of the system to maintain a prime. The best option and the one I went with is what alot of the Lightning and Cobra guys upgrade they're pumps to which is the Meziere WP136S pump. Constant flow, 20gpm, full ball bearing, billet impeller, rebuildable, 3000+ hour service life, set up for AN fittings and not very cheap.
So on to some pics and more info specific to my setup.
First would be the core. The core I ended up using is a dedicated air to water core. They are built differently than an air to air core with larger air passages and smaller passages for the water. The reason for this is it takes much less water to remove alot of heat than air so the charge air passages can be opened up and flow very well while the water passages can be made to flow well and still have sufficient surface area for heat transfer. This is the reason for such low pressure drop through air to water cores. Many so called air to water cores are just air to air cores that are jacketed to flow water. This core flows 745cfm. My Dom3 has a 52lb wheel which equates to 644.36cfm. Plenty of headroom.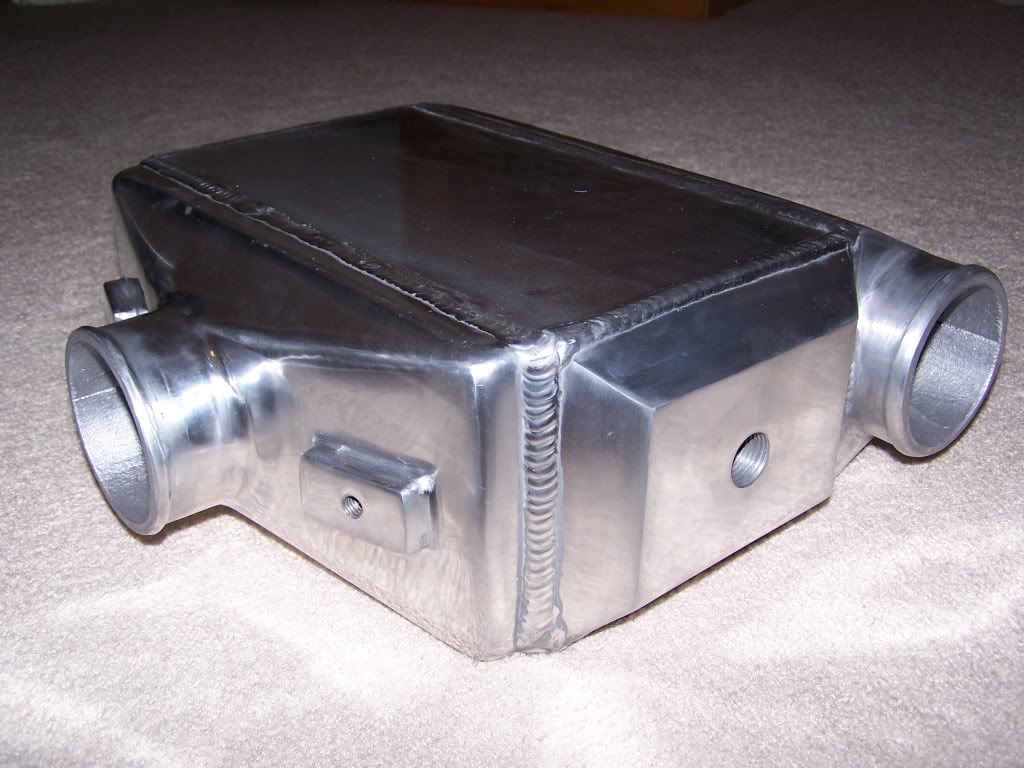 The core compared to my Spearco.
Inside shot of the core showing the wide air passages and thinner water passages.
My exchanger. It's a 26x7x2 two pass bar and plate core. Both in and out are on the same end so the water does a U turn hence the two pass description.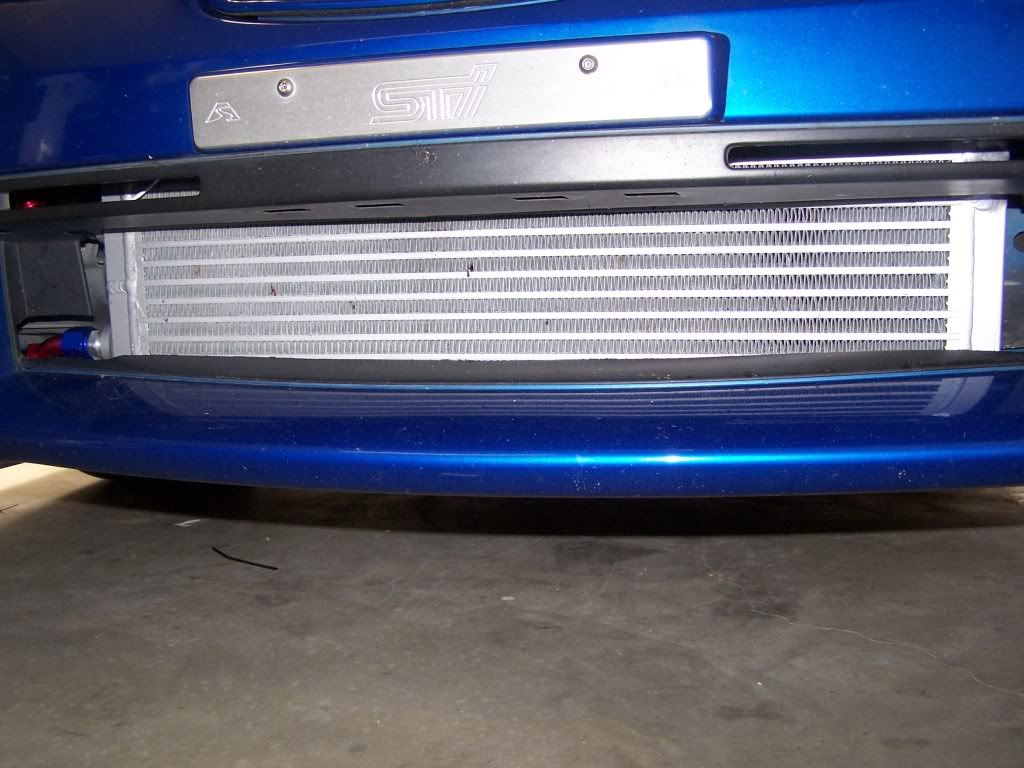 Next is the reservoir. Total capacity is 2.6 gallons. The rest of the system holds about another 2 gallons but thats just an estimate on my part. The pump is mounted to the reservoir so thats covered here as well.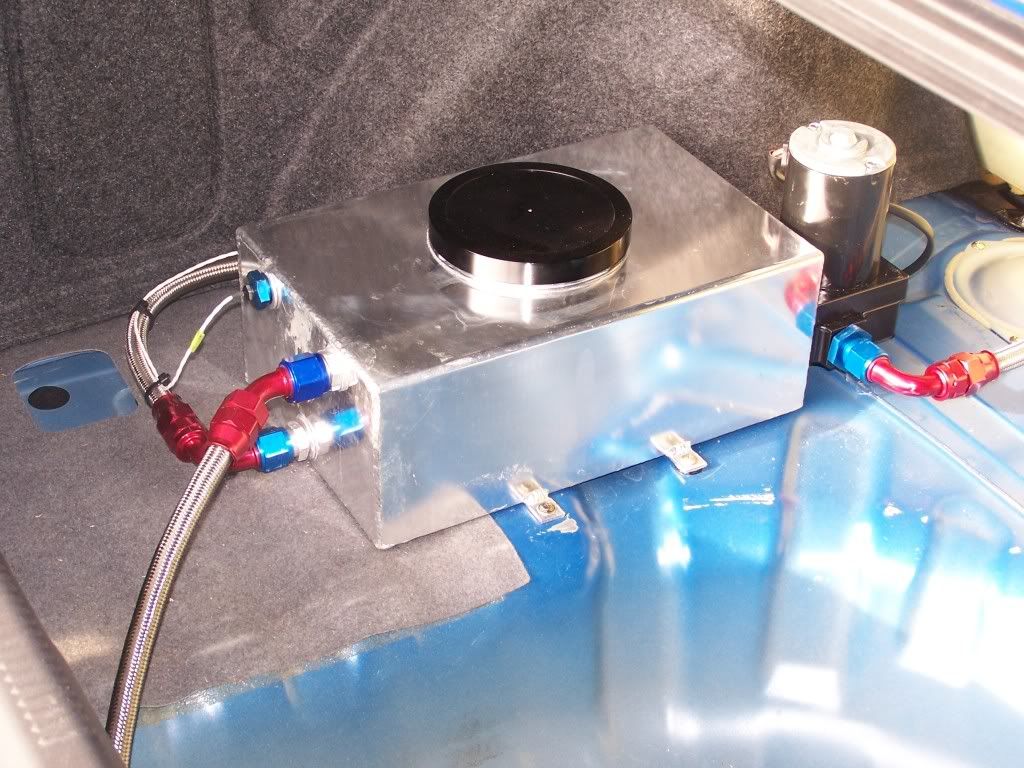 Here's the pump.
This is an underhood shot to show the layout.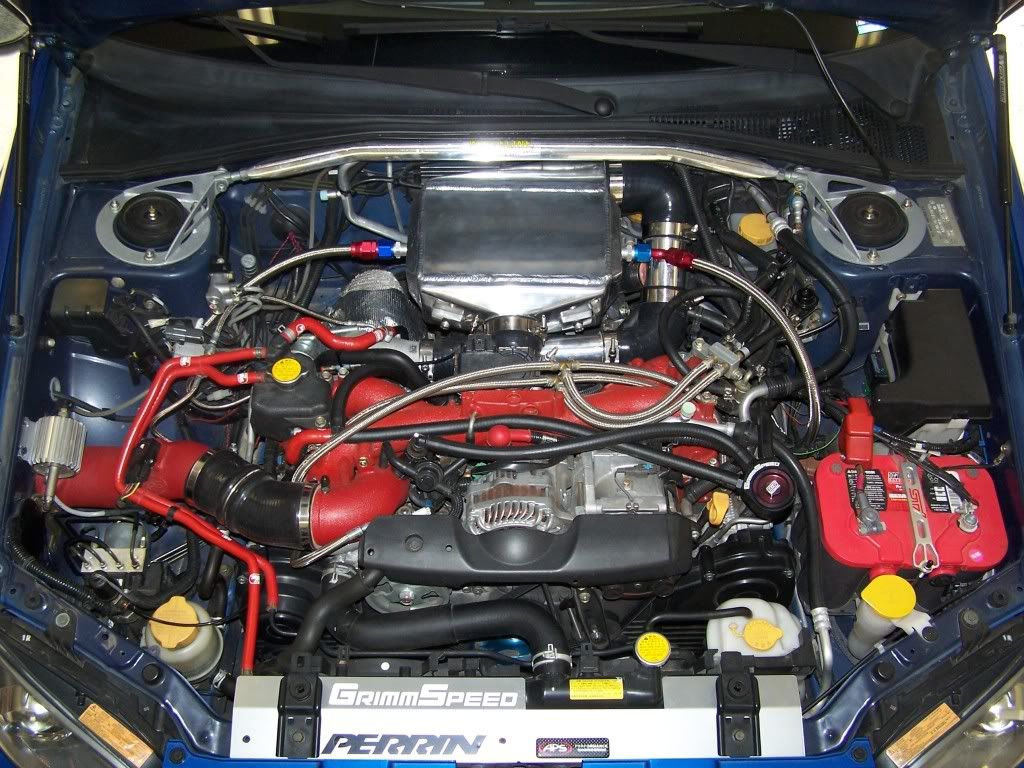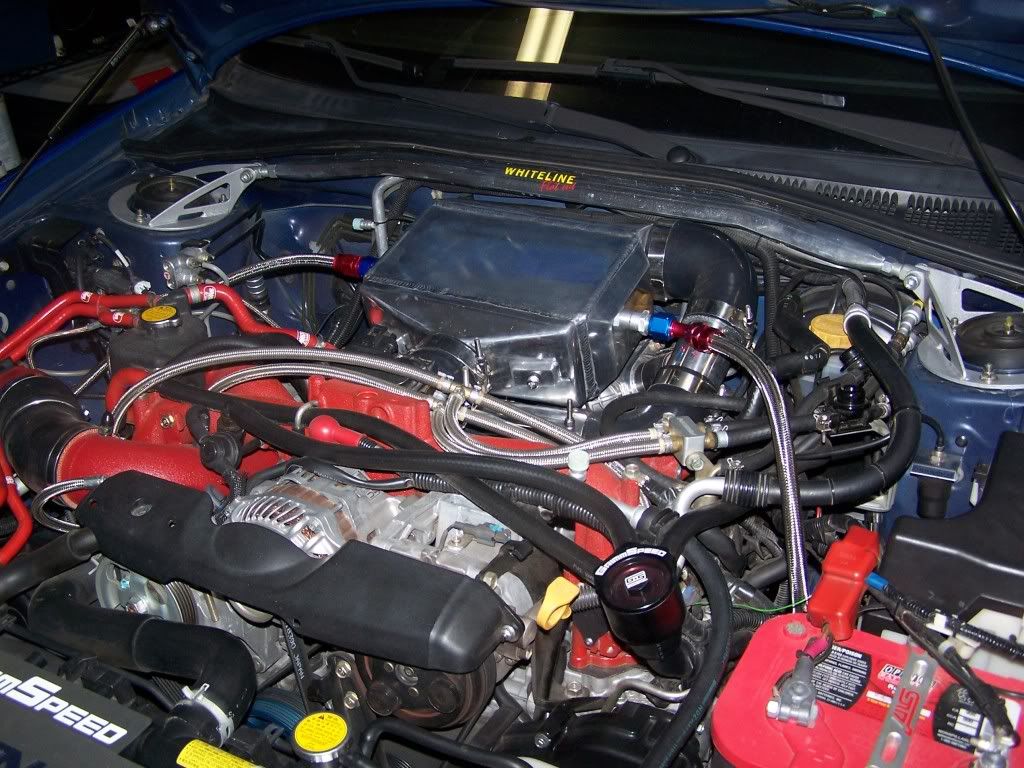 Those are the major components. For the charge pipes I had Mark at P&L fab up those. The one from the snail is 2" diameter by 11" length aluminum and bead rolled at both ends. The other section along the side of the core is 2.5" diameter by 6" length, bead rolled, and has a 1" nipple for the BPV.
The majority of the components I used are from Frozenboost.com. Here's a laundry list:
Type 14 core
Type 118 exchanger
Ice box reservoir
6 NPT-AN adapters -10
2 90* -10 fittings
4 45* -10 fittings
2 straight -10 fittings
~40' of -10 braided line
2" straight coupler
2"-2.5" 90* reducer
2.5"-3" 90* reducer
2.5"-3" straight reducing coupler
3 2" t-bolt clamps
3 2.5" t-bolt clamps
2 3" t-bolt clamps
The pump is controlled with a switch thats installed in a Subtle Solutions ashtray delete plate along with the temp meters.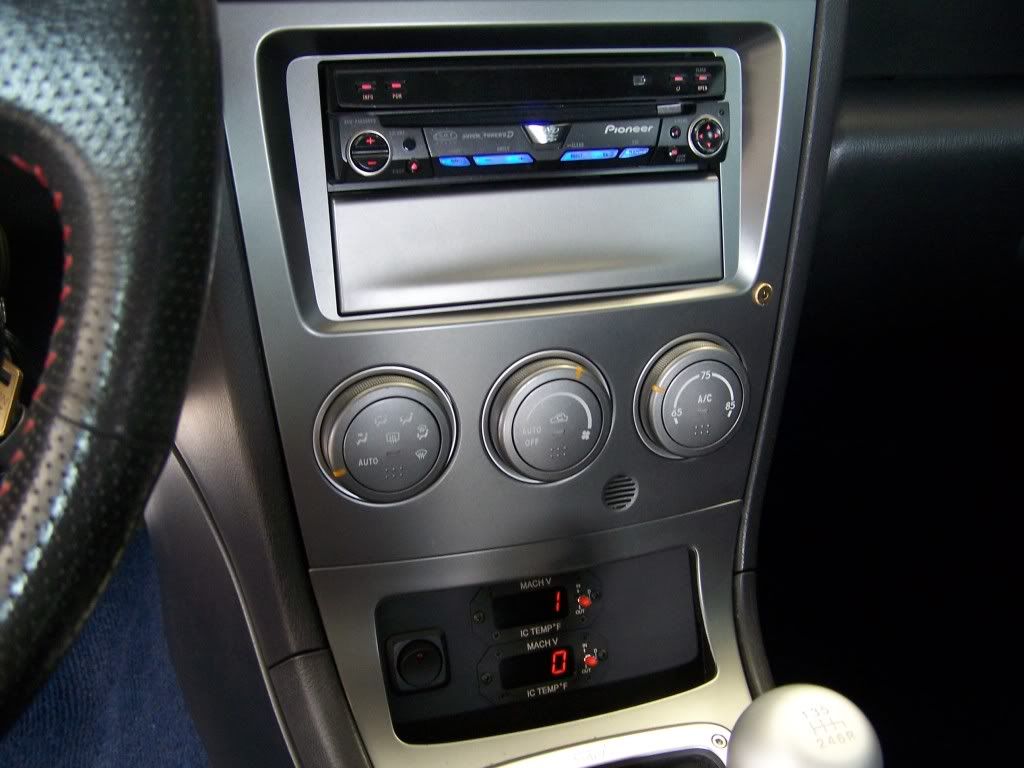 The temp meters are from Mach V. They're made by Davtron Avionics and are designed to measure the inlet and outlet temps on the intercoolers of aircraft. I use one for that and the other reads the water temp in the reservoir and a direct ambient air temp at the fog light bezel in front of my APS cold air.
Total cost for the whole setup ran about $1200 give or take. The temp meters added another $500 but I wanted those so I could have some hard data to work with and wouldn't be necessary for a normal setup.
Here's some numbers from some preliminary testing. Subambient IC outlet temps are the result of running this system in conjunction with my Aquamist water/meth at a 50/50 ratio by volume. I'm using a 1mm nozzle which is around 15% or so of total fuel flow.
CRUISE:
Ambient 93*
intake temp steady at 97*
Turbo outlet temp ~115*
IC outlet temp steady at 2-3* above ambient
ON BOOST:
Boost up to 20psi
Ambient 93*
Intake 97*
Turbo outlet 145-150*
IC outlet 85-86*
I have since done alot more testing trying to find the limits of the system and so far haven't done so. Multiple full boost pulls at 22psi from a stop through 4th gear have not given any indication of heatsoaking the water even with turbo outlet temps near 180*. With outlets temps that high with multiple pulls the water temp has never climbed more than 6-8* over ambient and outlet temps remained below ambient. I believe a true test would be on a road course with sustained full boost but I don't do HPDE events or anything similar in order to test it there. I believe if the exchanger is able to shed heat at a faster rate than it's absorbed heatsoak will not ever happen but thats just my own theory at this point based on my feeling that the exchanger I have is more than capable of doing so.
So far the project has exceeded my expectations and appears to have all the benifits of a top mount with throttle response, post turbo volume and such with the cooling advantages of a front mount. The downside is obviously the added complexity albeit only a small amount and the small amount of fab work involved but I feel those are far outweighed by the advantages I've seen thus far. There is more info in my journal but it's somewhat scattered about hence the reason for this single thread for it.
Ask away if there's any questions. Sorry there aren't more pics but it's my daily and it has to come apart and go back together in a timely fasion and I tend to be on a mission to get stuff done usually.
T-G