As a car enthusiast, it's a difficult journey to obtain a Highly Respected Build status. The car enthusiast is no different today than what it was decades ago, even after the Fast & Furious era – what do I mean? As seemingly bitter and drama filled of a crowd it is, many people claim there used to be the good old days where it was magical unicorns getting along with no drama or hate towards one another for having different models and makes; however, there has always been rivalries. What makes today's crowd different is the access to every opinion in this world through the interwebs and especially, dare I say, forums. Clash of opinions, segregation and simply misguided arguments tend to be the highlight of most new entrants and sometimes new ways of modifying cars – this brings us back to the point of opinions are like assholes, everyone has one. The byproduct of bigger exposure to new unconventional ways of modifications means rejection by the traditionalists is much more evident, which gives us the byproduct of more apparent bitterness, hate and unnecessary drama. All of these shenanigans lead us to the point of Car Purists. Car Purists: Individuals whom appreciate each and every section of vehicles while disregarding trends, brands, models and any peer pressure. How can you distinguish between the two types? Speak to them. With a purist, passion will run deep, it's much more meaningful than an answer of "I enjoy my car", consider it a cheesy love, eyes will light up and even sometimes words will stutter. Now of course some person's egos won't allow them to get emotional and have their passion shine about the topic, but then how real is their passion or maybe they are passionate about a certain aspect of cars and they choose to remain that secret to themselves. Before I get carried away from my main point of this article, what I want to focus on is the following – Big Builds.
All of us have dreams, some more realistic than others, but at the end of the day, those dreams most important to us will be the ones seeing the most action and progress to be achieved. Let's consider this example in a city most of us are living life, getting by and certainly no financially free. This story always occurs and it's usually from someone who often claims money isn't an issue.
Every year since i've been involved in the car scene, there's a massive build that looks promising, whether it's for aesthetics or as a power-plant, few months later it's being parted out and/or for sale midway through the project.
Building cars isn't cheap, and it'll never be. The amount of money required is mind boggling, and do you know what's even 100x worse? The amount of time required. You got enough Texas $$$ to build a world-class car? awesome. Do you have the money and time to chase gremlins for the next few months? I understand some have the ability to write a blank cheque to a company and have them build your wildest dream, but I feel those type of people will never understand the struggle, passion and the amount of patience required - thus in the end will never have a true appreciation of the finished art. Speaking of art, this portion is where the car scene drama applies – your objectives on what you want to have achieved through your build will receive much questioning and rejection depending on the route you plan on taking. Any platform you take on, you'll notice a simple pattern – a 'proven' pattern or path, which all big builds will follow; on the outside, they are different, but in essence they are built on the same grounds. Building something nontraditional means you must put your flame-suit on and get ready to take some heat, but also means you must maintain your cool and lay down an explanation for the direction of your steps. Maybe some people feel like they shouldn't have to explain anything to anyone, that can be a good trait to have but how does it impact the future enthusiasts who want to do something different? In the end, it's much more efficient to have an understanding of each rebuttal you'll receive and have an explanation of why the difference from everyone else. The current generation has the mentality of I want to be different, this is great for diversity but we have to keep an open mind to how variation can help us and how we can benefit by mixing and matching to turn things into our favour and the favour of the future ones.
Cool, you've gotten to the stage where the car is considered complete. How was it built? Of course who built it has a major role in the legacy you're attempting to build, but the point i'm getting at is when it comes to the scope of machines, whatever COULD go wrong, WILL go wrong. Any and every cut corner will be very evident once it's all said and done - what do I mean? It will be reflected on the longevity, efficiency and of course, how everything works together as a whole. How well everything comes together is what makes the Special Sauce so special.
Then when it's all said and done, some people still feel empty; Maybe you should ask yourself if you're in love with building cars, simply addicted to buying new parts or you're afraid to have a finished puzzle?
All I can do is put some history events in front of you to hopefully better understand and rationalize your future plans – this could never be a non-open ended story because everyone has a different ending and their own story to write.
This is where MY story begins.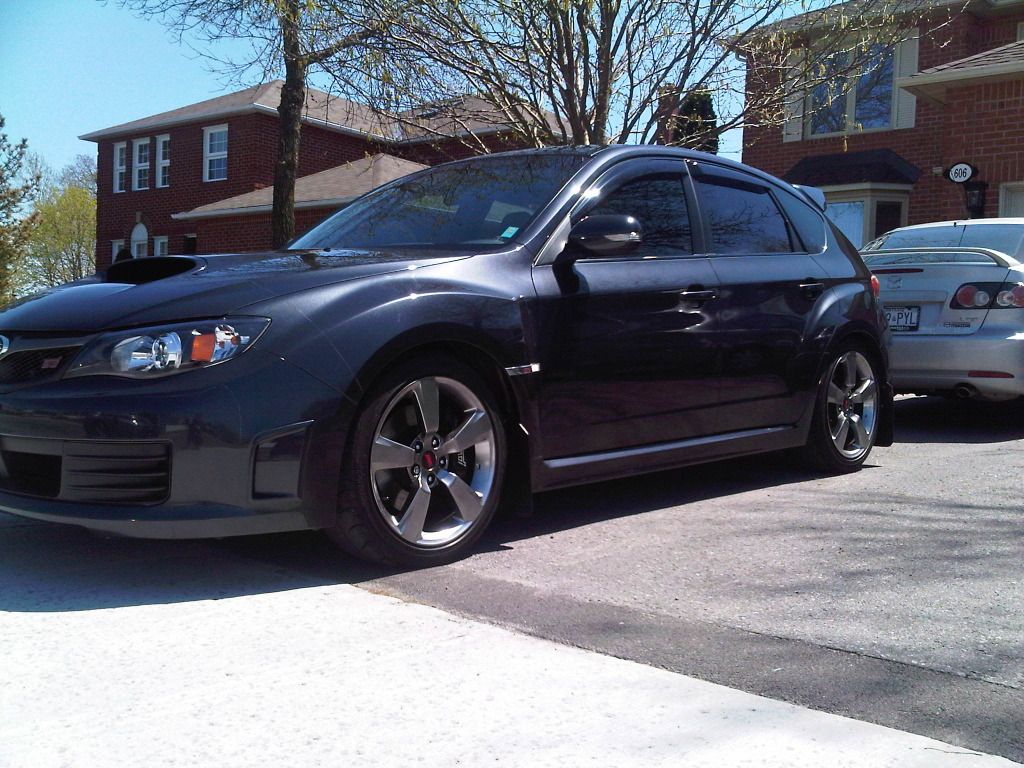 Drove the car for about 2 weeks...
Then... Boost bug bit me! HARD!
I'd like to thank the following for their work in order for me to go on with my project!
Alpha Motorsports
Ingenious Gauges
Moore Performance Parts​
Installed
Ordered/Waiting to be installed
Planned
​
New setup
Motor build​
-old- EJ25 702 Series block
-old- Cosworth pistons 9.2:1 compression ratio in 99.5mm size
-old-Cosworth Anti-Detonation bands
-old-Cosworth Anti-Friction coating
-old-Cosworth piston rings 99.5mm
Manley platinum series pistons 99.5mm
Mahle piston rings
8.5:1 Compression ratio with 5thou decking - Final compression ratio around 9:1
Brian Crower BC625 rods - OE spec length with ARP2000 studs
King rod bearings - OE size
King main bearings - OE size
ARP head studs
Blueprinted
Balanced Rotating Assembly
Crawford V2 Air-Oil Separator
LiC Motorsports Air pump delete
OEM engine rebuild gasket set
OEM head gasket set
-old-Cosworth head gaskets 1.1mm[/COLOR]
New OEM 11mm oil pump
2002 WRX high flow water pump
Rebuilt OEM heads with OEM components
​
Engine Management, electricals and monitoring:
Cobb Acessport V2 003
AEM 52MM Boost gauge black face
AEM 52MM Wideband black face
AEM 52MM Oil Pressure gauge black face
Ingenious Gauges Triple 52mm gauge pod in anodized purple
AEM intake temp sensor
Motorsport 4gauge grounding cables - Thermostat-Chassis
Motorsport 4gauge grounding cables - Header bolt-Chassis
Motorsport 4gauge grounding cable - Engine harness-Chassis
OMNI Power 4bar MAP sensor
​
Fuelling System:
-old- DeatschWerks 65C Fuel pump - 265LPH
Aeromotive 340LPH pump
Aeromotive 8ORB Fuel Pressure Regulator
-old- 2005 STi Fuel pressure regulator[/COLOR]
2005 STi Fuel pressure dampener
Perrin High flow Top-feed FuelRails - V2
DeatschWerks EV14 1000cc Injectors - Bosch cores
NGK 1-step colder spark plugs
Russell Performance AN fittings -4AN and -6AN
Vibrant Performance -4AN to -6AN adapter
​
Cooling and Air induction:
Mishimoto Type M FMIC
2.25" Hot side piping
3" cold side piping
Flipped intake manifold
4mm throttle body spacer
Black Ceramic coated intake manifold
Black Vibrant Performance 10" 90 degree silicone hose
Vibrant Performance Black Anodized Vacuum block
IAT bung just by the throttle body
Grimmspeed phenolic spacers 8mm
Koyo Racing dual row rad *old*
Mishimoto performance dual row rad
Mishimoto Aluminium Fan Shroud Kit
Mishimoto black silicon radiator hoses
Custom relocated coolant reservoir tank
Custom SS braided coolant lines
Russell performance and Earl's performance fittings and lines
Moroso Stainless Steel 6quart oil pan
Moroso Stainless Steel Pick up tube
Moroso one-way built-in trap door and built-in windage tray
Custom 4" intake piping
Custom Spectre 4" red air filter - "the 400mph company"
Vibrant 4-ply 4" coupler Turbo-Intake
Perrin red radiator shroud
Perrin turbo blanket
Mishimoto 19-row Oil cooler
Blox Racing Polished aluminum oil filter relcation kit
AEM Water/Meth Injection kit with 1 gallon tank
​
Turbo and Outflow:

Perrin Equal Length Headers
Gold Ceramic Coated header
Custom modified Perrin rotated up pipe
Up pipe – Turbo V-band flange
Tial 44mm anodized purple External Wastegate with V-band flange
Garrett GT3076R compressor and CHRA 0.60 A/R
GT30R Tial Stainless Steel exhaust housing – 0.82 A/R
Tial Type Q BOV
Russell Performance AN fittings, coolant and oil lines
Custom modified Perrin rotated down pipe
3" Turbo – Down pipe V-band flange
TurboXS GT 3" exhaust with Burnt tips!
COBB racing 12mm Polyurethane hangers
Grimmspeed Electronic Boost Controller Solenoid
​
Drivetrain:
Beatrush lightweight alternator pulley
Grimmspeed light weight crank pulley
Kartboy STi short shifter
Perrin upgraded front shifter bushings
Perrin upgraded rear shifter bushings
Group N Left engine mount
Group N Right engine mount
Group N transmission mount
ACT lightweight flywheel 15lbs
ACT Xtreme 6puck clutch
Cusco power steering brace
Kartboy Engine Pitch Mount Stop
ACT pilot bearing
ACT release bearing
ACT monoloc collar
Whiteline Gearbox Positive Shift Kit
Whiteline Steering Rack Bushings
Beatrush Propeller Shaft Mount Bushings

The Driveshaft Shop Carbonfibre driveshaft
2015 STi steering rack
​
Suspension setup:
Perrin front sway bar 22mm
Kartboy end links front
Kartboy end link spacers front
Perrin rear sway bar 22mm
Kartboy end links rear
Kartboy end link spacers rear
Fortune Auto 510 Series Coil overs
7k front springs, 7k rear springs
Whiteline Rear Differential Positive Power Front Kit
Perrin Subframe Lockdown Bushings
Megan racing rear control arms
Megan racing rear trailer arms
Whiteline 22mm Sway bar locking collars
Whiteline rear swar bar bracing
​
Brakes & Tires:
Hawk HPS pads –front
Hawk HPS pads – rear
EBC slotted and dimpled rotors – front
EBC slotted and dimpled rotors – rear
Superblue racing brake fluid DOT
Michelin Pilot Super Sports 275/35/18
FFD Motorsport Wheels 18x10 +32
Stainless steel lines – TBD
​
Fluids:
Penzoil 5w30 mineral oil *for first and second start up*
Shell Rotella T6 5w40 synthetic oil *for break in period*
Eneos 5w40 Engine oil *switched because i didn't know engine was broken*
Amsoil Eurpean Full Saps 5w40 *switched because i didn't know engine was broken*
Motul 6100 Series 15w50
Subaru Extra-S transmission and diff oil
Subaru blue coolant
Amsoil Synthetic power steering fluid​
Exterior:
Rallyarmour mudflaps (black&red) GONEEEE
Genuine Subaru rain guards
Red pin stripe grill
3M clear bra - Bumper, mirrors, hood and sides
Custom painted Tail lights
30% tinted windows, 20% rear window
Door guards - If you're debating them and think they won't like "nice". Somehow, they give an aggressive look in the end
Wheels - Wet flat black, and dipped into clear coat hell.
Muteki chrome red open ended wheel lugs
ChargeSpeed sideskirts - Gloss black
Grimspeed license relocation kit
Nokya Arctic White DRL's
Red Perrin alternator cover
Smoked headlight film
Gloss black license plate delete with a moustache sticker

Aeroflow Dynamics front splitter
Front EZ bumper lip
APR Front splitter support rods
GM Flex fuel badge
Debadged rear other than STi
BlackTop Aero double deck spoiler
​
Interior:
Weathertech's F/R
Sony 6.1" GPS
CF wrapped trim
Subaru cargo net
black STi Si drive knob
Black Spherical shift knob
GTSpec D-shaped Steering wheel
Darth Vader Si-Drive knob
Sparco Harness Bar - Grey
Sparco 4 point harness
MSI 5th point harness add on
Billet aluminum STi belt buckle inserts
RAZO 300mm wide angle rear view mirror
Bride Cuga driver seat
Bride Cuga passenger seat
Bride seat rails and sliders
​
Misc:
Billet red aluminum "STi" oil filler cap
2lb fire extinguisher with mounting bracket
*Will need a new bigger one*
Grenade pin reverse lock-out pin
Rolled rear fenders
"Remember the buster" sticker just above the driver headlight
"Freedom isn't free" bottom driver door
Custom license plate
​