Rac's '05 STi SOLD --> '05 M3 and '11 X6 SOLD --> Now, 2011 Z4 35is (Euro Delivery!)
Guys, I think its time I start one of these. I have a few mods right now and a decent amount planned for the upcoming months so I thought this would be a good time to create my journal. The story began in mid July 2004 when I took delivery of a beautiful 2005 Crystal Gray Metallic STi. After lusting after an STi for at least a year it felt awesome to finally have one of these insane machines. Before I even took delivery I put in my Berber STi floor mats and the AutoSpeed dead pedal (both ordered from Mastro Subaru in FL).
Here are some pics in almost 100% stock form during her first week home (except for the Berber STi floor mats and the AutoSpeed dead pedal).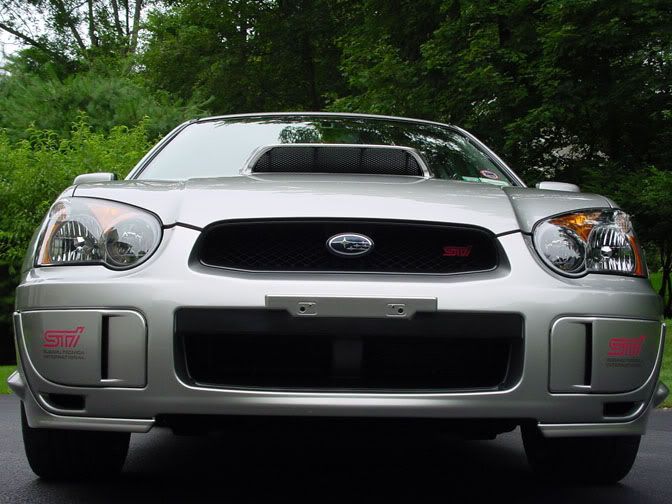 (The above picture does include my homemade DIY hood scoop screen, which I installed after having the car for less than a week).
Before buying the car I had planned to have a custom 3M clear bra installed in addition to a Lidatek LE-30 Laser Echo and a hardwired Valentine 1 radar detector. I knew this car was going to draw plenty of attention, so I wanted to be properly protected. I had all the work done at Technik 1 in NYC. I thought the clear bra came out AWESOME and I am very pleased with the protection it has given me.
This pic is with the clear bra installed and the fog light covers de-badged (the clear bra couldn't be installed over the stickers)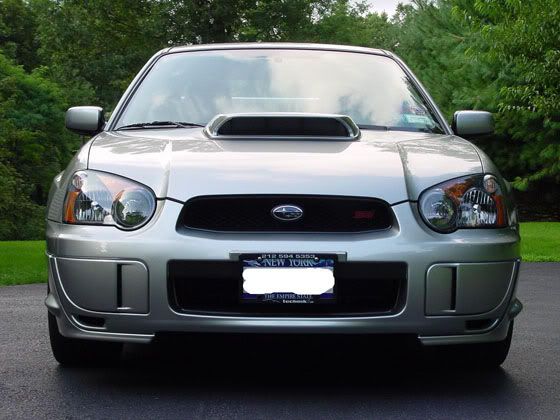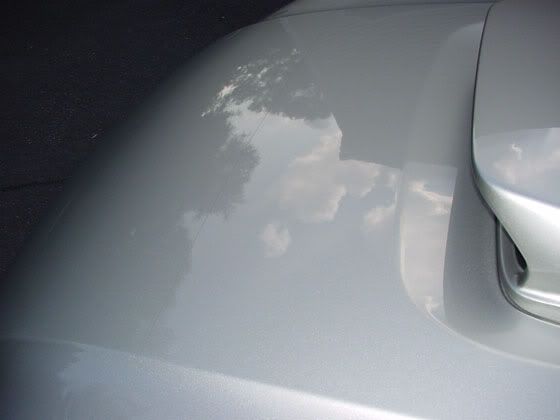 The V1 and Lidatek: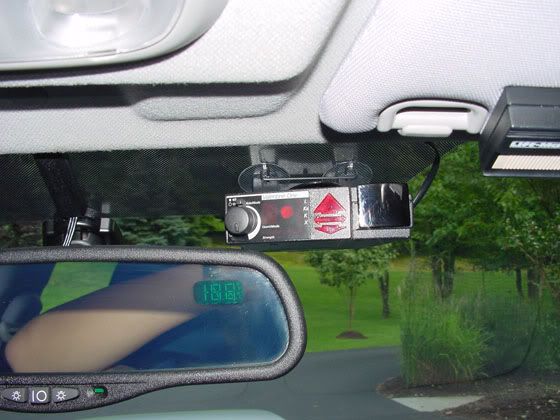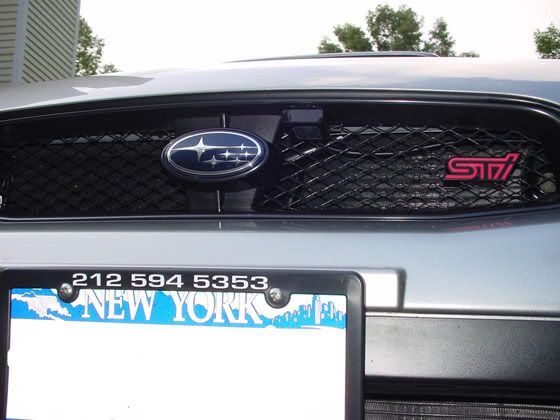 The LED for the Lidatek: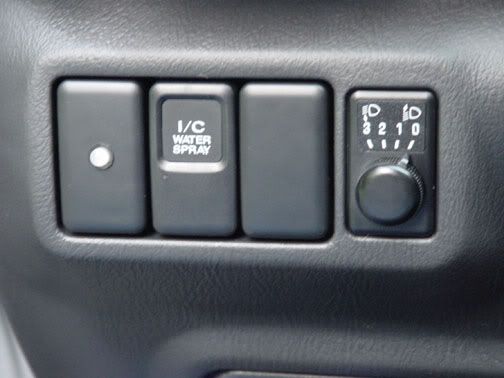 I also knew right from the beginning that I didn't like the SUBARU plastered on the back of my trunk, so that also came off pretty quickly. It looks sooo much cleaner!!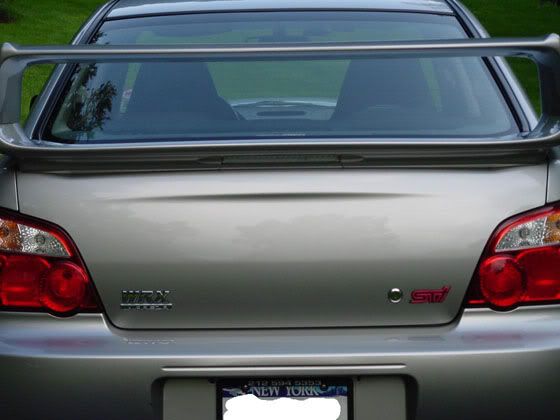 My next mod was 35% window tints. The tints complement the CGM very nicely and IMO made a huge difference in the overall look of the car.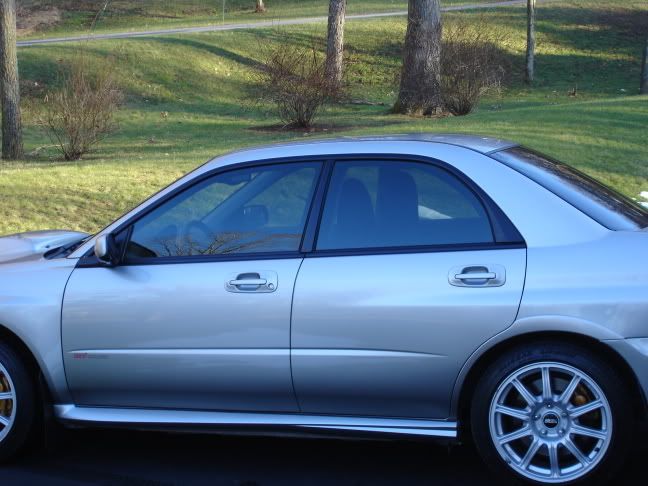 Once November came I knew the stock RE 070's were not going to cut it for ANY winter driving. After reading some horror stories I didn't even want to chance it in the cold weather, let alone the white sutff. I went to Mavis and got a set of Blizzak LM-25 (a high performance, V-Rated snow tire). I also thought I would be a good idea to get some RallyArmor mud flaps to prevent the side of my car from millions of rock chips, which already started to happen over the summer. The following pictures are not right after the install they were taken on January 1st 2005 but they show my modifications up to the correct point.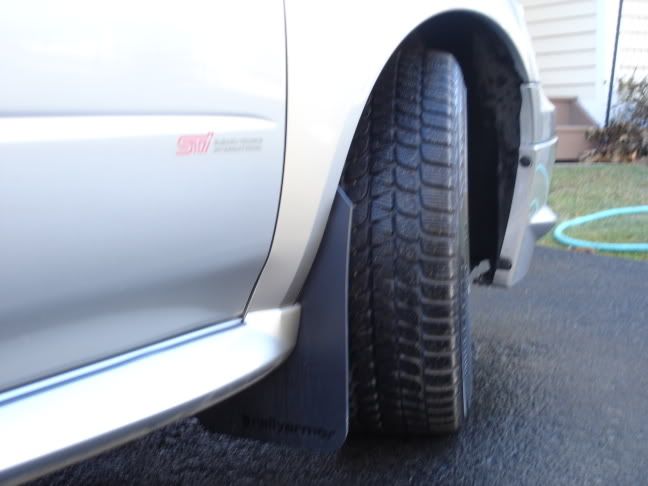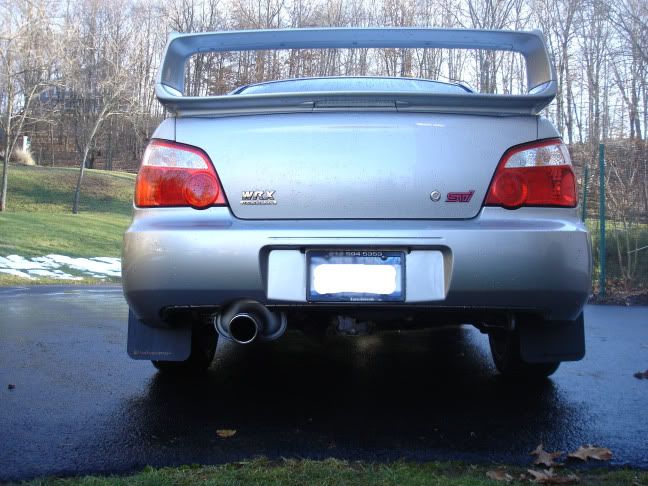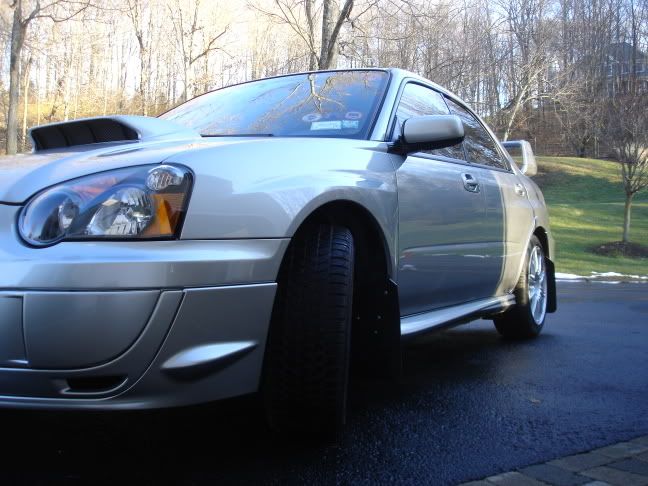 I also thought the Tein Hood Struts were a great little addition, so I got in on a GB on NASIOC. The install was a piece of cake and they work flawlessly. The following pictures are not right after the install they were also taken on January 1st.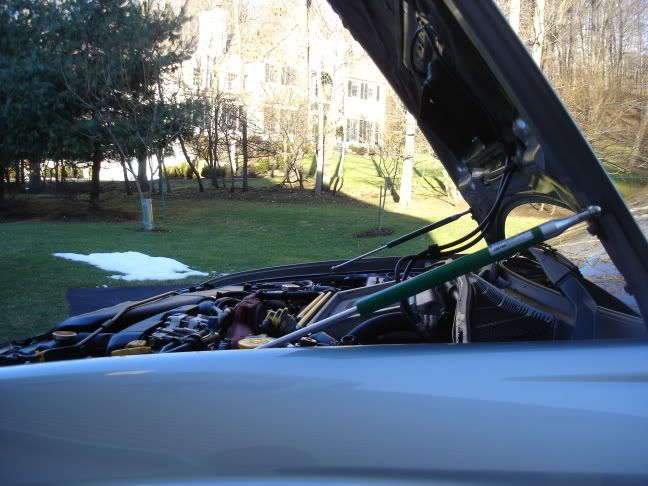 One winter night there was a forecast for about a foot of snow in my area of NY. I thought it would be a great idea to go out and play. It was way too much fun. This car IS a 300hp Snowmobile!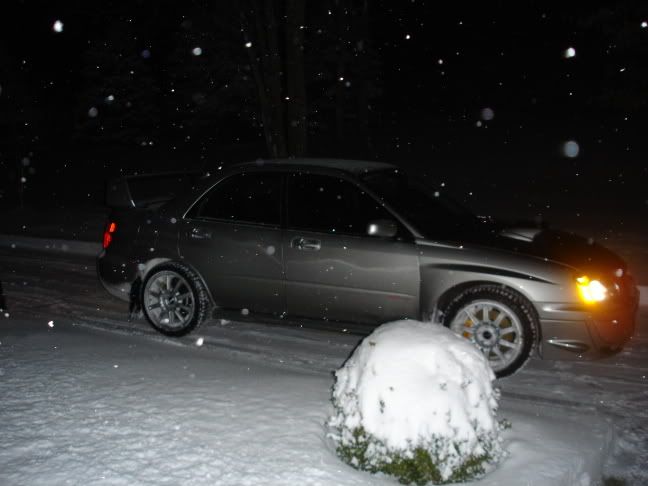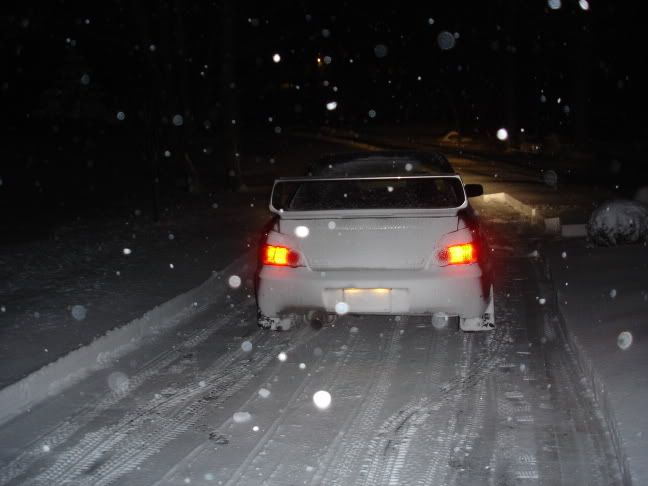 In February my best friend and I took a few pictures after we detailed our cars. His car is a 1999 Audi A4 1.8T 5-Speed.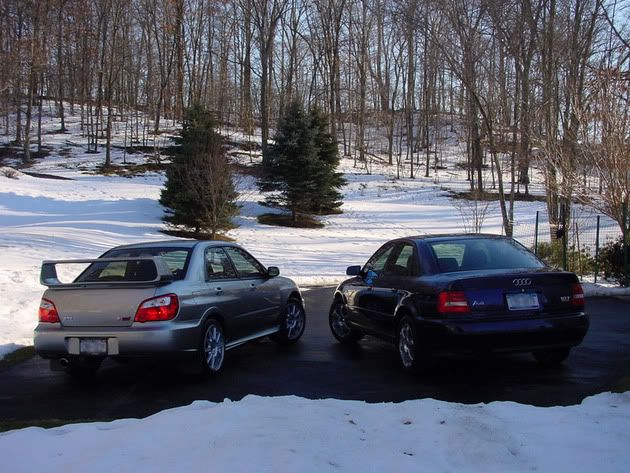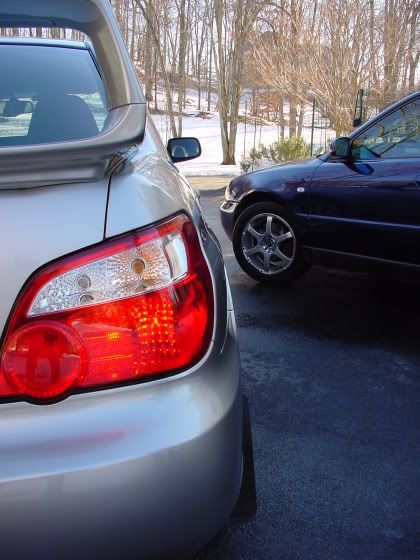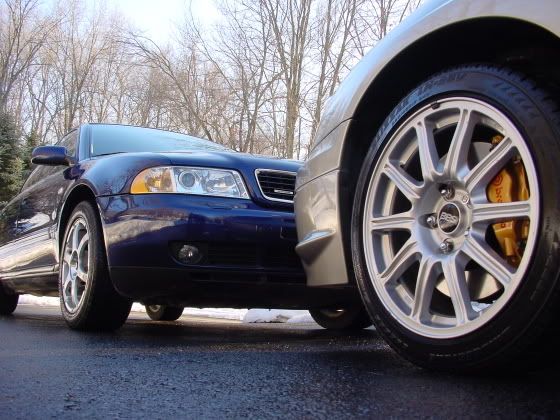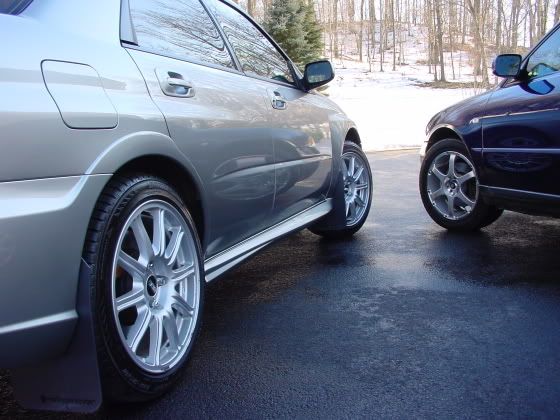 By the time March came I couldn't wait for the Blizzak's to come off. I decided I would do a few performance modifications to further let me enjoy the STi in the summer months. I ordered a Kartboy Short Shifter w/ Kartboy bushings and TiC bushings (directly from TiC). This combination (SS & bushings) is phenomenal. I think it is such a great mod because I am able to enjoy it ALL the time, driving fast, slow, or whatever. After extensive research I also decided to order a K&N Typhoon short ram intake. This intake definitely helped top end power a little bit, but also allowed me to hear some amazing sounds (turbo, waste-gate, etc.). Although there is still some debate about intakes, I am very happy with the Typhoon so far. I had both the SS and Typhoon installed by my Subaru dealer.
Sorry guys, this is the best picture I have: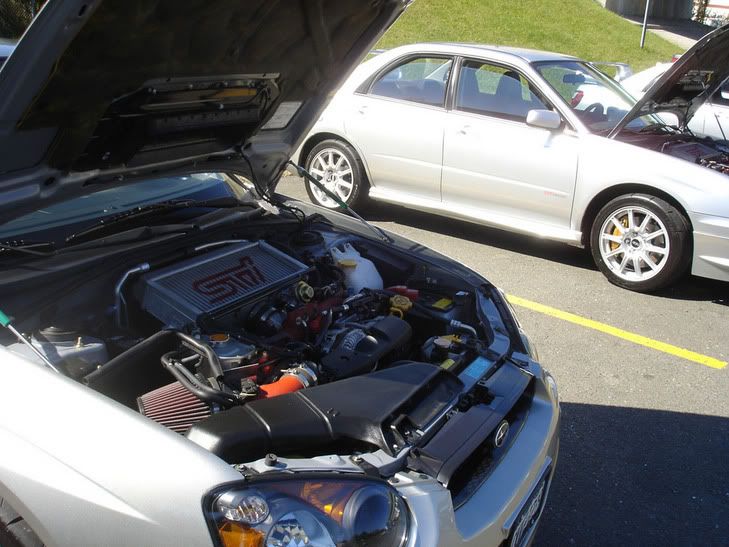 Now that I have had the STi for a decent amount of time, I thought I was ready for a little more power. Once again, after researching for a while I decided the Cobb AccessPORT was a good choice for me. I didn't plan on going power crazy, and found the overall features of the AP to be very attractive to my needs. It works perfectly fine with my Typhoon and the increase in power, mostly the increase in torque / spool up, was very noticeable. I will be going Stage 2 with a ProTune hopefully this spring. I can't wait!!
If anybody has any questions regarding my mods or anything else mentioned in this thread feel free to PM me.
I have a decent amount of mods planned out for the next couple of months, some of which will be completed over my Thanksgiving break in less than 2 weeks
. I will update my Journal ASAP.