And it's finally mine. Luckily, just one job now. Picked her up yesterday morning at Irvine Subaru. I got there at 9:30 and drove off at 11:30. No haggling. I told them what I wanted, they ran my credit, and said ok. I'm coming from a crappy 96 Toyota Camry V6. Only option I got was Short Throw Shifter, I'm gonna get the Klickety Klick setup in about a month. Going to order JDM Pinks and hats this weekend. Don't know who to buy from though.
Sorry for the crappy garage pics. I haven't found a nice place to shoot yet. But I know having pics of your car in your posts in the MJ section is a requirement when you announce that you bought one.
Debadging took a little over an hour. I recommend the blowdryer, thumb roll, goof off, wash, and wax method.
Anyone know any good place in Orange County to get clearbra? I never thought about getting clearbra because I had originally planned to get CGM.
Looking forward to meeting and seeing my South OC STi owners.
**Update**
8/13
Installed pinks and Group-N mounts front and rear from Racecomp. They are the best online vendor I've ever dealt with. Nothing but praise for them. Oh yeah, I got the V-limited lip from them too. The ride is so much improved with the pinks and mounts, and the handling. Drove to San Francisco and back a couple weeks ago and my girlfriend and roommate were raving about how much different the ride is. They both fell asleep for a while in the car. Taking the 101 home was another story, the drive is worth the 2 hours longer it took to get home. I felt like a rally driver in those turns, I don't think I amused the people I shared the road with though.
The lip is sweet and I do notice a teeny bit more downforce up front at speed. It isn't monumental but it is noticable. The ***** is that with this setup I clear the slope from my street to my garage by about 1/4 inch, it is a task indeed to pull into it.
Kenny @ Aerosim cleared my headlights and did a wonderful job. Have had them for like 3 weeks like that and have had no condensation or any issues whatsoever. Thanks again, Kenny.
Anyways, just saving up for ecutek and stealthback come October and then not touching it for a while (saving for GT30R in the summer). Welll....except for maybe trying to find Version VII seats. I am lusting for those.
UPDATE 1/2/06
Got protuned on Dec. 29th at Gruppe-S. Mike did a great job. She pulls soo nicely now. It is well worth the $195 for the Protune from Gruppe-S. Sorta bummed that I didn't break into the 20hp gain but the torque bump is really nice. The pics below of course are from the baseline run with my current mods (was running OFS Stage2 91 Oct. map, and results after Protune.)
UPDATE 3/13/06
Aaron (409industries) claybarred, polished, and waxed my car. It looks so great. The picture at the bottom was taken after it rained and it still looks great. Thanks Aaron!! Oh, and obviously I have the WRX wing now on the back.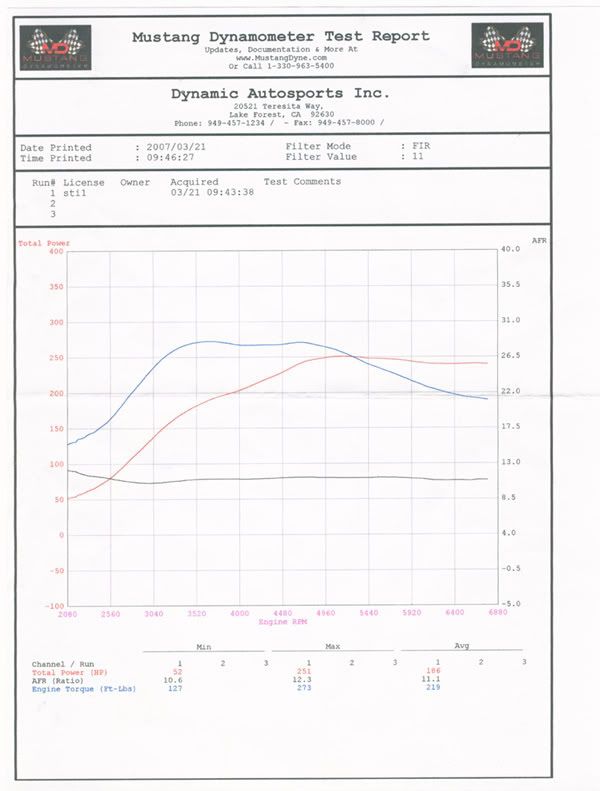 UPDATE 6/10/07
New pics on page 2 from my fun time at a dry lake bed.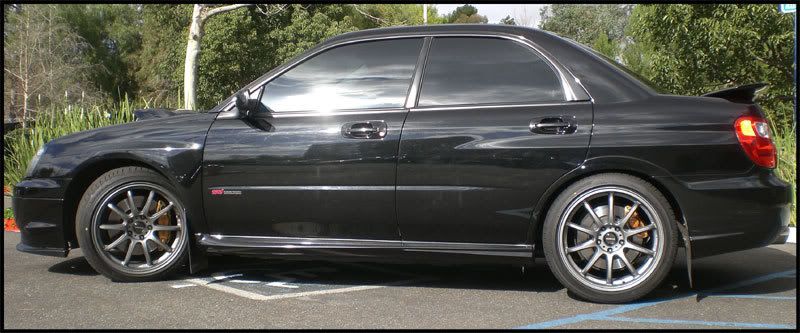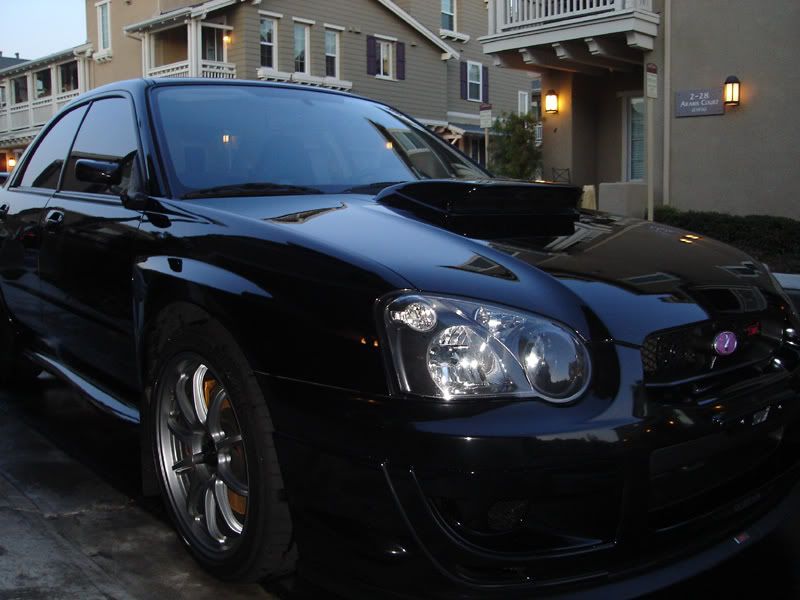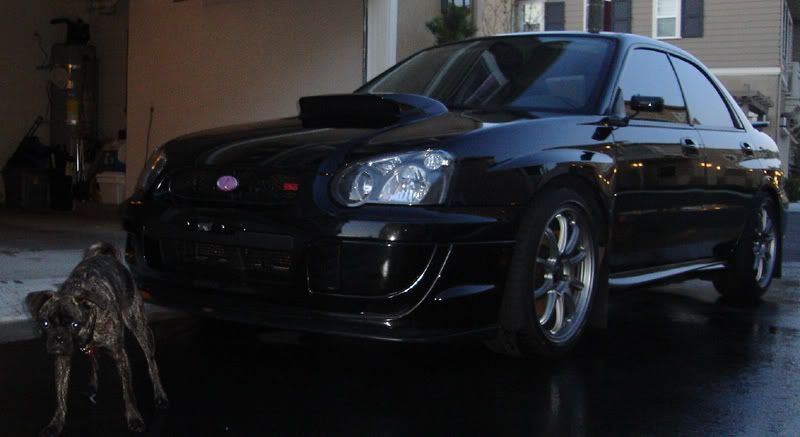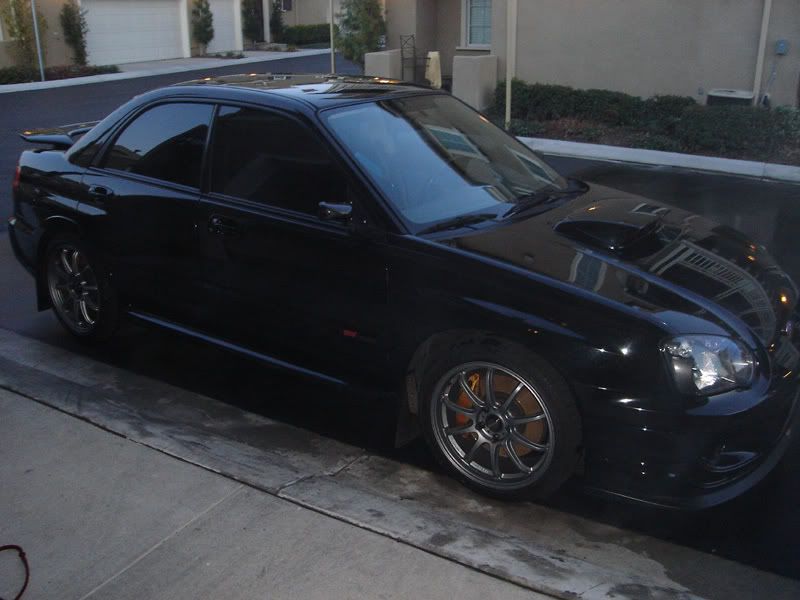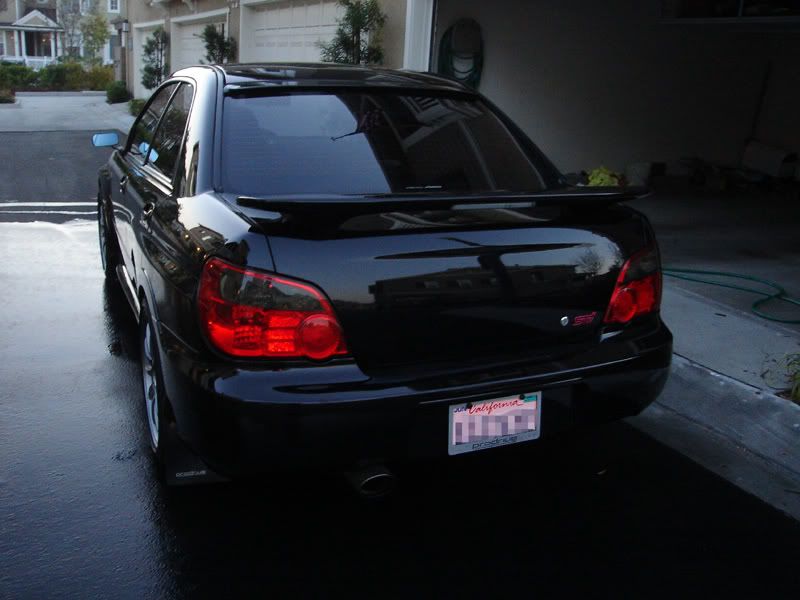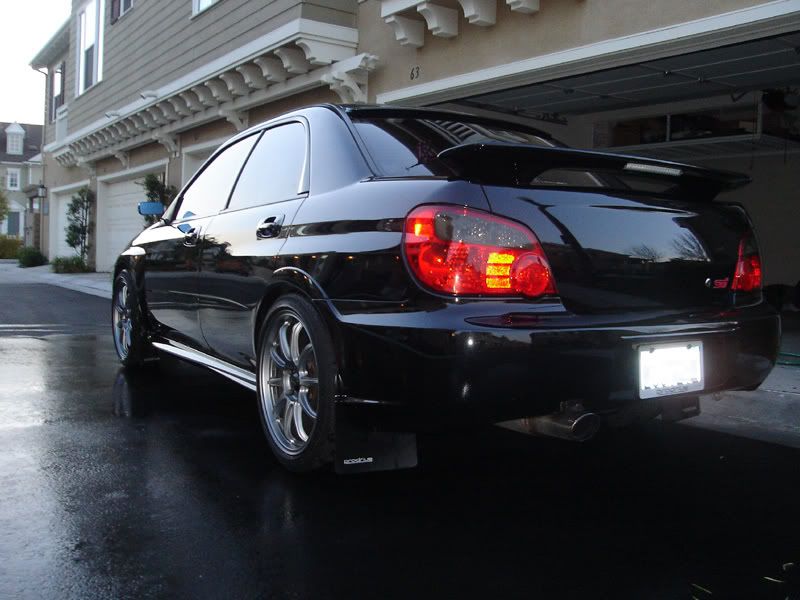 CURRENT MOD LIST
POWER
Cobb Accessport v.1 Stage 2 Protuned by Clark
TurboXS Stealthback TBE
Prodrive Oval Axleback
Prodrive Cold Air Intake
Prodrive Boost Control Solenoid
Gruppe-S UE header
ACT Streetlite Clutch and Lighter Flywheel
NGK Iridium One Step Colder Plugs
Walbro Fuel Pump
KOYORAD Aluminum Radiator
Samco Silacone Radiator Hoses
EXTERIOR
Prodrive GC-010G British Black 18x8.5
Prodrive Valve Stem Caps
Bridgestone RE01R 235/40/18
Chargespeed Type 1 Carbon Fiber Lip
Ureshi Carbon Fiber Window Spoiler
APR GT carbon fiber mirrors
Prodrive black mud flaps
Hella Supertones (Germany)
SUSPENSION/STOPPING
Prodrive RB320 Bilstein Struts
Prodrive RB320 Eibach Propietary to Bilstein Springs
Group-N Front Top Mounts
Cobb Front and Rear Sway Bars
Kartboy Rear Endlinks
Cusco Front Strut Tower Bar
Cusco 40mm Rear Strut Tower Bar
Stoptech Front & Rear Slotted Rotors
Project Mu Front & Rear Street Brake Pads
Stoptech SS brake lines
Motul RBF600 brake fluid
INTERIOR
STi Titanium Shift Knob
Kartboy Short Shifter with Kartboy Bushings and Linkage
Black STi embroidered floor mats
Defi Imperial Boost Gauge mounted in AC Vent (thanks to Lightwerkz for the gauge/bezel prep)
Defi Control Link Unit
JDM red hazard button
AndrewSS Quick-Fit Camera Mount
Schroth Quik-Fit Rallye Harness (Blue)
Prodrive British Black Oil Cap
Prodrive British Black Battery Tie-down
COMING SOON
Prodrive diff protector
Prodrive grill kit, painted black