Hi my name is luke. Im a powerline technician in Nova Scotia, Canada and this is my 2008 sti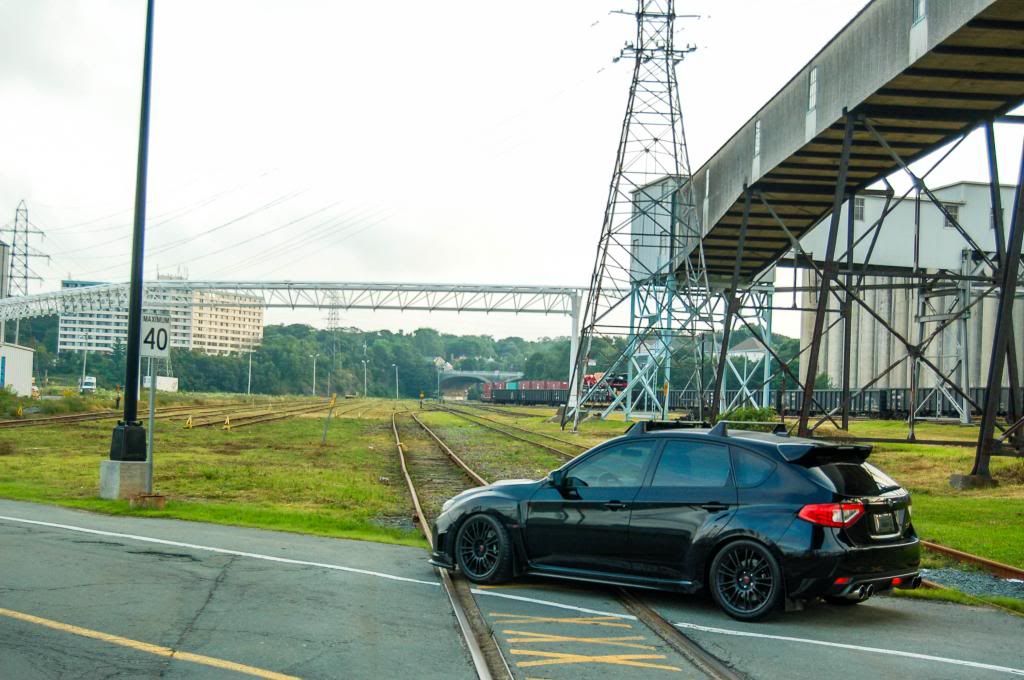 This is my daily driver and has been put through its paces every day since ive owned it.
This is a rough build thread and i will clean it up as i go
History:
I bought my first subaru at the age of 19, It was a WRB 2005 wrx and i fell in love with subaru's! I drove it for 2.5 years, then in September of 2012 i sold my beloved wrx and picked up my OBP 2008 STi with 142 000 KM on the odometer and ZERO mods. The mods started within an hour of me having the car home though lol. within 2 weeks the car was at cobb stage 2, and stayed there until the stock motor died from ringland failure.
i daily drove the car for a year and a half from 142k to 174k, and beat on the car every every time i drove it, and finally it blew a ring in cylinder 4. see rebuild parts list below pics
I have been expecting it to happen since the day i bought the car and began modding it, so i had a good chunk of change saved up for the rebuild. I was very surprised the motor lasted this long, but it goes to show that routine maintenance makes all the difference.
Installed, Purchased,not installed, need to purchase
ENGINE BUILD
-Rallispec Street spec standard short block (cosworth 99.5mm 8.2:1 CR, rallispec rods, king bearings)
-ARP headstuds
-stock heads refreshed
-gates timing kit
-oem gasket kit
-oem 11mm oil pump
-oem water pump
-killer b oil pickup
-new oem oil pan
POWER MODS
-cobb v2 accessport (Phatbotti E-Tune)
-AEM cold air intake
-Invidia downpipe
-Tsudo v3 catback
-group N motor mounts
-Perrin Rotated GTX 3076r .82 turbo kit
-Injector Dynamics 1000cc
-DW 65 fuel pump
-Aquamist HFS-3 Meth injection kit
-Fast Motorsports FMIC
-Grimmspeed ECBS
-Forge BPV
-Zerolift TGV deletes
DRIVELINE MODS
-Group N Transmission Mount
-Cobb short throw shifter
-Cobb shifter bushings
-Competition Clutch Stage 3 full face
-Competition Clutch lightweight flywheel
SUSPENSION MODS/WHEELS AND TIRES
-BC br coilovers
-swaybars and endlinks
-Ichiba V2 25mm wheel spacers
-OEM bbs wheels plastidipped black
-BF Goodrich Comp 2 245/40/18
EXTERIOR
-Window tint (35% F, 20% R)
-Forcewerkz s206 carbon side skirt extensions
-Ebay poly front lip
-Bayson R rear spats
-Blacked out OEM grill
-Debaged except STI
-Taillight mod + tint film
-tinted reflectors
-Rear fog light
-Blacked out headlight Retrofit
-CURT trailer hitch
-front mud flaps
-seibon carbon hood
-perrin wing riser
INTERIOR
-ATI center dash gauge pod
-Defi red racer boost gauge
-AEM UEGO air fuel ratio gauge
-aquamist hfs-3 meth gauge
-carbon fiber vinyl wrapped dash components
-Beltronics STi driver with hidden install
-B-quiet sound deadening in trunk, under seats, and all doors
WANT TO BUY LIST
-apr carbon splitter
-2011 bumper conversion
-rear diffuser
-blacktop aero rear spoiler
-volk te37sl black 18 x 10 +40 offset
-pilot ss 265/35/18