most of you may know me for this beauty:
2011 Subaru STi Sedan - YouTube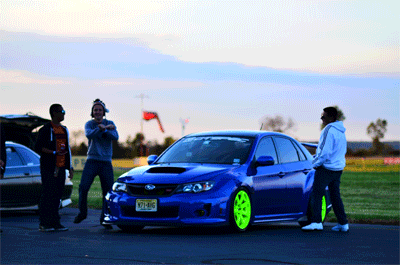 well long story short i ended up trading it in...
i dont know what else to say but i'm excited about the brz.
had it for about a day and smile on my face the entire time,
its nice to be excited about a car again. i guess stay tuned as i start to mod it :lol:
today:
galaxy blue, limited.
day 1:
First update:
well i got home tonight and to my surprise my package from Mach V motorsports arrive and i bursted out laughing. in the comments i said "i want to laugh when i see the box" and they nailed it.
any way i ordered a refill for the air freshener and then the license plate relocate kit. it feels really well made and solid. once my plates get here i'll post up some installed pictures.
update 2:
so i had ordered a roll of alcantara and 1/8' foam because i knew that i wanted to get rid of all of that ugly silver trim.
i spend all night wrapping it all and this might have been one of the trickiest intalls I've ever had to do simply because this was my first time and wrapping curves and corners is incredibly hard. i now understand why JPM coach works stitches in the places they do. this isn't easy but i'm beyond happy with the results. i'll post some real pictures later, here are some cellphone snaps. i wrapped the silver dash pieces, the trim by the AC controls, the shifter surround, the steering wheel plastic, the circle vents, and also the door handles.
update 3:
i dont have the time to snap good photos, sorry but these quick cellphone snaps will have to do.
today i rebadged the trunk, got rid of that damn chrome fender trim, swapped ALL bulbs to led and then hooked up the JDM rear foglight.
the trim is mint and for sale if anyone is interested.
just some quick snaps i took. these wheels are temporary while the stockers get painted.
and better interior shots:
and got some more goodies
update 5:
parked it for the hurricane today. ODO says 997
:lol:
finished finally tweaking the read fog. swapped all bulbs with LED. debadged, painted rear emblem black/got rid of chrome on the car for the most part gotta bake headlights last.
and here is another something i picked up this week:
well i was bored out of my mind today.
so i installed and hardwired my radar.
http://www.iwsti.com/forums/how-install/249760-hardwire-radar-into-brz.html
then i installed red out rear overlay. (still waiting on tails)
YAY FUN!!!
then i overlayed my front fogs and side reflectors, still waiting on the JDM reflectors so this is just temporary because i had nothing else to do. i'm partial on smoke over amber look but it looks so much better than all amber.
then i threw i a rope of LED's into the trunk because at night its too dim. now its really bright, yes i know red isn't for everyone but in person it looks great and matches the interior nicely.
update 7:
had my first oil change! azp installs always treating me good. also sending out for oil analysis at blackstone. can't recommend both of these placed enough. i plan on running motul just like i did on my sti.
alright so my mission to get rid of all chrome is almost complete, baked my headlights today. have yet to see someone do this to a brz. FRS guys have been doing this for a while already.
these are the major two pieces of the headlight.
i hit the blinkers with this:
that way they are black but still maintain the reflective ability like stock.
masked off so that the rest remains gloss black while all the chrome was painted with flat black enamel.
also installed my Hella horns today. finally no more quiet flimsy horns. these things will be heard
these are the led's split with the cover. as you can see all you need to paint is the cover. also anyone who wanted could now overlay the LED strip in any color they would like, might be kind of cool but i decided to keep it clear.
and presto!
i'll get some more shots later. this took me and my buddy ALL DAY. if anyone will do this, just take your time and be patient especially with paint drying. trust me you dont want to rush this.