Modifications:
Engine
• COBB AccessPort w/ EQ Tuning Stage 2 Roadtune
• APS 3" TBE w/ red limited edition (read: bling bling) Kartboy Hangers
• APS 65mm CAI
• Hallman MBC
• Element Tuning Competion Catch Can
• Cusco Heatshield
• 1 Step Colder Plugs
• Cobb lightweight pulley
• Grimmspeed 38mm MV-S EWG
• P&L FMIC
• Walbro Fuel Pump
• AMS small battery kit
• Aquamist HSF-6
• Custom Howerton Engineering Aquamist trunk tank.
• AMR 2" Race Header
• TGV deletes
• Aeromotive fuel rails
• Aeromotive FPR
• GMS inlet
• GMS MAF tube
Planned:
• ???
Drivetrain
• Kartboy Short Shifter
• TIC front & rear shifter bushings
• Group N Transmission Mount
• Group N Engine Mounts
• TiC Rear Klunk Killer bushing package
• RPS Max Clutch Street Disc
Planned:
Suspension
• RCE T2 coilovers
• Vorshlag camber plates
• Group N rear tops
• Cusco Front & Rear Sway Bars
• Whiteline Rear Endlinks
• Whiteline Anti-Lift Kit
• M1 Fabrication subframe
Planned:
Xbrace
Interior
• Defi BF Gauges; Oil Pressure, Exhaust Temp., Boost
• Defi 3 Gauge Pod
• Pioneer AVIC-x710BT
• Lotek color matched dual a-pillar pod
• PLX AFR gauge and controller
• Aquamist gauge
• Boss Bass600 sub
Exterior
• Cleared and painted headlights.
• V-Limited Lip
• KS Tech Scoop Delete
• Seibon CF trunk
• 18x9 Volk RE30 et.40
• Bridgestone Potenza RE050 255/35/18
• Project Kics R40 lugs
Planned:
Craft Square CF mirrors and APR front wind splitter and rear CF diffuser.
The Story:
Around the beginning of November 2007 I got bit by that awful bug. You know, the one that makes you feel impulsive, the kind of impulse that makes a person want to get rid of a perfectly fine, totally paid off car and go out and remind themselves of why they were so happy with a perfectly fine, totally paid off car. Well, it wasn't
totally
impulsive, I knew once the 2007's were gone they were gone. I don't like the looks of the 2008's, especially coming out of 2 hatchbacks. I now knew what I must do.
Bye bye VW GTI 1.8t, hello STi. Unfortunately the journey wasn't that simple. I researched STi's and started to talk to dealers. The only dealership that had a few new ones in stock was Capitol Subaru in San Jose. I went down and as soon as I sat in the car I knew it was for me. We talked numbers, they treated me like I expected them to treat me.... badly. I left, played with some numbers and then received an email from the guy in internet sales. I sent him my figures telling him if he gave me X price and around X for my trade in he would have himself a sale. He responds with "come on down for a test drive and we'll talk numbers again".
Cool, We're getting somewhere I thought. While all this was going on I took a chance and emailed the sales department of a few other dealerships around CA, including one I heard great things about in Southern CA. The day comes when I'm going for the test drive and hopefully drive home in a new car. As I'm about to leave the house the phone rings, much to my surprise it is the dealership in Southern CA I emailed 5 days earlier. The lady gives me some numbers that sound too good to be true, I tell her I'm literally walking out the door, but if the deal falls through she has herself a sale the next day.
Long story short, Capitol Subaru jerks me around and I leave frustrated, but at least I got to test drive an STi. Enter South Coast Subaru in Costa Mesa. I call the sales manager and tell her to prep the car, I'll be there at 3 pm. She says great. I set out for Costa Mesa at 5 am, got down there around noon, empty out the car and go to the dealership. My STi is sitting pretty in the front with 15 miles on it, all prepped and ready to go. The paperwork is mostly done and within a few hours I'm out the door with a brand new STi.
First Impressions:
Of course I can't take the car above 4k, but it rides totally different than my 1.8t. It also sits a whole lot higher, eats gas, has half the creature comforts, has a crappy radio and a loud engine. It's exactly what I wanted, I'm in love. I get it back to my Sister's place down there and start packing and taping the front end for the 500 mile drive home the next day.
***OK, I'm tired of typing, more of the story and pictures tomorrow.
Cliff notes for the lazy types. Capitol Subaru sales sucks, South Coast Subaru rules, traded my 2003 VW GTI 1.8t for a 2007 STi.
***
The day I picked her up: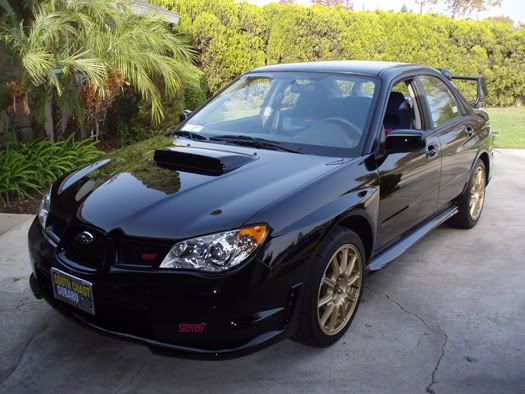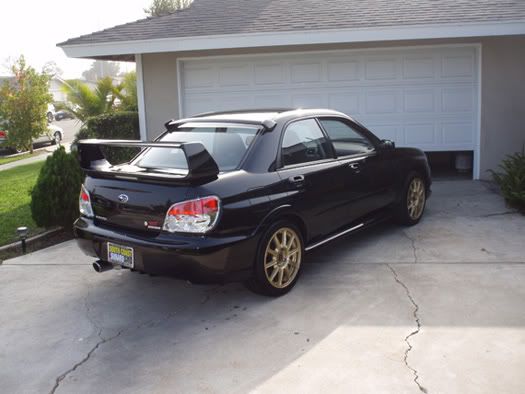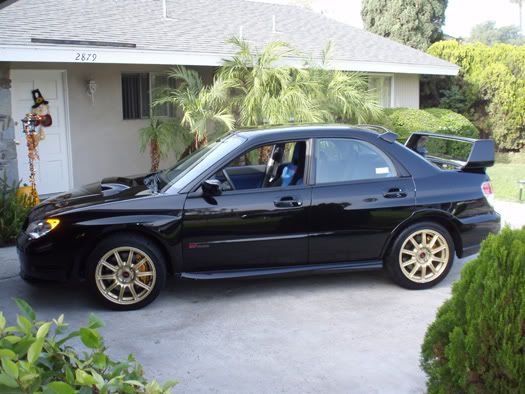 As she was at some point: