This is my 2005 Crystal Grey Metallic STI. Her name is Aamori and she has been my baby since April 2nd, 2011! Bought the car almost completely stock with 43,xxx miles on it! Only mods on it were the rota g-force wheels and a kartboy short throw! It lives in Billings, MT and has only seen rain and snow one time and I plan to keep it that way!!
I plan on keeping her as my daily driver for now and she dynos on E98 at 562.4 whp and 425 wtq! I will get pictures up soon of the graphs. I self tuned her myself and still has more power to come, in the next couple months, should see above 600whp! Stay tuned
Anyways......here she is!! Enjoy!!!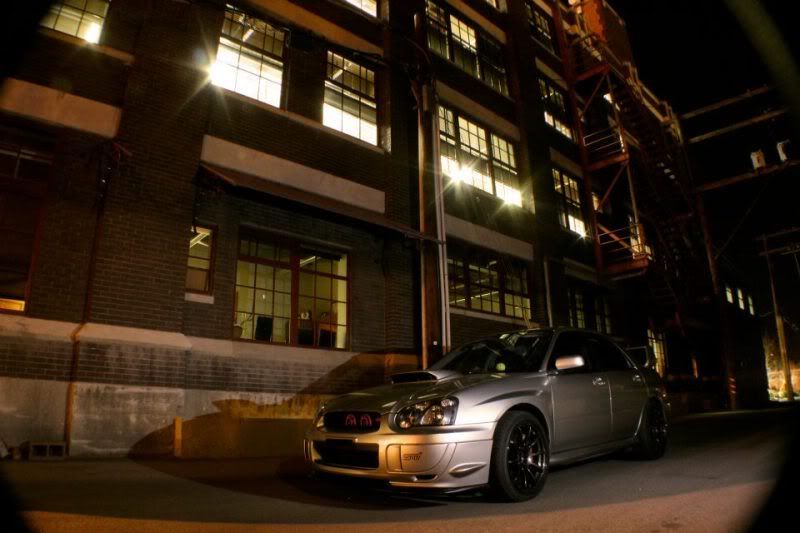 Mod List
Installed
Waiting to be Installed
Future Mods
​
Performance
Custom 4" Intake (Pink)
Percision 6262 Ball Bearing Turbo (4" Inlet, Anti-Surge, 2.5" Outlet, and .82ar Discharge)
Grimmspeed 3 Port Boost Control Solenoid (Black)
Perrin 4-Bar MAP Sensor
Perrin Front Mount InterCooler (Black Core, Silver Pipes, Black Couplers)
BOV/BPV Delete
Grimmspeed PnP TGV Deletes (Pink)
8mm Phenolic Spacers
Perrin EL Headers (Heat Wrapped)
Perrin Catless EWG Upipe (Heat Wrapped)
Tial 44mm EWG (Purple, 17psi Spring)
Perrin Rotated Catless Downpipe (Heat Wrapped)
HKS Hi-Power Cat-Back Exhaust
Perrin Lightweight Crank Pulley
Crawford Air/Oil Seperator V2
Cobb V2 AccessPort
Full Blown Dual Pump Hanger
Steel Braided Fuel Lines (size -6an, Ran from tank)
Dual Walbro 255 Fuel Pumps
NGK Iridium LFR7aix Spark Plugs (One Step Colder)
Injector Dynamics 2000cc Injectors
Injector Dynamics Fuel Rails (Black)
Turbo Smart FPR-800 Fuel Pressure Regulator (Blue)
Russel Performance Distributor Block
Mishimito X-Line Radiator
Greddy TI-C Race Exhaust
Aquamist Water/Meth Injection Kit
​
Engine
New Block
Golden Eagle Sleeves
Ported and Polished Heads
OEM Nitrided Crank
Manley Turbo Tuff Rods
Cosworth 100mm 9.2 Compression Pistons
Cosworth Set Size 2 Bearings
GSC Nitrided 36mm Intake Valves (+1mm Oversized)
GSC Nitrided 32mm Exhaust Valves (+1mm Oversized)
Brian Crower Springs and Retainers
Brian Crower Stage 2 Camshafts 272/272
ARP Head Studs
Cosworth 12mm High Flow Oil Pump
Cometic Head Gaskets .027"
Killer B Motorsports Oil Pick-Up Line
Killer B Motorsport Oil Baffle
Balanced to 8,500RPM​
Suspension, Drivetrain, Brakes, Etc.
Kartboy Shift Kit and Bushings
ACT Extreme Duty 6 Puck Clutch
APS Braided Brake Lines
Hawk HPS Brake Pads
Whiteline Rear Differential Bushings
Cusco Zero2r Coilovers
Techna Fit Steel Braided Clutch Line
Cusco Engine and Tranny Mounts
Perrin Pitch Stop Mount
Truhart Adjustable Rear Lateral Links and Control Arms
Cusco Front Power Brace
Front 25mm Whiteline Sway Bar
Rear 27mm Adjustable Whiteline Sway Bar
Front and Rear Whiteline Extreme Duty Spherical Bearing End Links
Auto-Power Roll Cage
Whiteline H-Brace
​
Interior
JDM Dials
Plastic Dipped Interior Pieces (Dash Pieces, Pillars, Seat Belts, Etc.)
JDM Hazard Button
Alpine IVA-W203 Double Din Unit
Toggle Switch with Red Safety Cover (Connects and Disconnects My Green Test Connectors)
52mm Prosport Digital AFR Gauge
52mm Prosport Mechanical Boost Gauge
SMY 52mm Gauge Pod
Gold SRP Racing Pedal Set
Blue Suede Headliner with Purple Suede STi Emblem Across It
Custom Laptop Mount
Bride Racing Seats
Defi 60mm Center Gauge Pod
60mm Prosport Oil Temperature Gauge
60mm Prosport Exhaust Temp Gauge
60mm Prosport Oil Pressure Gauge
​
Exterior
18x9 +29 Offset Gunmetal Rota G-Force Rims with 255/40 Bridgestone Pole Positions
Cleared Headlights
De-badged and cleared grill
Pink Hella Supertone Horns
Perrin License Plate Delete
Vannoy Metal Works Steel Skid Plate
JDM V Limited Front Lip
Drop Engineering Purple Lug Nuts
APR Front Lip
Rear Roof Spoiler
​
Fluids, Oil, Etc.
Brad Penn 10w 30 Green Oil
Cusco Sports Oil Filter
Red Line 75W 90 NS Gear Oil (Transmission)
Red Line 75W 90 Gear Oil (Rear Differential)
Red Line SL-1 Fuel System Cleaner
Red Line Water Wetter (Radiator)
Griots Brand (Car Cleaning)​
Miscellaneous
Perrin Battery Tie Down (Silver)
Tein Hood Dampers
Grimmspeed Oil Cap (Black)
Greddy Neodymium Magdrain Oil Pan Plug
Kartboy Exhaust Hangers
Yellow Top Optima Battery
Mishimoto Silicone Hose Kit (Black)
Mishimoto Silicone Radiator Hoses (Red)
Killer B Motorsport Radiator and Alternator Shrouds (Black)
Perrin Coolant Overflow Tank
Washer Fluid Fender Relocation Kit
​
Table of Contents
Page 1-Photoshoot of December 23, 2011 (Pics)
Page 4-Installed TGV Deletes January 14, 2012 (Pics)
Page 5-Installed Deatschwerks 850cc Injectors January 23, 2012
Page 12-Update on Dom 1.5XTR Swap March 22, 2012 (Pics)
Page 19-Engine build complete! April 13, 2013 (Pics) Updated!​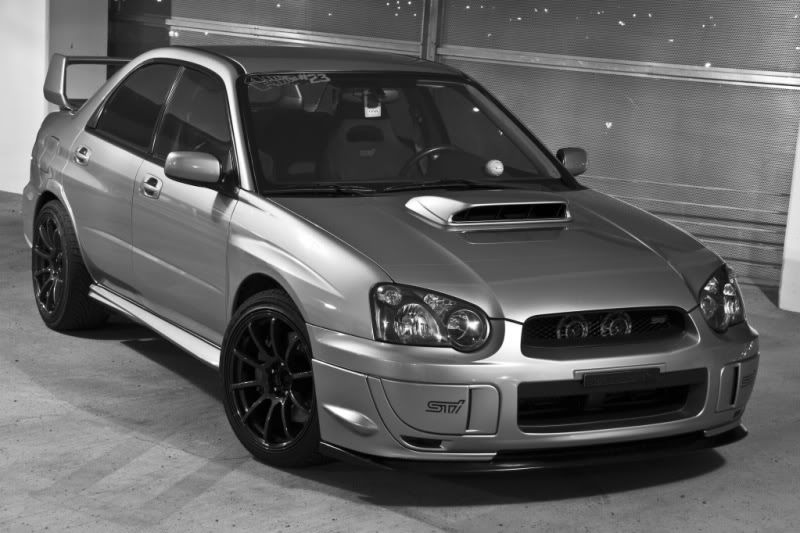 Aamori's best friend.....Coconut (Matt's STi)