Disclaimer: I have no sponsorships or financial ties to IAG or any other companies listed in my journal. I am a hard-working, private owner of this vehicle and its modifications.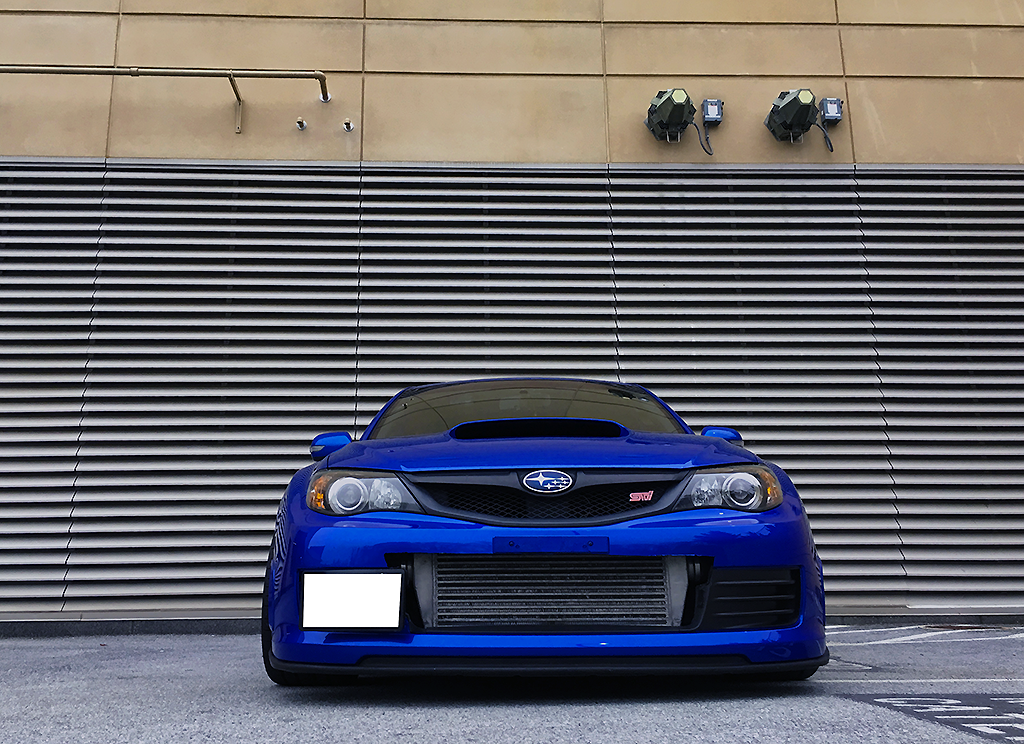 Milltek exhaust 5/2019
My feedback on this project:
NASIOC - View Single Post - IAG Performance (merged thread)
Love, it's what makes a Subaru, a Subaru
IAG
V-band
Rotated Turbo Kit
Xona Rotor 8269S turbo 0.82 A/R
IAG 4" Intake with Blox racing velocity stack
IAG V-band Uppipe with Tial 44mm MVR External Wastegate
IAG V-band Catless Downpipe
ETS 4" FMIC
KillerB 4-1 Holy Header (KillerB vs. Tomei EL header dyno results) --> ETS V2 header (ETS V2 header vs. Killer B header dyno)
Milltek 3" catback exhaust with PTE 66mm wastegate welded into exhaust as exhaust bypass (Dyno results)
Grimmspeed Electronic Boost Control Solenoid
Koyo radiator with HyperV core
JDM 1.3bar STi radiator cap
Tial Q BOV
NGK 4901 race spark plugs gapped to 0.024"
IAG Competition Air-Oil Separator (IAG AOS Review)
Stock Air Pump deleted
IAT sensor and AEM 3.5 Bar MAP sensor
Big 3 Wire upgrade
HKS grounding kit
Fueling
Injector Dynamics 2000cc injectors
IAG Fuel Rails
Radium In-tank dual pump hanger with 2 Walbro E85 compatible 465lph pumps
Parallel Vibrant PTFE -8AN feed and -6AN return lines for E85
Cobb Fuel Pressure Sensor
Cobb FlexFuel + Speed Density
IAG Stage 4 Extreme Shortblock
IAG Closed deck
IAG-Spec JE FSR 2618
IAG-Spec Tri-Beam connecting rods with ARP 625+ rods bolts
Kinh Main and Rod Bearings
OEM Nitrided Crank
Pinned Mains
OEM 11mm Oil Pump
Gates Racing Timing Belt Kit

12,000mile/1year warranty
IAG Stage V Heads (
stock heads vs. IAG Stage 5 head dyno results
)
Flipped Cosworth Manifold with retained Air Conditioning Stock Vs. Cosworth IM comparison
14mm IAG head studs
IAG Firelock headgasket
Ferrea +1mm Comp exhaust and intake valves
Ferrea dual drag valve springs and titanium retainers
IAG Stage V headwork with Multi Angle Valve Job/Port&Polish
Kelford Dual AVCS 272/268 11.30/10.50mm Lift Street Cams
Cosworth Phenolic Spacers
IAG TGV Deletes

12,000mile/1year warranty
Exterior Modifications
JNA V-limited polyurethane lip
Volk CE28CR2 18x10 +40mm in Satin black
Front and Rear fenders rolled and pulled by IAG
295/30/18 Michelin Pilot Sport 4S
Lamin-X Taillight overlays
Plastdip'ed Silver mustache
Daytime running lights deleted
15% tint
Suspension
2015 STi 13.0:1 Steering Rack retrofit
SuperPro Steering Rack bushings
Cusco Steering Brace
RCE Superstreet-1 Coilovers
RCE 25.5mm Front and Rear Sway Bars
Kartboy Endlinks
Whiteline Roll Center Adjustment/Bump Steer Kit
2011 STI OEM Front Control Arms
Aligned to -2.5F/-2.3R; 0 toe; +6.95 caster
Project Mu B-Force front brake pads, Stoptech rear brake pads
Girodisc front and rear rotors
Drivetrain
Exedy HD Triple Disc; OEM Flywheel
GroupN Engine Mounts
GroupN Transmission Mount
GroupN Pitch Stop
Whiteline Positive Shift Kit
Whiteline Subframe Inserts
Whiteline Rear Differential Inserts
Kartboy Front Shifter Bushing
Kartboy Shortshifter
Driveshaft Shop CF driveshaft
Fluidampr Crank Pulley
Credits to
Boris
at IAG for these spectacular images!
fuckin surgical welds