June 12, 2003 first fuel fill up: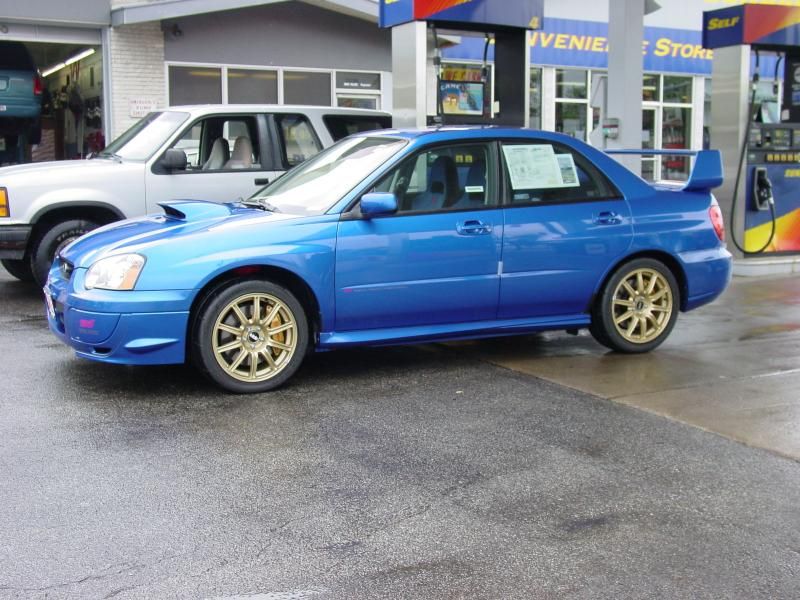 Delivery image link =>
http://www.cardomain.com/ride/752371/2004-subaru-impreza#752371_1
Image of Lucille on delivery day getting fuel. June 2003
2004 Blue STi
"Garage Queen"
New Name "Lucille" after the Frank Zappa song of the same name
Song=> "Lucille has messed up my mind"
YouTube - Frank Zappa - Lucille Has Messed My Mind Up + A Token of His Extreme
Except in this case, Lucille has messed up my dead presidents- in royal fashion!
Not as wicked as others here, but respectable in my mind. Not a daily driver, but still a great car to have, mildly mod and enjoy.
Listed below in green is by far the best improvement you could make to an STI . Q-rack above all of the improvements this should be done first.
Completed 9-2011 @ ~ 17k miles
Improvement list:
Brakes
Brake fluid (ATE blue or Motul 600)
Ferodo 2500 brake pads
Perfomance Friction PFC-01 Frt brake pads
SS Brake lines
Cusco Master Cyl Brace
TIC Titanium Brake Shims
RCE Brake Cooling Ducts
Roo Carbon Fiber Brake Cooling Ducts Post 320
Drivetrain
ACPT Carbon Fiber Driveshaft
Grp-N Trans mount
Engine
Stock VF39
Aluminum Battery Bracket-Paradigm Performance
PC680 Oddysey Battery
Carbon Fiber Intercooler screen
Carbon Fiber Fuse & Alternator Cover
Carbign Craft radiator shroud
Walbro Fuel pump
Grimmspeed Phenolic Intake Gaskets
K&N Typhoon w/oversize filter
NGK Iridium 1 Step Colder Spark Plugs
Ported Throttle Body
Stock Ported Header (9-12-12 18,345 miles)
Lightweight Pulley Autospeed
TGV Delete Paradigm Performance
Killer B Oil pickup
Crawford AO Seperator(updated V2 April 10)
Process West Oil cooler
Grp N Engine mounts (91-12-12)
Spearco Top Mount Intercooler (11/11)
Exhaust
Turbo back exhaust (helix downpipe-Invidia G200 N1 Street catback)
Exterior
Car Cover Covercraft
Aluminum fender braces
Autospeed Blk Sti frt plate Delete
Hella horns
Hood Struts Tein
Frt Lip Carbon Fiber
Blue wheel opening mld (2)
JDM Frt Bumper beam 8/4/11
Beatrush frt/rear tow hooks painted Cherry blossom red 8/3/11
New Rear bumper cover '07 style
Interior
Auto intercooler spray switch
Defi Gauges (used) Oil temp, Oil pressure, Boost
Triple Defi gauge pod
Defi Gauge (new) Exhaust Temp -9-2011
AEM A/F gauge (new) 9-2011
Defi coolant temp gauge (new) 9-2011
3 gauge A pillar pod 9-2011
Sti Black Flr mat(2)
Harness bar Sparco
5 Point Harness(2) Sparco
Homelink IRV mirror
JDM Emerg Flasher
Sti sill plates
Window Tint
Autospeed dead pedal
Trailer hitch (sold Feb 10)
Carlabs X-Brace
Suede Strg Whl
Misc
Battery Tender Battery Charger
Sti Black Cluster clock (home office)
Subaru gear, STi Computer bag, hats, shirts, etc
Various STi model cars
Speed rings
DL1- Data Logger
Chasecam w/ two bullet cameras split screen processor
Suspension
Camber plates Racecomp NL with stock struts and RCE Bronze/Yellow Springs (on shelf for b/u)
Frt/rr strut bars Ebay(removed-sold Sept- '09)
Kart boy rear endlinks
Powdercoat Strano bar (never installed-sold '06)
TIC Rear Bushings (7-7-10) with lock bolt (not installed as yet)
Whiteline 22/24 FSB (removed sold '06)
Whiteline 27/29mm FSB
Whiteline frt sperical endlinks
Whiteline frt steering bushing
Whiteline RCA kit 9-15-11
Hardened Frt Lwr Control Arm Bushing
Whiteline RSB 22/24
07 Struts, hubs, rotors, converted to 5x114.3 hubs (July '09)
RCE T2 Coilovers w/Vorshlag Camber Plates (used)(July '10)
RCE Bump Stops (in frt stock '07 struts)
Whiteline

Adj lateral links

, boxed trailing arms(boxed rear installed 7-7-10)
TIC Rear Trailing Link Bushing 8/3/11
Oswald Subframe brace with undertray mount (1/12) (installed 9-13-12)
Oswald Lightweight rear bumper beam (7/12)
Q-Rack steering gear 11.5:1 steering ratio 9-16-11 completed (toe set etc)
Transmission
Cobb short shifter
Kart boy frt bushing
Kart boy rear stay
TIC pivot bushing
Sti Titanium shift knob (round)
Tuning
Cobb AP V1
Protuned to 271 whp / 411 wtq by
Doug from Topspeed @ Pure Tuning Toledo
Wheel/Tire
Azenis(4) mount/bal (removed sold June '09)
(4) Enkei 17 x 8.5 5 x 114.3 RPF1 Silver
40 offset
Enkei 17 x 8.5 5 x 114.3 RPF1 Silver (New)

(that's right two sets of RPF-1's)
Bridgestone RE01R P245/40/17
Hub rings (Z1-new)
Nitto NT-01 (used 245/45/17) - Gold BBS 17 x 8.5
Nitto NT-01 new 255/40/17 8/5/11
* Items in Red are awaiting install or change
Weight Reduction:
Items already changed:
-Carbon Fiber Driveshaft 13 lbs vs 26 lbs OEM -13 lbs
-JDM front bumper beam 15 lbs vs 28 lbs OEM -13 lbs
-Lite weight battery 16lbs vs 22 lbs OEM -5 lbs
-Coilovers versus struts vs 34lbs OEM Frt (RCE camber plates/RCE springs-stock struts)
vs 36lbs OEM Rr (RCE springs, GRPN top hats stock springs)
Front Subframe to Oswald Subframe lbs vs OEM 26lbs
Stock Uppipe to titanium wrapped Tigwerks Uppipe lbs vs OEM lbs
Plans:
Remove rear seat
Remove child restraints
Change rear bumper beam July 2012
Change front U-frame July 2012
Remove spare tire & jack
Consider other liteweight components to install
Goal remove 200-300lbs for 2012
Lucille the Frank Zappa song
Peace,
Boost it 2
RCE T2 Thread links in Post 116
Got2Boostit2's 2004.7 STi "Lucille"-The Garage Queen