Discussion Starter
·
#1
·
$25K
Selling my 04' STi with 14,500 miles on it, and the following mods below. Located in Macon, GA. 31093 (478) 718-9982 ask for Jay.
Car is in Excelent all around condition, with the exception of the passenger window tint comming off, but I will fix at time of sale for $35.
BTW, all parts have less that 2k of use on them.
sz49 (upgraded 19psi IWG, and clipped wheel)
oil catch can
XS Power FMIC (same as TurboXS)
Perrin turbo intake
Perrin Big MAF
Perrin crank pully
Perrin uppipe
PE 850cc injectors
255lpm fuel pump
TGV delets
Phenolic Spacers
Slightly ported exhaust manifold & ceramic coated
3" TBE -catless
1 step colder Denso Iriduim spark plugs
Apexi AVC-R
HKS turbo timer
AP
SMC meth kit
1.4 bar Rad. cap
WORX BOV
slotted/crossdrilled rotors F & R
Hawk pads
ss clutch line
ss brake lines
Rota G-FORCE 17x8" rims
Falken Azenis RT-615 255 40 17 tires
Alpine CD player
Boston Pro com speakers F+R
MTX Thunder 400w amp
all 4ga wiring, and trunk wired for a sub.
STi floormats
armrest exstion
Auto dim rear mirror with compas
Boost gauge
Upgraded alarm
All fluids changed for synthetic, or Subaru fluids, pretty much the 30k maintance has already been done, with in the last 2k.
Amsoil oil, and oil filter
too many other odds and ends to list...
Also, the car comes with a 55gal barrel of Methanol, with about 48gal left.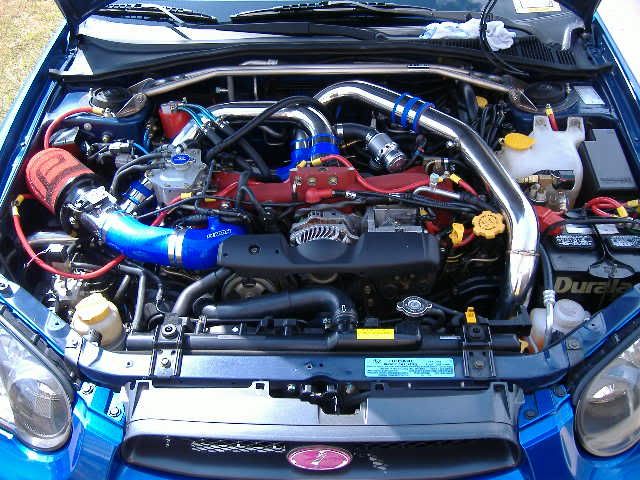 Tuned by Doug at TopSpeed. I have two maps for it on the AP, one is for pump 93oct, and made 397whp; and the second map is for pump 93oct and Meth injection, and made 426whp. I went to the 1/4 mile track two times, and the best time I had was a 12.2 @ 117mph, but Doug said it is capable of high 11's with the right driver
.