All parts are in stock and ready to ship, 24/7 help and support call at anytime to place orders. If there is a specific part you are looking for that is not listed here dont hesitate to call and we will find what your looking for please pm or call for prices.
Agency Power Titanium CBE

The need for power, quality, and style has once again been executed by Agency Power with their brand new catback exhaust system for the Subaru WRX and STI. This new stainless steel exhaust system features a brilliant titantium muffler with a titanium 4.5 inch tip etched with the Agency Power logo. The system utilizes T304 stainless steel 3 inch piping TIG welded with 1/2 inch thick flanges. The system includes a flex joint for perfect fitment and reduced stress on the system. The center pipe features a resonator to get the perfect boxxer engine sound. The Agency Power catback exhaust includes strong durable hangers, gaskets, and hardware for a perfect fitment.
The catback exhaust will fit to the factory downpipe or aftermarket downpipes on your 2002 and up Subaru WRX or STI. The exhaust has an angled exit as seen in the pictures for that JDM look. The exhaust will give you up to 12WHP gain . The race sound of the exhaust will not drone inside the car but give you that quality tone you desire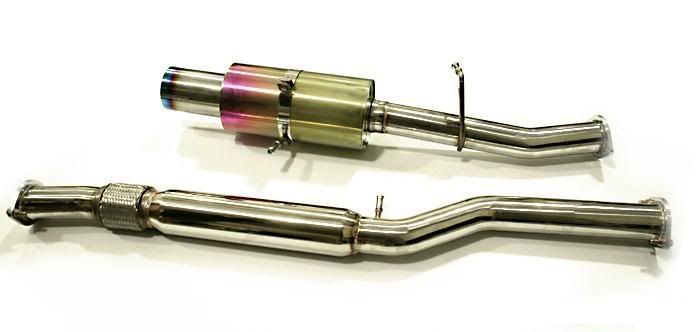 Blitz Nur Spec R CBE


The Blitz NUR - Spec R exhaust which is a cat back system. The NUR - Spec R system comes in two parts. This version also has a removable silencer for road / track use. Because the full system removes the silencer, it produces a fairly loud, deep sporty note. Each BLITZ exhaust is flanged and comes complete with all gaskets and hardwear. Providing the easiest bolt-on installation possible. All BLITZ exhaust systems utilize factory mounting points and hangar locations. A fine balance of looks, power, and durability has been achieved through full stainless steel construction finished in a show quality shine.
HKS Carbon Titanium CBE


Inspired and designed from endurance and GT racing in Japan, HKS developed its Hi-Power Exhaust system for both turbocharged and naturally aspirated applications. HKS has incorporated this new race inspired offset muffler and piping design into many street applications, which offers a greater flow and higher-PRM power gains due to the less restrictive design. This is achieved by eliminating unnecessary bends for the straightest exhaust path. For turbocharged applications, the large and smooth exhaust flow allows greater exhaust velocity for better mid-range boost response and high-RPM power. Naturally aspirated vehicles also benefit from greater exhaust flow capacity as engine tuning levels increase. Certain applications are available in a Silent Hi-Power version which has an inner silencer built into the muffler. Like Drager Exhaust systems, Hi-Power Exhaust systems are made from SUS304 stainless steel muffler and tip assemblies. Depending on the application, Hi-Power muffler tips are 96mm, 115mm and 120mm in diameter, piping diameter ranges from 55mm to 95mm. Special Edition HKS Carbon Titanium Hi-Power Exhaust systems are exclusively available for certain popular applications. These exclusive versions of the Hi-Power Exhaust consist of a carbon fiber wrapped muffler shell, titanium tip, and polished SUS304 stainless steel piping.
Fits: Does not clear on vehicles with optional Subaru skid-plate (rear differential)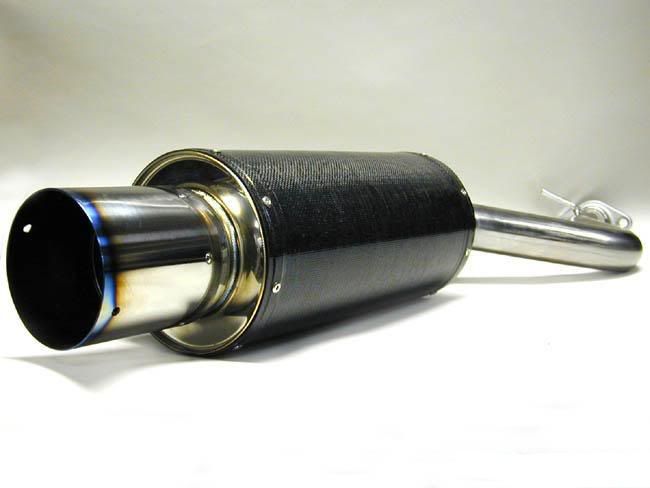 Agency Power Bell mouth Downpipe
Continually developing and enhancing the Subaru WRX and STI cars has been the goal of Agency Power. With a complete line up to make your Subaru the best in it competition, Agency Power has just released their all new Racing Downpipe. This downpipe fits all Subaru WRX or STI cars from 2002 to 2007. The downpipe is full stainless steel with a cast bell mouth upper section. The thich flanges ensure a tight and strong seal. The downpipe deletes both your catalytic converters and bolts to all factory style turbos. The downpipes precision welds and polished piping give the AP Racing Downpipe that cutting edge. Each downpipe includes a bung for an aftermarket air/fuel sensor as well as a bung for the factory O2 sensor.
When adding an Agency Power Racing Downpipe to your Subaru WRX or STI, you will gain more horsepower and overall performance. The downpipe allows for better flow of the turbine and wastegate gasses. Unlike the factor downpipe that blocks the wastegate gasses from being released in an efficient manner, the AP downpipe has a large bell mouth which allows for both to flow smoothly out and down the pipe. The 3 inch diameter piping is the perfect size for the turbo cars from stock hp to 500 whp. The bellmouth will also allow for a little boost increase since there is less restriction. Mate this downpipe up with your aftermarket catback exhaust or one of our Agency Power catbacks for an amazing sound and almost 25 wheel horsepower gain. All Agency Power products come with a 90 Day limted warranty
B&B Catted or Catless Downpipe


B&B full stainless steel downpipe is designed for your 2002 to 2006 WRX and STI Subaru. The downpipe utilizes the correct split tube design off the turbo for maximum power. Full 3 inch with 1/2 inch thick flanges. Will bolt up to your factory system or aftermarket catback. Can be used with factory turbo or most aftermarket turbos including IHI, Garret, PE, and custom systems. This downpipe has been redesigned by B&B to fit both the STI and the WRX with NO fitment issues.