Circuit Motorsports *NEW Billet Pitch-Stop* & Clutch Master Cylinder Brace Combo Deal
We are going to do something a little different here and offer not only a Group Buy for our BRAND NEW Billet Pitch-Stop Braces, but we are also going to offer these in conjunction with our very popular Clutch Master Cylinder Braces together as an option!!
First off, and introduction to the Pitch-Stop, why it's important, and why you'll want ours.
What Does the Pitch-Stop Do?
The pitch-stop brace is a hard mount between the upper transmission case and the firewall on your Subaru, located under your top-mount intercooler or air-box. This brace is designed to limit the movement of the drive-train fore and aft as you accelerate, shift, and decelerate. This is very important because the low-mounted engine mounts and one transmission mount leave a high moment of inertia for the drive-train. The pitch stop sits above the drive-train and is the sole mounting point in that area to the chassis.
Why Does the Factory Pitch Stop Suck?
Subaru designed the factory pitch stop like the rest of the OEM bushings in the car, to be on the soft-side and absorb noise, vibration, and harshness for the folks that don't want to "feel the car". The OEM pitch stop is made of thin plastic and has soft rubber bushings. This allows for quite a bit of flex and give, we have even seen them break and snap in half. You feel this inside the car as drive-train slop and unnecessary movement. When you accelerate, decelerate, or shift quickly at high RPM's the drive-train moves independently of the chassis. Some of that power is actually wasted in moving and twisting the drive line through these soft bushings and mounts. No bueno.
Why Does Our Pitch-Stop Rock?
We designed our pitch stop to not "suck" by using a solid block of Billet T6-6061 Aluminum and machining it into a beautiful shape to fit perfectly In the OEM location. Custom fit 85a durometer bushings which provide a level of protection against NVH but are much less susceptible to the movement your Subaru drive-train. Basically, our solid billet pitch stop is not going to flex when the boost hits. You'll get crisper shifts, more direct acceleration, a more solid drive-train feel, and less wasted energy to the ground. This is hands-down one of the best bang-for-the-buck drivetrain mods you can do to your Subaru.
We also wanted to make sure that this part lasts the life of the vehicle. We didn't just want to paint or powder-coat our braces, so we used a mil-spec type-3 hard anodize to treat the brace, this prevents corrosion and also has the added benefit of hardening the surface as well. The anodizing provides a nice eye-catching colorful matte finish to the pitch stop.
Setting our brace apart was important, so we designed a set of mounting holes in the center of the brace. This will allow for future upgrades provided by Circuit Motorsports, or for some ingenuity on your own. These holes can be used for brackets, air-oil separators mounts or hoses, or can be used to zip-tie other fuel-lines or breather-hose. Instead of just a solid brace, you have those extra options, or just enjoy an aesthetically pleasing brace overall! Keep in mind that these braces are proudly designed, manufactured and distributed exclusively in the U.S.A.!
Custom bushings were designed and cast just for this application! We use a high quality Shore A Polyurethane high durometer bushing set for the front and rear as well as matching Gold Zinc plated steel sleeves to keep the bushing from being worn out prematurely by the mounting hardware.

These pitch-stops will fit just about any Subaru! How's that for great resale value?!

2015+ WRX
2015+ STI
2002-2014 WRX
2004-2014 STI
1993-2001 Impreza L, RS, Brighton, outback, 2.5i or TS
2003-2006 Baja
2005-2009 Legacy GT and Spec B
1991-2009 Legacy L, Sport, Outback, Lsi, LS, Limited or 2.5i
2000-2009 Outback Sport, 2.5i, Limited or XT
2003-2011 Forester XT, X, XS or Sport
They come in 4 colors: Black, JDM Green, Grey, and Red
OK so now that you want one, what does it cost?
Well MSRP is $119.99 BUT we are going to be offering these tiered Group buy prices for NASIOC members!
Tier 1: 25-50 buyers - $99

Tier 2: 51-100 buyers - $89

Tier 3: 101-150 buyers - $79


So you'll get a flippin' sweet brace for under the normal sale price, you'll get the freshest Pitch-Stop on the market, and your drivetrain will thank you. Win-Win-win!


:banana:



We are shipping these all through UPS, with insurance and tracking numbers, to ensure you get your brace quickly and without it getting lost in a USPS nightmare.
Shipping Rates for Pitch-stops:
East Cost buyer: $9.99 shipped
Mid-West: $12.99 shipped
West Coast: $13.99 shipped



We are going to run this Group buy until July 31st, Paypal invoices and payment info will be collected on that date and braces will promptly be shipped out!



----

But....wait....you guys mentioned a combo deal? YES!


Yup, for those of you who have a 2008-2014 Impreza, WRX, or STI you may have read or heard about the crappy stock clutch welds that fail and give you all sorts of problems including sloppy clutch feel, inconsistent clutch engagement, complete pedal failure and the inability to drive the car. Yeah, it can get that bad.
Well we designed a Clutch Master Cylinder Brace (CMCB) that can help to prevent those welds from breaking, get rid of the pedal slop and firewall flex,
and
take away some of those annoying pops and creaks.
Check out all of the info here in our previous CMCB group-buy that was a huge hit: >>>>>> Circuit Motorsports Billet Clutch Master Cylinder Brace - 2008-2014 WRX & STI - NASIOC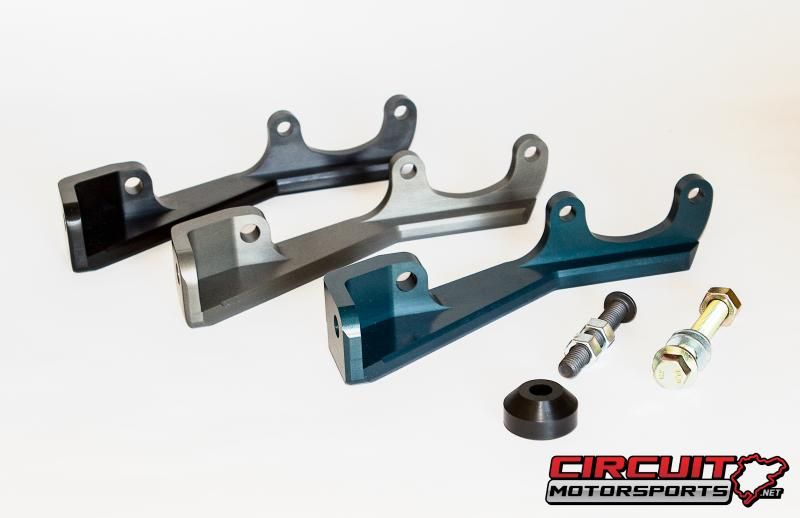 The CMCB requires the removal of one of the Pitch-stop bolts, so if you are going to install one or the other, it is the
perfect time
to upgrade and do both! For this reason we are going to offer the option of buying one of our CMCB at a discounted Group buy price when you buy a Pitch-stop.


Normal CMCB price is $179.99 - For this Group Buy only, with the purchase of a Pitch-Stop, we will add the CMCB for the sweet deal of only $159.99! That's a $20 savings, and we will add the CMCB even if we only reach the Tier 1 price bracket for the Pitch-stops!

Keep in mind, the Pitch-stops fit just about any Subaru, but the CMCB fits ONLY the 2008-2014 Impreza, WRx, or STI.


Let's get this Group buy going!

:banana::ritz:

1. "Perystevenm" - Black Pitchstop + Black CMCB (IWSTI)
2. "r3v0" - Black Pitchstop + Black CMCB (IWSTI)
3. "Seaya" - Black Pitchstop + Black CMCB (IWSTI)
4. Stanislav - Black (local)
5. Juan Ortiz - Grey (local)
6. "WRX boarder" - Black Pitchstop + Black CMCB
7. "WhatsASubie" - Black Pitchstop
8. "somset" - Black Pitchstop
9. "MacAlert" - Black Pitchstop + Black CMCB
10. "Brian N" - Black Pitchsop + Gray CMCB
11. "SlewSTi" - Red Pitch Stop Mount
12. "pandedrigo" - Black Pitchstop + Black CMCB
13. "SNEot - Piscataqua Rally Team" - JDM Green Pitchstop
14. "tsunamiLGT" JDM Green - Pitch Stop and CMCB
15. "gNardog" - Black Pitchstop + Black CMCB
16. "mbui" - Black Pitchstop + Black CMCB
17. "rudyr123" - Red Pitchstop
18. "xenon55" - Black Pitchstop + Black CMCB - IWSTI
19. "ambientnoiz" - Red Pitch Stop + Red CMCB
20. "Gilby1" - Red Pitchstop + Red CMCB
21. "littlemike
http://www.iwsti.com/forums/members/93034-littlemike/
" - Black Pitchstop - IWSTI
22. "acrazydood" - 2 Black Pitchstops - One for "Neysa"
23.
24.
25.
26.