Greetings. In November 2008, I purchased my 2008 AW STi from Heuberger Motors in Colorado Springs, Colorado, after hearing about the great finance offers that Subaru was offering. If it wasn't for my friend (and Subaru salesman) I never would have even realized what Subaru was doing to get rid of these cars so quickly.
I've been into Subarus since 2004 when I purchased a 2004 PSM WRX Sedan. Funny thing is, I didn't know anything about Subarus, or the car in general, so I knew it was going to be a long road. Quickly though, I got into the game and started modifying the 04 WRX. Fast forward about four years and the car was 'Stage IV' with a 20G, FMIC, injectors, EWG, and the rest of the supporting mods. Along with all of the power mods I installed, the car also sported a JDM interior, Defi gauges, TONS of bushings, Rotas, coilovers, swaybars, etc. Needless to say, it was a fun car, but having the EJ205 maxed out made me a little nervous since it was a daily driver.
Here's the car in its 'finished' state: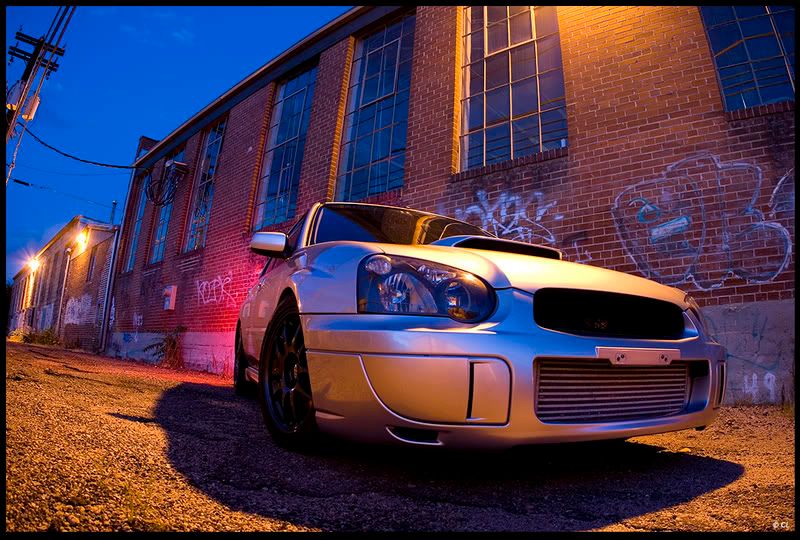 Anywho, I sold that and moved onto an 07 STi because I figured that would be a better platform to start with. Of course it was, but alas, my car payment wasn't so friendly and my job wasn't the highest of paying, so the mods were kept minimal. I fell in love with the six speed and the Brembos, the firm suspension and the 2.5 torque. After about a year, the car sported an Accessport Stage 1 tune, a catback exhaust, and lowering springs. But, the car wasn't THAT much different than my 04 WRX AND it was slower, so I wasn't in love with it as much as I had thought I would be.
Here's the 07 STi: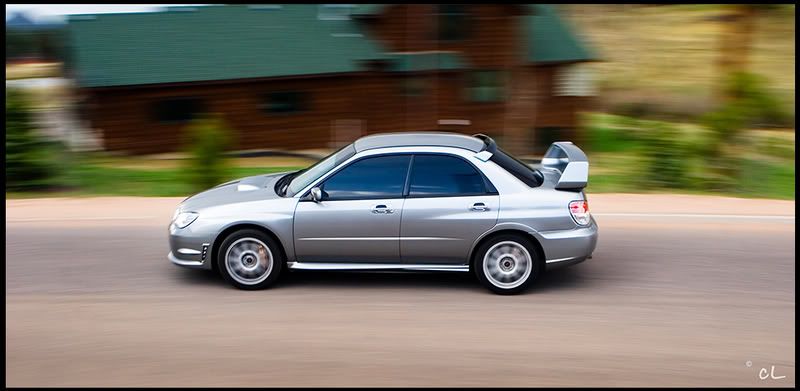 Deep down inside, I wanted the 08 STi after seeing it at the dealerships. I was a firm believer that Subaru took a nice leap when designing the new STi. But, the price was just ridiculous so I thought I was out of luck. Then the deal came along. I ended up picking up the car at GO Subaru here in Denver (where my friend works) and working with Heuberger to take care of the paperwork since the deal was better down there. I owe my friend a huge thanks since he got it all worked out and accompanied me so I didn't get screwed for a trade-in on the 07. The payment ended up being the same for my 08 (with zero down) as my 07 was, AND the insurance on the 08 is actually cheaper. Overall, I came out of the deal doing pretty well!
Since I put zero down I had extra money from my trade in, so I clear bra'ed and tinted the car a few weeks after picking it up. At the same time, I debadged the car, too. Shortly following those cosmetic mods, I added the Kartboy short shifter along with the front and rear bushings. I knew the mod bug had bit once again (it'd been awhile since I had NO motivation to modify my 07 STi). I picked up the Kartboy differential inserts and the TiC transmission crossmember bushings a few weeks later through the great group buy. I threw all of those mods on and I was happy. The short shifter is great, and the bushings create a nice, stiff shift.
In mid-January, I decided I disliked the body roll so I chose to purchase Whiteline 22mm swaybars (front and back) from TiC. I installed those once I received them and man do they make a difference. I love them. It's a must for all GR owners. I could bore you with pictures of the swaybars, but I think we all know what those look like!
Here's the new 08:
Thanks for looking!
To be continued...
Update: 11/23/2009
It's been almost a year (and a long, long time since I've updated this, too) since I bought my STi. Lots has happened since I last posted. In March of 2009, I purchased the Magnaflow Catback from CVR Motorsports. Overall, this piece is a great bang for the buck and gets the job done just fine. I'd highly recommend it to any GR owner looking to save a little cash and get a decent sounding CBE. I wasn't happy with the 2.5" taper at the downpipe or the slip-joints, so I had a local exhaust buddy of mine weld the slip joints and turn the exhaust into a true 3". Needless to say, I love it now - I feel that it's perfect.
After being content with Stage 1 via the Accessport, I decided to go Stage 2 in May using the catless Invidia downpipe to accompany my Magnaflow CBE. The install was a breeze and I was off using the Stage 2 OTS Cobb map with some decent luck. Many people say that the Cobb OTS map doesn't work with catless cars or you're going to run into a lot of misc problems because of it, but I didn't. It boosted a little bit more than what the target was, but that was to be expected with the catless piece. I consistently ran logs at least once a week and monitored my setup - all was good for the 6 months I had the OTS on the car. But of course, I wanted more.
That brings me to today - the car was Protuned last week by Harvey Epstein (owner of The Boost Creep LTD in Longmont, CO). I decided (thanks to some coaxing from a member on this forum) to buy the Perrin CAI intake and have it tuned once again. When the car was on the dyno it reacted well to just the OTS map. Harvey was surprised that the car liked the Cobb map so much, but there was still work to be done. I came off the dyno with about 280whp/320wtq UNCORRECTED at 5280ft ASL. Not too shabby. Here's my dyno forum link if you'd like to read more about it -
http://www.iwsti.com/forums/power-bragging/179569-chris-gs-2008-sti-315whp-360wtq.html