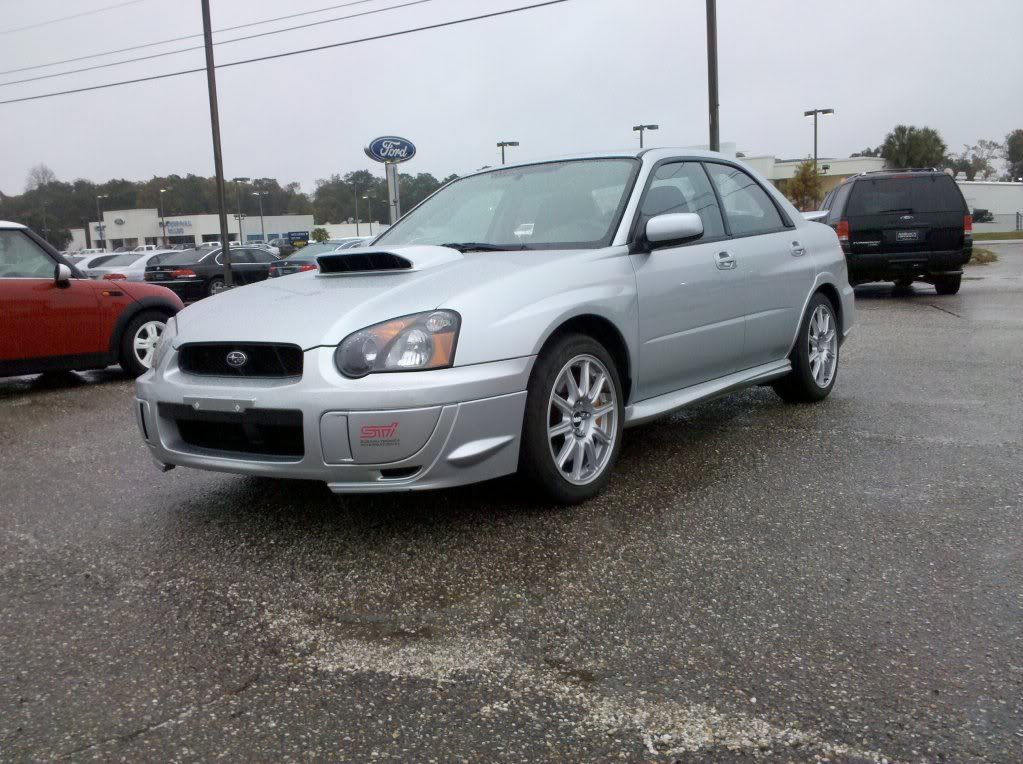 Before she was wrapped.
My suspension thread had turned into a bit of a journal, so I figured that I would actually make a journal on here.
Doglegging at Autocross
The picture that started my quest for a proper autocross setup:
Purchased the car December of 2009 with 16K miles on the odometer. Left it stock for about a year before taking the plunge into Stage 2. After having boost control issues I decided to make the jump to an external wastgate. It is an atomospheric dump, but works extremely well.
In 2012 I found an SCCA region about an hour from me. That's when the autocross bug bit me. The problem was that I had already modded the STI into SM meaning my PAX would be terrible.
This year we have voted to create a pax multiplier for SM on street tires. This will help us modded guys just running street tires.
255 BFG Rivals
The Mods
Exterior
-matte black vinyl done by skinwrapz
-lamin-x front headlights
-wrx trunk (STI wing is pretty big)
-"Wrc replica" flaps
-rear oem diffuser
-carbon fiber lisence plate surround
Suspension/Drivetrain
-17x8 rpf1's on 245 michelin pilot super sports (Street)
-17x9 5zs on 255/40r17 RE71R (Autocross/track)
-muteki sr48 lug nuts in neochrome
-RCE T2 coilovers
-Whiteline roll center adjusting LCA balljoints and tie rod ends
-kartboy endlinks
-cusco 22mm front sway
-TiC master cylinder brace
-oswald performance rear brace
-vorshlag front camber plates
-cusco rear camber plates
-Carbotech XP12
-DBA 4000 T3 Rotors
-ARP wheel studs
-ATE brake fluid
-4lb Lithium ion battery
-2007 OEM STi Fender cowl braces
-Rooducts in case of track days
Engine/Exhaust
-process west tmic w/splitter
-turboxs catback (replaced a very loud litespeed titanium)
-element tuning downpipe (swaintech coated)
-grimmspeed ewg uppipe (swaintech coated)
-turbosmart compgate 40
-grimmspeed 3 port ebcs
-cobb ap v2
-crawford aos v2
-3mm phenolic spacers (Had to pull the intake manifold anyway due to xpipe coolant leak)
-grimmspeed tgv deletes (Had to pull the intake manifold anyway due to xpipe coolant leak)
-walbro 255lph fuel pump
-DW850cc injectors
-apexi paper air filter
-koyo radiator (stock calsonic split)
-killer b radiator shroud
Interior/Electronics
-hella horns and bracket (perfect for getting cutoff)
-defi 52mm red racer gauges (boost, oil temp, oil pressure) fitted into an OEM pod. I did not like how the defi hood doesn't match the dash.
-pioneer touchscreen (handsfree, movies, etc)
-map, dome, liscense plate, and trunk lights are LED
-dead pedal to match the sti pedals
-JPM coachworks shift boot, arm rest, and e-brake boot
-Red Flossy knob (I like heavy knobs and this burns me less than the TWM Abrams)
-Scroth quickfit harness (Less flopping around at autocross)
Current Alignment, etc
500lb Front Hyperco springs
7KG Rear Swift springs
0 Toe
-3 Front
-1.8 Rear
Front Compression 5
Front Rebound 8
Rear Compression 7
Rear Rebound 9
Wish List/Debating
-Karlton Fender Flares and 18x10.5 wheels with 295 - 315 width tires
-Aftermarket rear differential
-TIC rear diff bushings
-MSI Trailing Arms and TIC Bushings
-Killer B EL header with EWG uppipe
-Oil cooler using Mocal thermostat sandwich plate
-Removing the old vinyl now that I can keep the car in a garage