Discussion Starter
·
#1
·
Hello (especially you track guys),
I am selling a used AIMS Lap-timer mounted on the factory Subaru dash bezel. The Lap-timer, transmitter, receiver, and bezel are in like new condition. Each item works perfectly and will make a great addition to any enthusiast that enjoys track days and wants to log his progress. In addition to the lap-timers function, it looks great mounted to the dash bezel and will definitely get some attention from other enthusiasts.
This specific AIMS model is not operated using batteries and is designed to be wired into the cars electronics. However, I used a 9 volt battery to power this lap-timer when in use. The 9 volt batteries worked great for one full day at the track (8-10 hours) I would install a new battery at the beginning of each event. You can install the lap-timer any way you like.
The lap-timer and transmitter work perfectly the way they are mounted to the dash bezel. The transmitter was mounted using Velcro (so adjustments can be made if necessary) on the top of the dash bezel, above the lap-timer and clears the left side mirror for an accurate shot at the receiver lap after lap.
Please keep in mind that there are a couple compromises with the installation of this lap-timer. One, the AIMS lap-timer will block your view of the lower portion of the gauge cluster (check engine, low fuel, low intercooler sprayer indicator, ect.) Second, it will block about ¼ inch adjustment of the steering column in the upper position.
The only ugliness of the project was the wiring through the upper portion of the dash bezel. And the reason for this is because the lap-timer has six tiny individual wires that communicate to the transmitter. Each of these wires had to be cut, re-joined, sodered, and coated separately to be mated properly. In doing this, the wires above the bezel don't look as professional as I would have preferred.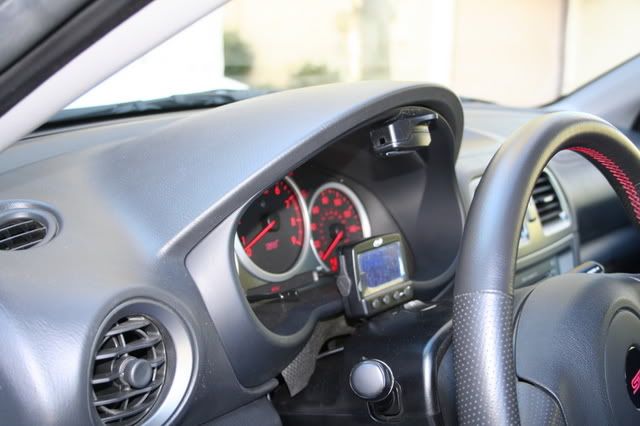 $200.00
I will recommend (if you do not already own one) that you purchase a camera tri-pod to mount the AIMS receiver so that you can confidently place it on the side of the track to record your lap times.
Why are you selling your AIMS Lap-timer? My STi has been returned to stock and is sold! Why don't you keep it and use it on your next vehicle? Because it was already cleanly mounted to the factory dash bezel, I figured it would make a good addition to someone's STi and I will purchase another unit when the time comes.
The buyer will pay shipping and I can arrange a COD if necessary. I prefer a local pickup. Paying with PayPal is also another payment option.
Please PM me if you are interested in the AIMS lap-timer mounted on the factory dash bezel.
Thanks,
Mike