STi-R Race Car built with IAG Performance
MOD LIST:
Engine
:
-IAG Stage 4 Extreme Closed Deck Block
-IAG Heads with Kelford Cams and +1mm Valves
-Garrett GTX3582R Gen II Reverse Rotation
-IAG Custom Equal Length Header, Uppipe, Downpipe
-IAG Custom Side Exit Exhaust
-IAG Custom V-Mount with Garrett Intercooler Core
-Ron Davis Radiator
-Dailey Engineering 4 Stage Dry Sump Oiling System
-ATL 26 Gallon Fuel Cell
-Radium Engineering Fuel Cell Surge Tank
-Cosworth Intake Manifold
-Boomba 75mm Throttle Body
-MooreSport Engine Mounts
Engine Management/Electronics
:
-MoTeC M130 ECU
-MoTeC PDM30
-MoTeC C125 Dash with Logging Upgrade
-MoTeC E888 CAN Expander
-Custom Mil-Spec Harnesses
-Bosch/AEM Sensors
Chassis/Suspension
:
-JRZ RS Pro 3 Dampers with Swift Springs
-MooreSport Billet Front Uprights
-MooreSport Front Subframe with Integrated Sway Bar
-MooreSport Rear Subframe
-MooreSport Front Control Arms (Spherical Bearing)
-MooreSport Rear Trailing Arms (Spherical Bearing)
-MooreSport ALK (Spherical Bearing)
-MooreSport Rear Upright Spherical Bearing Inserts
-MooreSport Sway Bar Endlinks
-Kaminari Race Lateral Links
-Ground Control Front Camber Plates
-GTWorx Rear Camber Plates
-2015 STi Steering Rack
-RCE 25.5mm Adjustable Rear Swaybar
-Fully Seam Welded Chassis
-Custom Air Jack System
Brakes
:
-Stoptech Trophy Race 6-Piston 355mm Front BBK
-Stoptech Trophy Race 4-Piston 328mm Rear BBK
-Tilton 600 Series Pedal Box
-Tilton Fluid Reservoirs and Bias Adjuster
-CL Brakes RC6 pads
-Ferodo DS1.11 pads
-IAG Custom Cooling Ducts
Transmission/Differential
-Samsonas 6-Speed Sequential Gearbox
-Geartronics/Life Racing Paddle Shift System
-Tilton 5.5" OT-III HD 3 Plate Clutch
-TTV Racing 3.5kg Flywheel
-Tilton Hydraulic Release Bearing
-OS Giken 1-Way Front Diff
-OS Giken 1.5 Way Rear Diff
-MooreSport Rear Diff Cover
-DCCDPro Center Diff Controller
Wheels/Tires
:
-Volk TE37SL - 18x10.5 +22 w/ Michelin Pilot Sport GT Slicks - 27/65-18 (dry)
-Volk TE37SL - 18x10.5 +22 w/ Hoosier H2O Wets - 275/35/18 (wet)
-ARP Wheel Studs
Aero/Exterior:
-Custom Dry Carbon Widebody Front Fenders/Rear Quarter Panels/Rear Door Panels
-DHP Composites Dry Carbon Front Splitter
-DHP Composites Dry Carbon Rear Diffuser
-DHP Composites Dry Carbon Barge Boards
-Kognition Design Chassis Mount Wing
-Custom Dry Carbon Roof
-Custom Dry Carbon Flat Bottom
-AJ Hartman Aero Carbon Fiber Canards
-Custom Carbon Aero Door Mirrors
-Zero/Sports Front and Rear Bumpers and Side Skirts
-Kaminari Reverse Cowl Carbon Fiber Hood
-Seibon Carbon Fiber Trunk
-ABW Motorsport Headlight Blanks
-Shields Lexan Windshield and Side/Rear Windows
-Paint and Body Work by IAG
-Custom Vinyl by VBD Motorsports
Interior:
-Recaro Pro Racer HANS XL Seat
-IAG Performance Custom Rollcage
-Schroth Enduro Harness
-OMP 310 ALU GT Steering Wheel
-Krontec Steering Wheel Quick Release w/ 22 Pin Connector
-SPA 4L Electric Fire System
-Ultra Chiller Cool Suit System
-Custom Carbon Fiber Switch Panel
-Gutted Doors w/ Removable Front Windows
-------------------------------------------------------------------------------------------------------------------------------------------
I have posted lots of pics as I go along but I have never officially created a journal, so here goes. I got the car in August of '04, CGM w/ Silver Wheels. Here she is in stock form:
you can see in this pic that the temp tags are still on...she was just a virgin.
My first mod was a Passport 8500 X50. I hardwired it...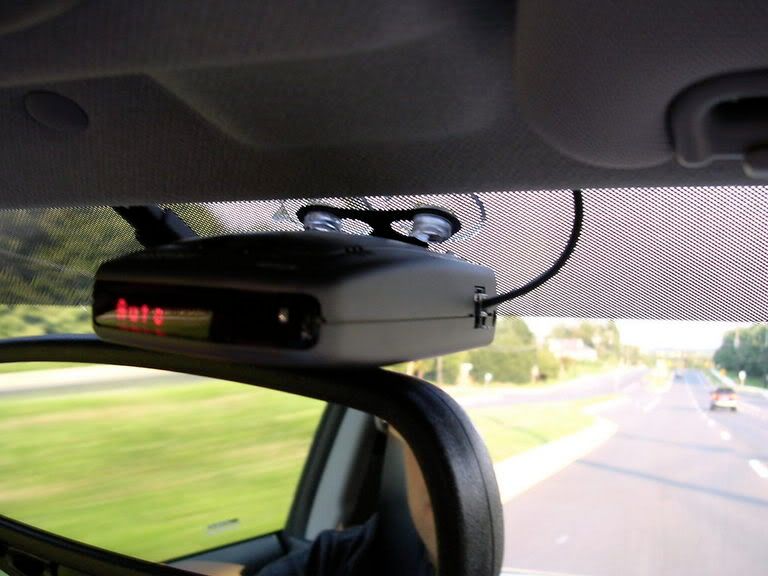 ...and soon made a custom mute button integrated into the stock switch blank.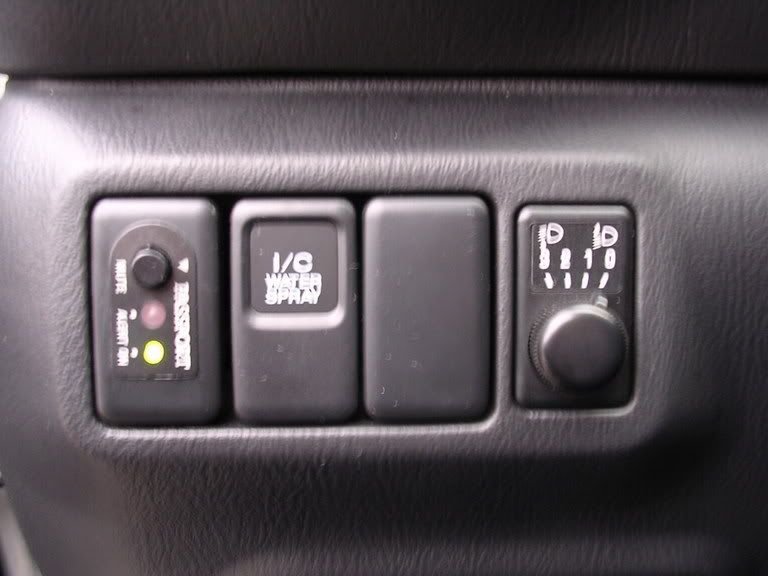 My next mod was a set of Defi gauges (Boost, EGT, Oil Press.) in a Defi pod. I wanted to make sure I had a means of monitoring my engine before modifying it.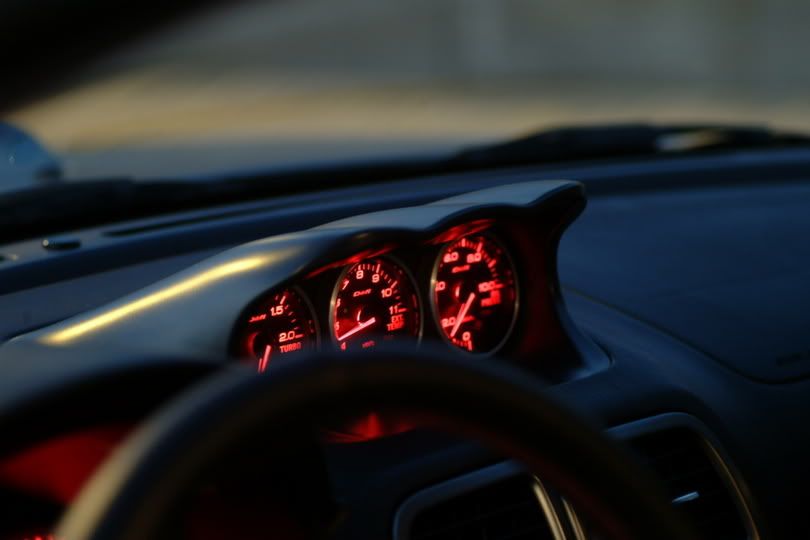 I was also very underwhelmed by the factory stereo, so I decided to do some upgrades. I began with a Kenwood DDX7015...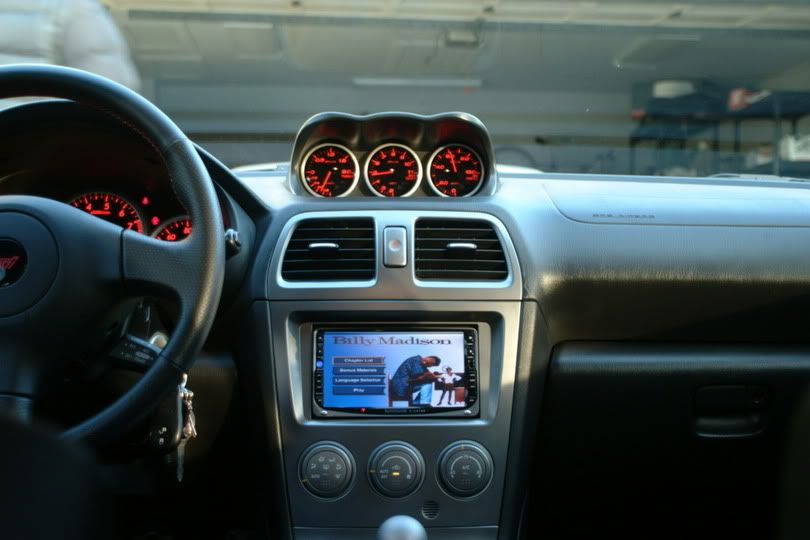 ...and a set of MB Quart PCE-216s powered by a Phoenix Gold amp.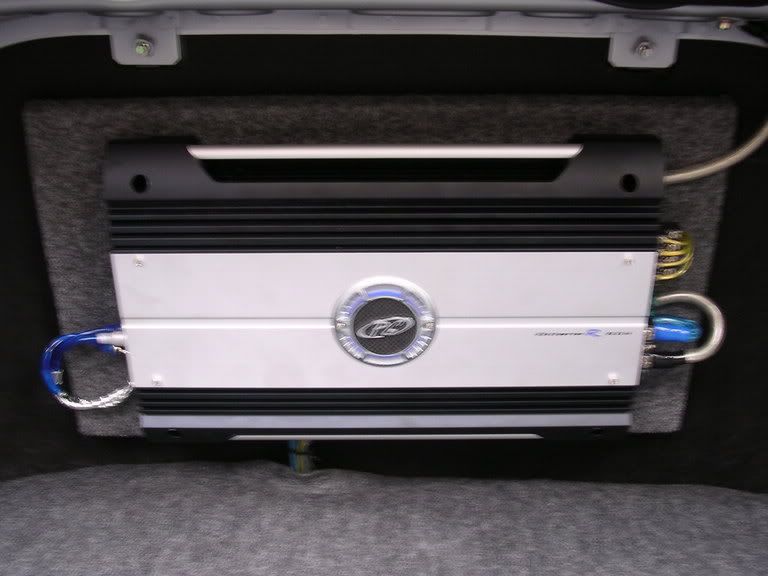 I also put Dynamat in all 4 doors. The difference was amazing, now it sounds great!