Onto the Car:
I initially pre purchased the car at the end off 2003 so I have been in the seen for a bit now, I have always been a Subaru fan through all the WRC events when they used to always broad cast them on SPEED channel. When the STi arrived in 2004 I knew that I had to have one. I picked up the STi on the delivery day that it was arriving at the dealership straight off the truck with less than 1 mile on the block no radio, speakers, no lighter then you just have to tell yourself this is no luxury box it's a straight rally inspired beast. I even took off work that day so I could enjoy the rest of the day with her gallivanting around working on the break in period. Now this was way before the Suby bug hit MD, for the first 2yrs it seemed like I was the only one with a STi. I always kept a keen eye open to see if I could spot others but never did, now…..It is like one big sweet suby convention!
Onto the car, never ending mod list so far and pictures to boot then we will move on to future mods. I did all the install bits myself except for the tuning, fab, and install of the CIA and snail swap, Thanks to Agile Auto for the all its help on this project as well. Hill & Annie, Brian, Joe,Adam (My Engine Builder)and all my other homies at agile.
2004 GDB SUBARU WRX

STi

PLATINUM SILVER METALLIC
EXTERIOR
:
-Shaved emblems and Decals on Body and Fogs.
-Front Fog CAI Ram Air modification
-CUSCO Rear Diffuser mounting bar.
-05' STi OEM Rear Diffuser.
-HELLA Super Tone Horns in Matte Black.
-ELFI Carbon Fiber Exterior Pillars.
-SEIBON Carbon Fiber wingless trunk.
-Replica Front STi V-lip Poly Urethane.
-Gruppe S Carbon Fiber hood struts.
-Pillar less front grill Murdered out.
-JDM Rear Spats in Platinum silver metallic.
-WRC Piggy Decals Silver over Black on Left & Right mirrors.
-Black out Rear reverse light overlays.
-STi Black Front Licenses Plate Delete.
-Cleared and Blacked Out Headlights in High Heat Black Ceramic.
-04' Angel Eye kit from Lightwerkz.
-Gallery Fresh rear License plate Black Bolts.
INTERIOR
:
-Custom shift boot and Armrest cover in Black & Blue in Alcantra.
-Dry Carbon Fiber Overlayed A/B/C Pillars and Seat Belt Covers.
-Dry Carbon Fiber Overlayed Radio/HVAC Panel, Vent/Hazard Trim, Shifter Trim Surround.
-Dome light assembly and Shifter trim in Satin Black.
-Defi Carbon Fiber center dash gauge pod.
-Defi BF 2 I-Link Controller for Gauges.
-Defi BF 60mm Gauges in Amber (Boost/EGT/Oil Temp).
-JDM Black Embroidered STi Floor mats.
-Petter Solberg Signed 3rd Window Visor in 2005.
-JDM Dead Petal to match existing Pedals.
-Kartboy Short Shifter and Poly bushings.
-Kartboy Rear Shifter bushing.
-Custom Rear Video camera mount.
-WC Lathe Werks Stainless 1lbs. Burnt Blue/Bronze Shift Knob.
-WC Lathe Werks Black CP Custom Engraved
STi
Shift Knob.
ENGINE
:
1/1/2010 Cylinder 4 Shot FORGED IN PROCESS....
-COBB Accessport V2 With Custom Pro-tune By Hill @ Agile Auto.
-PERRIN Rotated GT3582R .63AR Hot side.
-PERRIN Rotated Downpipe with Plumbed back External waste gate
-PERRIN Rotated Up-pipe with External Waste gate Thermal Wrapped.
-PERRIN Lightened Crank Pulley.
-PERRIN V2 Side feed Fuel rail kit in Black.
-PERRIN FMIC T-bolt Clamp kit.
-CRAWFORD A/O Separator Universal Kit.
-Thermo Tech wrapped Intercooler piping Graphite Black.
-Thermo Tech wrapped & Black Hi-Heat Coated DP & UP.
-DEI Stainless steel band clamps for Thermal wrap.
-Tial 44mm External Waste gate in Silver.
-Custom Purge TIG Welded CAI Fabricated by Hill @ Agile Auto.
-Walboro 255 Upgraded Fuel pump.
-SUN Automotive Hyper voltage system.
-APS 725DR FMIC with Stainless Piping.
-APS Dual Vent FMIC Bypass valve.
-HELIX 860cc Injectors Red Top.
-Apex'i Boost Solenoid Valve controlled by AVC-R.
-Apex'i AVC-R Digital Boost Controller.
-JDM TGV Ported and Polished Housings.
-Phenolic 3mm Insulating spacers with OEM gaskets top & bottom.
-MAGNAFLOW High Flow Resonator in Mid-pipe.
-Autosport In-line Wiring Harness for ECU.
-HELIX 3.5" Full Exhaust with 4 1/4" Tip.
-SAMCO Radiator coolant hoses.
-High Temp Goodridge Black turbo coolant reservoir hoses.
-M1 Development Carbon Fiber Alternator cover.
-STi Fuji Heavy Industries Titanium Front Strut Bar.
-STi Pink 1.3psi Radiator Cap.
-ELFI Brake cylinder & Master cylinder Gold caps.
-Washer fluid cap, Reservoir, and Dip stick in Wrinkle Black.
-CUSCO Blue Master Brake cylinder stiffy brace.
-Optima Red Top Dry Cell Battery.
-Carbon Fiber Battery tie down.
-Project KIC'S Magnetic Drain Plug.
-Gallery Fresh Full Kit BLACK Anodized + Miscellaneous
DRIVETRAIN
:
-RPS MAX Clutch .
-Stock STi Resurfaced flywheel @ 25k miles.
-Group N Transmition mount.
SUSPENSION & WHEELS
:
-6GUNRACING 2004.5 2005 Hub swap kit 5x114.3
-STANCE 2005 Threaded lower collars for GR+ Pro SSD's
-STANCE GR+ Pro's SSD Track Setup 12k/9k spring rates.
-PERRIN V2 Spherical Rear End links.
-CUSCO Rear Stabilizer bar for rear splitter.
-JDM Rear 2005 Splitter valance connected to Cusco Bar.
-McGaurd Spline Drive lug nuts in Onyx Black.
-BBS 2004 Stock Wheels 5x100 17"x7".
-ADVAN RS 18x9" +35 Dark Gunmetal Wheels.
-Project KICS Neo Chromo R40 Extended Lugs.
-ARP Extended Wheel Studs.
ICE
:
-Kenwood Exelon DDX-7015 Dual DIN Head unit.
-Sirius In Head Unit controlled display.
-Boston Acoustic Component speakers Front & Back.
-Alpine V12 MRD-M1105 Amplifier.
-Alpine X-Type Carbon 1000watt Subwoofer.
-Rockford Fostgate 1000watt Wiring Kit.
-VIPER 850XV Alarm with Display remote.
DYNO SHEETS
:
-
Stock tune VF39 w/ mad bolt on's 93 pump
: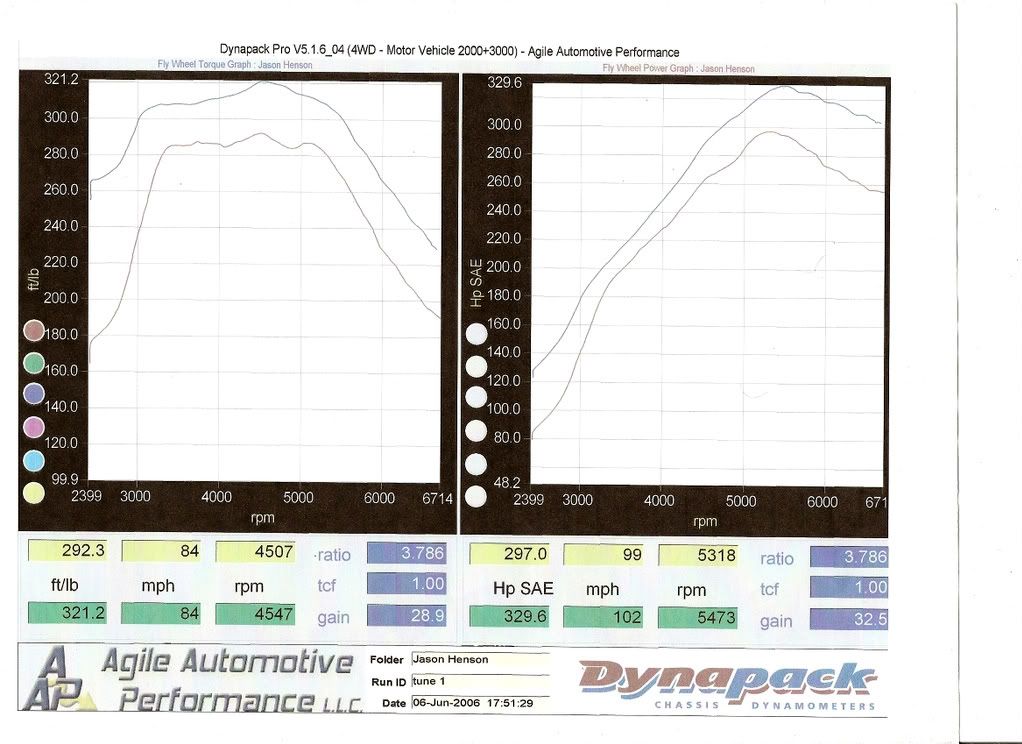 -
2nd Protune w/ Pump and step colder Plugs 93 pump
:
-
GT35R Swap with supporting mods 93 pump
:
Power curve was even smoother after the road tune..