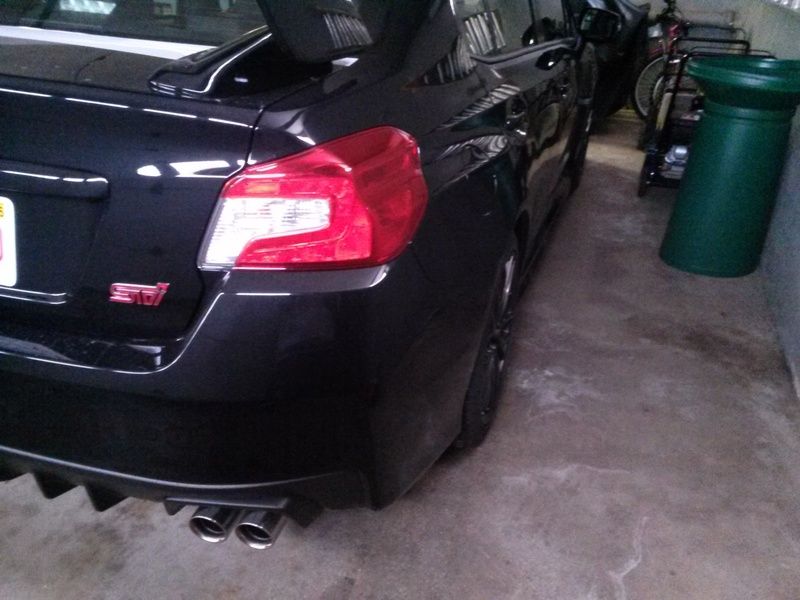 ​
Picked up my first WRX STI on 3/11/15. I have been a long time mustang fan coming from a 2014 Mustang GT track Pack and a 2012 Mustang GT Track pack before that. I wanted to try something different and I was on the fence about getting WRX STI but when I saw the 2015 in person it was a done deal. This car is well equipped out of the box and I am going to do things differently this time around. Normally I do all performance mods and neglect everything else. This time I am going to focus on keeping the car clean and protecting the exterior. This is going to be a true street build in which everything needs to be street legal and keep the car daily driveable. My last couple of cars I would end up removing stuff (I.E. Interior Panels, A/C) only to find myself putting everything back in so I do not want to make that mistake again.
I requested that the dealer leave the car alone, not to drill the front plate, not to install dealer sticker, and not to wash the car or remove any of the plastic. The car actually came off the truck and I was the first and only person from that point to get in and drive it. The dealer even let me drive it to the gas station and fill it up as well as get an inspection sticker which was more than I asked for. They let me do that after I expressed my concerns over a tech driving the car. I specifically ordered the car with no options to start off with a clean slate and 13 weeks later it is here. It is actually cheaper to buy and install the options myself than to have them done at factory or port.
The goal for this car is to have every modification add value to the overall driving experience without turning it into a race car. The car must retain all of its creature comforts and be able to be a daily driver. With that being said a lot of trial and error will be needed to find the right parts to suit my needs. This journal will be updated as money and time allows. Power-wise the car will remain mostly stock (for now). I plan on building up everything around the drivetrain first and changing out misc things on the car that should have been there from the factory.
I will be using this journal to document its progress by mileage
CURRENT POWER
280WHP 309TQ

2015 WRX STI FUS02 BASE MODEL NO OPTIONS
Build Date Jan 2015
Modifications List
ENGINE/PERFORMANCE
-Stock Engine
-IAG Street Series AOS
-Mishimoto 2-port Catch Can
-Perrin Intercooler Coupler
-Turbo Xs Intercooler Elbow
-Nameless Axleback Muffler Delete
DRIVETRAIN
-Stock
ECU/TUNING
-Cobb AP V3 AP3-SUB-004
-BrenTuning Stage 1 Protune
SUSPENSION
-Stock
EXTERIOR
-XPEL Film
-Cquartz Finest
-40% Tint
-OEM Body Side Mouldings
-Subaru AWD Debadged
-Totsubo License plate Mounts
-Cruiser Clear License Plate Covers
-Rally Armor Mud Flaps
INTERIOR/I.C.E
-Cobb AP Piano Black Faceplate
-Cobb AP screen protector
-WeatherTech Floor Mats/STI Logo
-OEM Cargo Tray
FLUIDS
-Engine: Motul 8100 Xclean 5W30
-Transmission: Motul Gear 300
-Diff: Motul Gear 300
MISC
-Speedway Motors Nomex Honeycomb
(Intercooler and Radiator Protection)