I've had the car about 2 months now and am just getting around to posting a journal. Some info on me. I'm coming out of a Mazdaspeed6 that I modded and tracked pretty extensively, costing me 2 turbos in the process, which is partially why I gave up the MS6 and got into the STi...it's much more trackable, and there are infinitely more aftermarket parts!
Pic of the MS6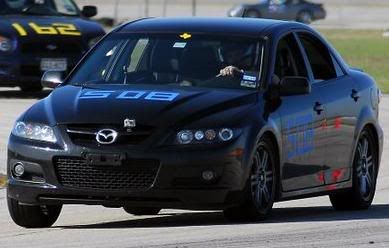 As to options, I picked up a base STi with Auto Dimming mirror, Subwoofer, and iPod adapter
Some pics of the STi in action
Mods as of 4/2009
Performance:
Cobb AP
Perrin Stage 1 Map
Perrin 22mm front and rear sways
EBC Yellow Brake Pads
Motul 600 RBF
OZ 18x9 Ultraleggera wheels
Falken RT 615's in 255/40/18
Alignment : -.9 camber front, -1.5 camber rear, 0.0 toe
Non performance:
Full window tint
Hardwired RX-65, remote mute on the dash
Best of all, stickers galore!
First HPDE in the new STi at TWS