Discussion Starter
•
#1
•
Hi guys, though't you might like a read of my current ongoing project.
Shall start with a bit of background about the car.
It's a 1998 Version 5 WRX STI Type R. It was imported in dec 2010 by SVA imports with 63k miles on the clock.
It was sold in April 2011 and the new owner had a full 330mm AP 4 pot front kit fitted and rear new age brembo setup added.
Was sold on to Hurst performance over at Bedford in 2014 and i bought the car back end of October 2014. Was fairly cheap and was known to need a full service (inc cambelt)
After picking up the car i headed straight up to scoobyclinic for them to give it a once over and a dyno session
Few issues were found. Both rocker covers were starting to leak and the rear crank seal had developed a leak. So after coming to an agreement with hurst it was left with clinic for a couple of weeks to sort out the rocker covers, rear crank seal and do a full service.
The better news was that while the car had never been under-sealed, there was no signs of rust at all and the chassis was in near perfect condition. Arches were solid with no signs of rust.
The other disappointment was it was way down on power and down on boost, was running about 0.9 bar and about 240bhp. AFR was fine and no det was detected so was running ok in general.
When scoobyclinic dropped the gearbox to do the crank seal they also found the clutch was worn down to the botls, so it ended up having a new clutch as well.
Two weeks later i picked it up.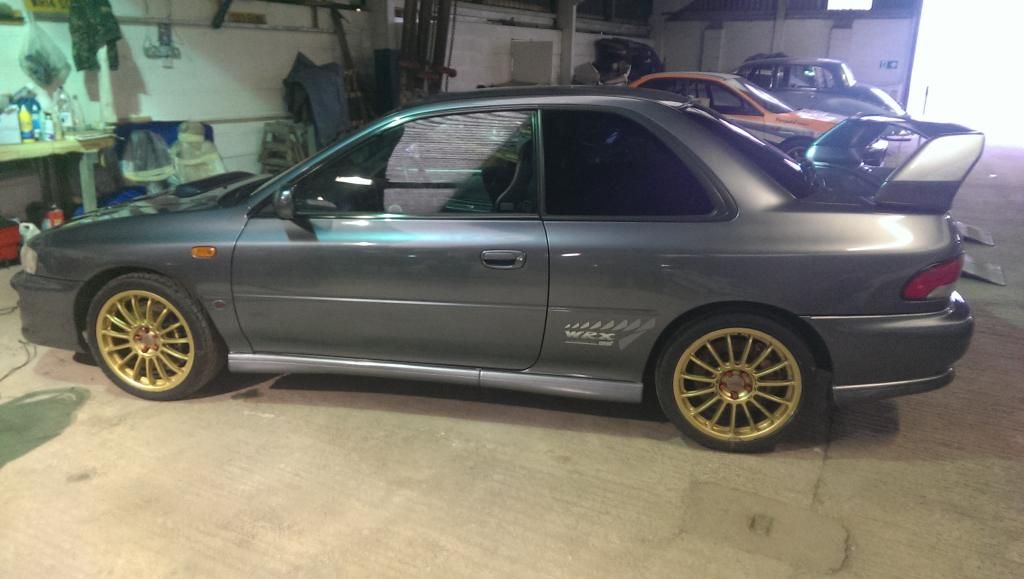 Hadn't planned to do much for a few months to let the bank balance recover but i got wind of a mate selling some of the bits from his car and was too good to miss. I managed to get,
Gt spec gen 2 headers
Harvey smith up pipe
Walbrough 300 fuel pump
Syvecs S6
Full race spec scr decat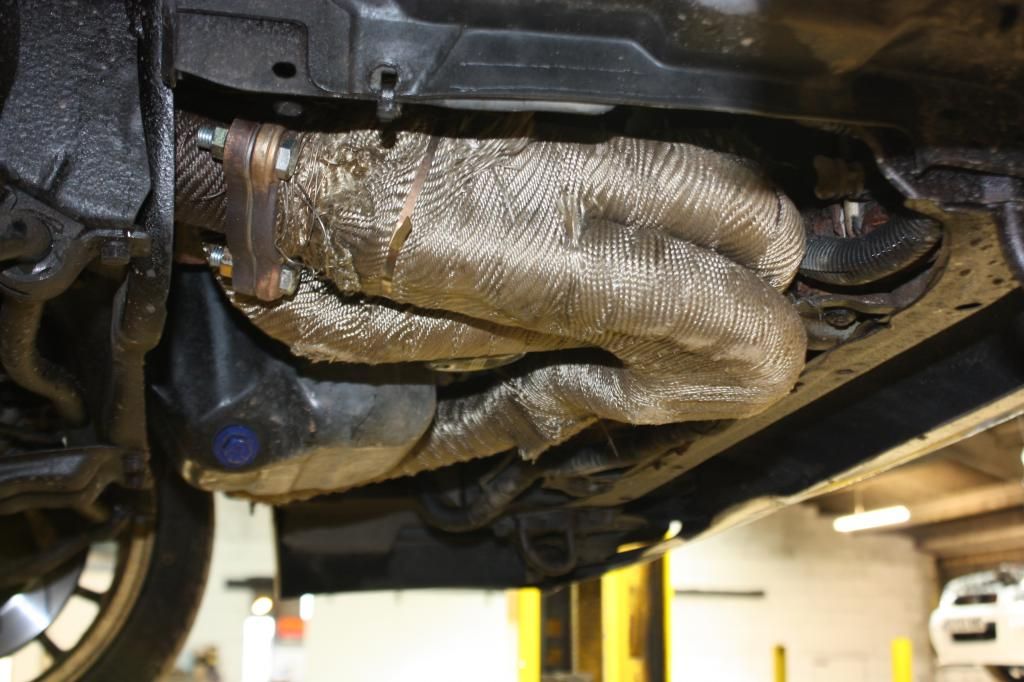 spares anyone? lol
These were all fitted and car was strapped to the dyno and mapped.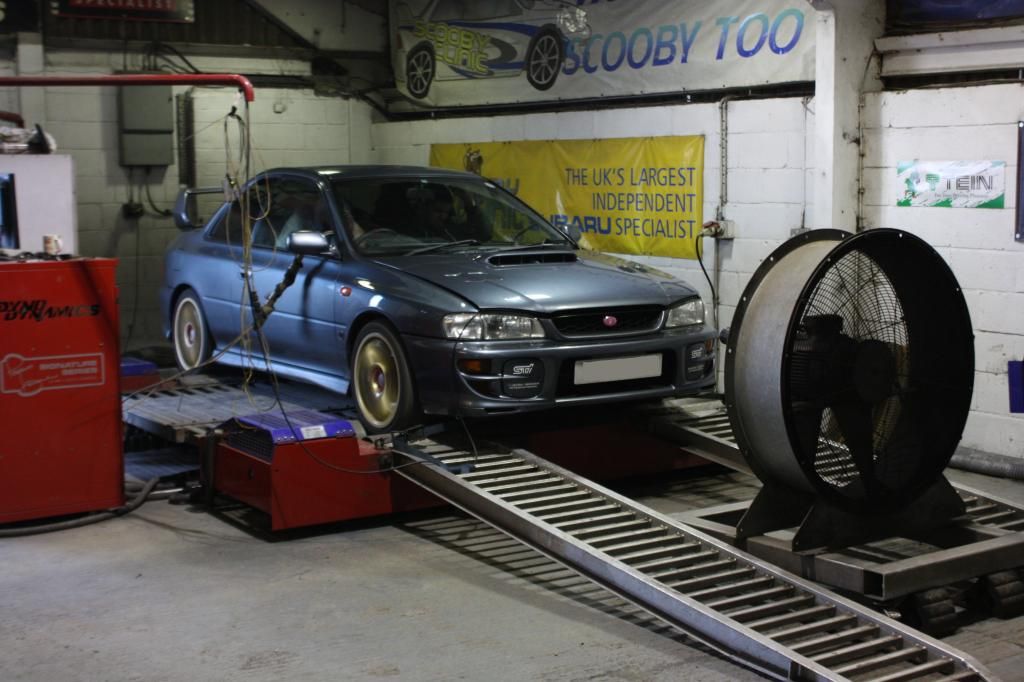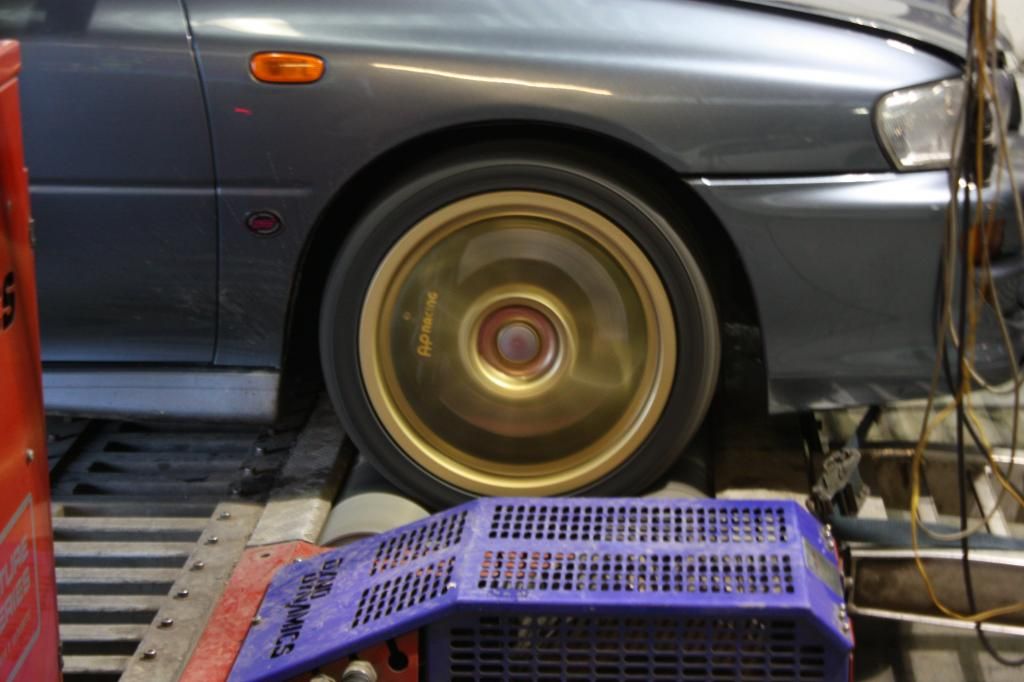 As per before the power level was low, 290bhp even with the syvecs, headers and decat.
After some head scratching issue was put down as a possibly the turbo getting a bit tired after 104k miles. AFR was fine and no sign of det so was left at that. Drove allot better and sounded a whole let better.
Few weeks later was decided to try a new turbo and see what it did.
Dropped the car off sat ready for the upgrade during the week, but Monday morning comes and the dreaded phone call.
The mechanic had heard a rattle from the crank when he fired it up form cold, they gave it more of a look Monday and sure enough at 2k rpm you could hear it.
Over the next couple of weeks went through options and costs to decide best route. Was left with a few options depending on how bad the internal damage was.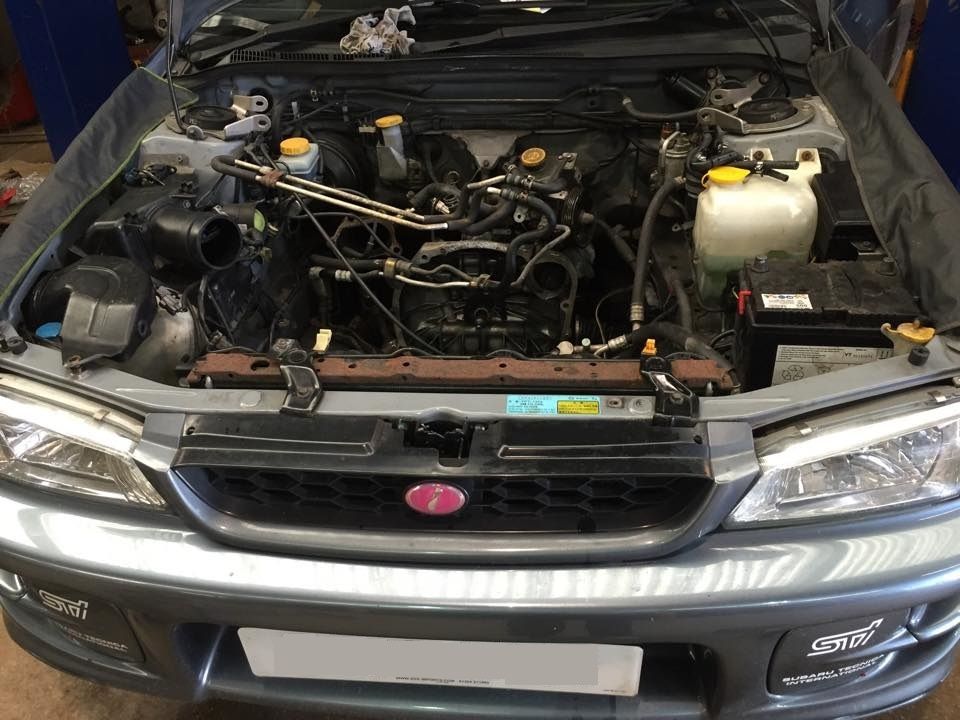 Engine was stripped and report came back with mixed results,
Crank bearings worn down to copper
Crank slightly market (should polish out, if not crank scrap. never machine a subaru crank)
Valves work
Valve seats worn
3 thou Taper on cylinder 1 and 3, way outside tolerance
Block would be salvageable, but wall thickness would limit power/boost to about 350bhp so was decided to change that, new valves and then reface the valve seats will allow them to be reused with no issues.
Given the damage there were a whole heap of options,
1. machine the block, refresh the heads, fit and leave it under 350bhp.
2. supply a 2.0 block, refresh heads and rebuild for up to about 400bhp
3. supply a 2.0 block, add a 2.1 stroker kit for up to about 450bhp
4. supply a 2.0 semi closed deck block, 2.1 stroker for around 500bhp
5. supply a 2.0 closed deck block, 2.1 stroker kit for over 550-600bhp
6. supply a 2.5 block, forged pistons, uprated rods and limit it to about 450bhp
7. supply a 2.5 block, convert to closed deck and allow for 550-600bhp.
Most options were sacked off pretty quick, semi closed deck are hard to find unless you buy a full engine, don't wan't to limit power to under 400 so got rid of 1,2,4 straight away.
Originally i managed to source a 2.0cdb for decent money, but a slight mix up ment it was sold before i actualy got it.
This made me lean towards a forged 2.5. I'd had one in my old Hawk wrx and even on low boost it made a really quick car and the low down grunt of the 2.5 made it great on the road
My original goal had been 500+, but given the limits of the 2,5 i knew that wasn't going to be a safe working limit but i was happy with that. After a couple more weeks i changed my mind again (sorry kev up at clinic haha) and the final choice was made to go with a CDB converted 2.5.
The block is now back an its programmed in for building in the next 6 weeks or so
standard block on the right, mine on the left